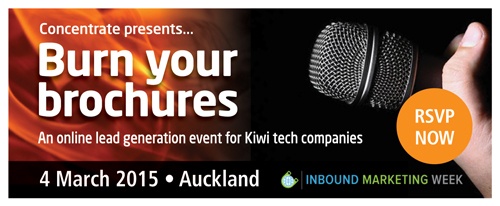 Inbound Marketing Week was held for the first time last year world-wide, including our home town of Christchurch. The event promotes international recognition of Inbound Marketing and enables professionals to share knowledge and ideas about their own experiences in this new approach to helping business sell more of their products.
After the success of Concentrate's 2014 lead generation presentation in Christchurch, Directors Owen Scott and Greg Williamson will be hosting a similar event at the Deloitte Centre in Auckland on 4 March 2015 at 7.30am.
The tech-company focussed seminar called 'Burn Your Brochures' will allow Auckland professionals to hear first-hand how New Zealand tech companies are increasing their online lead generation through inbound marketing principles. The event will include breakfast and a chance for discussion and networking.
Click here for more information or to register for the event.