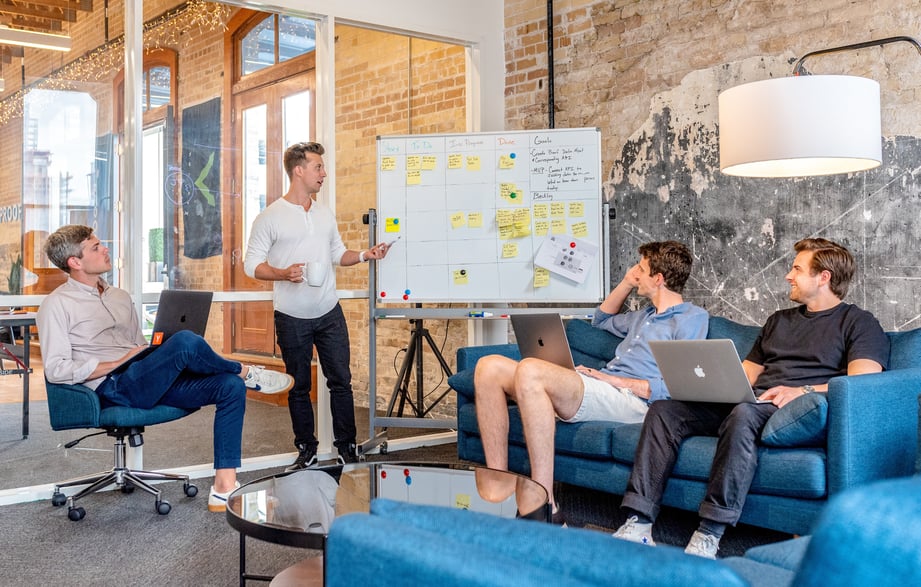 In the almost limitless arcane trivia of the internet, there is a category of websites celebrated as ''useless''. There are even websites, such as www.totallyuselesswebsites.com that's sole purpose is to celebrate them.

You can visit www.doughnutkitten.com and watch a kitten sitting in a donut, or www.tinytuba.com to, you guessed it, look at a picture of a tiny brass musical instrument. Or you could check in to www.hasthelargehadroncolliderdestroyedtheworldyet.com which contains a single word – NOPE.

Amusing as these might be, as a tech marketer producing a useless website is the last thing you want to do. Effective tech websites have all kinds of roles, from improving customer service to attracting talent to communicating with investors, but as a marketer your primary focus is simple – to generate leads for the sales team.

Buyers, from the smallest of consumer tech to the largest of enterprise solutions, use the internet to support their decision-making process. Sources like LinkedIn or industry magazines are important, but so is your website, in supporting buyers on their journey.


According to industry research, Kiwi tech company websites on average aren't delivering enough leads, partly because we are simply not focussed enough on it. The 2019 Market Measures survey found that 26% of Kiwi companies are focussed on growing website traffic as one of their two main marketing priorities, compared to 54% of US tech firms.

Where tech companies do track website visitor numbers (a significant 44% don't), they are performing well at the lower end converting visitors to leads. In the survey companies with 1,001 to 2,000 website visitors achieved a 4.3% lead conversion rate.

This compares favourably with one of the biggest benchmark studies in this area, from HubSpot, which sets a 5% website visitor to lead conversion as a good benchmark. However, we struggle at converting effectively beyond the 2,000 unique visitor per month mark. The survey showed that the average website visitor to lead conversion for companies averaging 2,001 to 5,000 website visits was 1.3%.
Website visitor to lead conversion rate (% of website visits)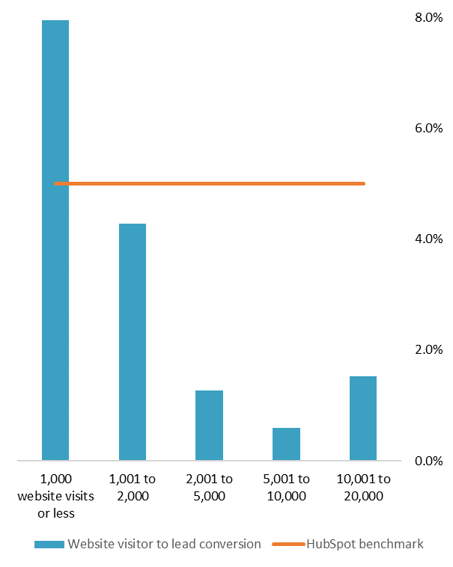 Tech companies need to understand that their website is the hub of their lead generation efforts. All other activities should include the website as the place to drive potential customers and start supporting people on their buying journey. Obviously, the more transactional your business (e.g. SaaS) the more critical this is.
How can you create a real lead generation website?
Make quality traffic growth a priority, and measure it.
Just tracking your website data is the place to start. Use Google Analytics or the analytics module of a marketing automation tool like HubSpot, and start measuring on a monthly basis your traffic and where it comes from (i.e. organic search visits, direct URL visits, social media visits, email link visits, paid search visits).
44% of companies in the Market Measures survey don't know how many website visitors they have in a month. If you are tracking the numbers, a 4% website visitor to lead conversion is a reasonable target. A large MIT study put the average visitor to lead conversion ratio at 1-3%. HubSpot's benchmark is 5%.
Here's four keys for making your website more lead gen friendly:
Clean, functional design focussed on user experience: a website must be of good quality, and consistent with your brand, but the most important aspect is how functional it is for the user. Winning design awards for your website is irrelevant if you are not delivering qualified leads to sales.
User friendly CMS that marketing can drive: too often marketing doesn't have enough control over their website. Effective lead generating websites are live, dynamic platforms, constantly being updated with relevant information for buyers. If updating content is slow and difficult your effectiveness is highly restricted.
Regular blogging and content production schedule: according to HubSpot data, B2B companies that blogged 11+ times per month had almost three times more traffic than those blogging 0-1 times per month. (Source: www.blog.hubspot.com/marketing/blogging-frequency-benchmarks)
Review your metrics monthly: you can't manage what you don't measure. Any marketers must track some base information about your website – volume of traffic where it is coming from and how much is converting are three high level ones to start with. Bounce rates, time on page etc aren't irrelevant but focus on the most important data points first.