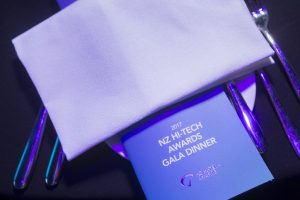 The 2018 Hi-Tech Awards will open for entry in just over a month and they're marking the occasion with special launch events for people interested in entering the Awards or nominating someone they think should enter.
Hear from Jen Rutherford, the new Chair of the Hi-Tech Trust - 2018 will see a major push for diversity in the Awards and they want your help to achieve this.
Be inspired by previous entrants, finalists, and winners: They've got a great line-up of past Hi-Tech Award winners who will be speaking about what entering and winning a Hi-Tech Award has meant for their business.
Learn from the judges: There will also be an opportunity to hear directly from a panel of their judges on what they look out for when judging the Awards. They'll be providing some great advice on how you can improve your chances of impressing them.
The art of the entry form: They will be running a session on tips and tricks on writing a great entry - learn why many companies fail at the first hurdle with a poorly written entry.
If you haven't already registered don't delay as places are strictly limited and filling up fast.
Wellington event details:
When: 5 pm – 7 pm, 28 November
Where: PWC, 113-119 The Terrace, Wellington
Register here.
Christchurch event details:
When: 5 pm – 7 pm, 29 November
Where: Duncan Cotterill, 148 Victoria St, Christchurch
Register here.
Details for our Auckland event:
When: 5 pm – 7 pm, 30 November
Where: PWC, L22 PWC Tower, 188 Quay Street, Auckland
Register here.
Why should you attend?
Come along and find out:
What the 2018 categories are
Why you should enter
The positive impact of being a finalist and a winner
The benefits you will get just by entering
The biggest mistake that entrants make
How to write that killer entry
Important deadlines for entering
Attend and win TWO tickets to the Gala Dinner worth over $500!
Numbers are strictly limited to these special events so register early to ensure your place. By attending you will go into the draw to win two free tickets to the Hi-Tech Awards Gala Dinner in Christchurch on the 25th of May 2018.
They are all about supporting what's happening in tech up and down the country - so come along and find out more about entering. It's also a great opportunity to network with your colleagues in the industry.
For more information on this event or the 2018 NZ Hi-Tech Awards emailinfo@hitech.org.nz or call 09 984 4140.