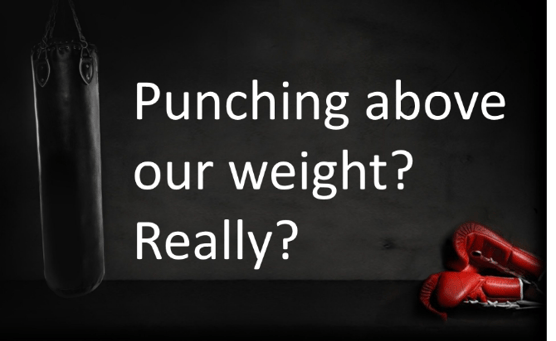 Google the phrase "punching above our weight" and numerous top results are about New Zealand business.
It is an over-used cliché which seems to always pass by unchallenged.
Maybe emanating from our physical distance from global markets, we've presented ourselves with this perception of being in the flyweight class and the slightest punch we land while sparring should be lauded as "punching above our weight".
There are several economies we can and should compare ourselves to, but for the sake of an example I will quote - Ireland - similar to New Zealand in a few ways. Both have a population of approximately 5 million citizens, both in the top ten on the HDI Index and both dominated by the primary and the technology sectors. Ireland is a quarter of New Zealand in land area, but has twice our GDP (and GDP per capita)1, attracts 10x more FDI2 and exports 3x more technology goods and services3.
I do not hold anything against the Irish and applaud their success, especially in the technology space, in no small measure facilitated by attractive tax regimes. I am just trying to challenge the narrative that is repeated ad-nauseam in our media cycles lulling ourselves into complacency.
What we (the NZ tech sector) have achieved in the past decade is worthy of praise, but it is remarkable only relative to our own performance year on year.
Over the years, every Market Measures report has shown that we have the utmost confidence in the products and services we deliver and quoting the 2016 report "put a typical Kiwi tech entrepreneur or sales leader in front of a prospect, no matter how big or sophisticated, we can close the deal".
But for years that is mostly what we have been doing – sending out incredibly talented sales leaders out into the market as 'lone wolves' armed with brochures about world leading tech solutions and hoping for the best.
Hope is not a strategy for growth.
The Market Measures 2016 report identifies three growth levers that will help shorten the long tail of small businesses and add to our collection of larger tech companies:
Gain more sales intensity with focus – getting better results from our sales and marketing investment by being more focussed and strategic in the way we take tech products to market.
Capturing and communicating more value – extracting more value from our sales by more often achieving premium prices.
Smarter lead generation and conversion – co-opting the digital marketing and communication strategies that have made many U.S. tech behemoths become who they are today.
There is never a panacea to achieving growth but it can be frustrating to see fantastic innovative Kiwi tech companies not reaching their potential for the lack of smart lead generation. Compare our approach to lead generation to that of our peers in the States, 80% of firms there are generating new leads using high-volume, cost-effective indirect marketing tactics whereas less than a third of Kiwi tech businesses are doing the same.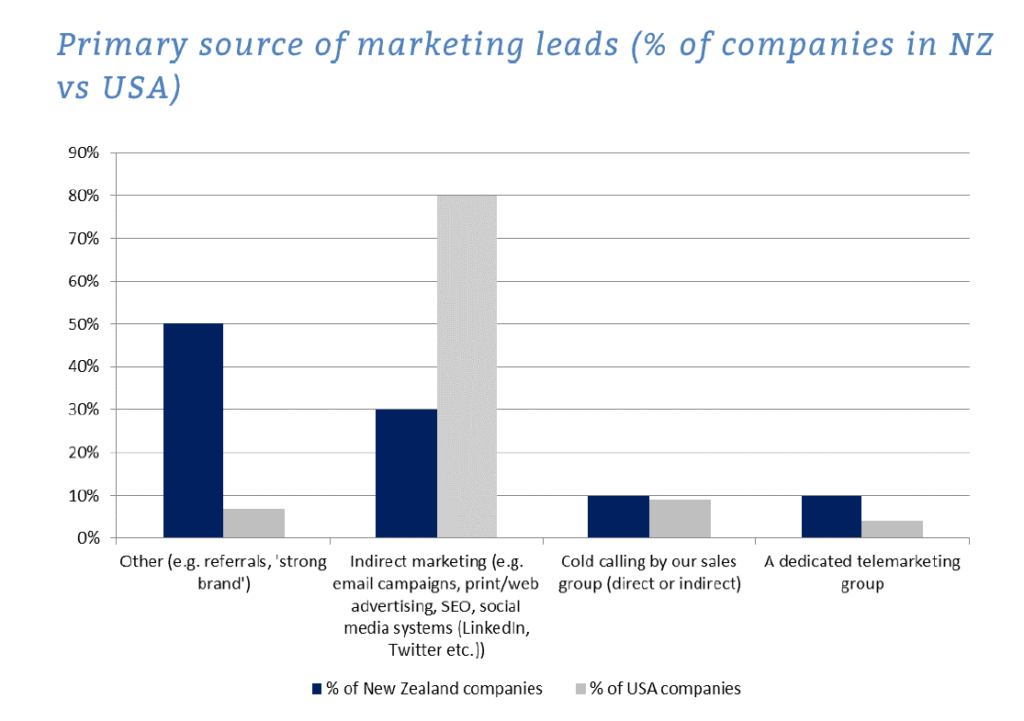 There is a lot to learn and a long way to go before we catch up to the way the best in the technology world, globally, generate new business and achieve robust growth.
It is high time we stopped propagating the fiction of punching above our weight and actually get the smarts to land a big punch.
To learn more about selling technology efficiently, download the 2016 Market Measures report Time to grow up?