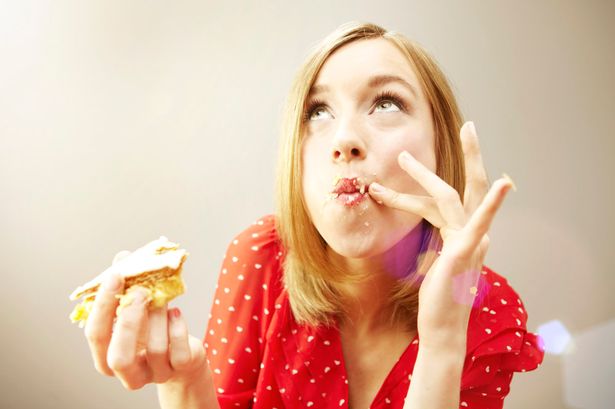 Digital marketing tool recommendations to speed up selling technology products for New Zealand companies.
I have cupboards full of 'tools' cluttering up my kitchen that I rarely use. Among these neglected apparatuses lies a dinosaur cookie cutter, a milk frother, and a hand-powered lettuce shredder I was guilt-tripped into buying at a Tupperware party. Every time I go to bake a cake, I must wade through these frivolous utensils to get to my trusty Kitchenaid cake mixer or bowls and wooden spoon.
It is a similar scenario for my marketing tools 'cupboard'. The internet is fat with online marketing software, with oodles of possible combinations to make up Kiwi tech companies' marketing tech stacks.
Here are the four foundational ingredients for successful Kiwi tech company marketing activities:
Website content management system (CMS) - a tool that a person can use to design, manage, and publish a website.
Marketing automation - marketing automation refers to the software that exists with the goal of automating marketing actions. Many marketing departments have to automate repetitive tasks such as emails, social media, and other website actions.
Content promotion - the distribution of content through a variety of media channels. Some channels include social media networks, blogs, email, and live events.
Sales customer relationship manager (CRM) - technology that companies use to manage and analyse customer interactions and data throughout the customer lifecycle, with the goal of improving business relationships with customers, assisting in customer retention and driving sales.
Just like when baking a cake, you have the choice of getting it done at a reasonable pace with hand-powered equipment, or faster by investing in electrical tools (think manually beating and mixing with a wooden spoon in several bowls vs. in a cake mixer).
From our 15 years of New Zealand tech marketing experience, we've whipped up a few recommendations of lead generation and communication tools that have worked for our customers, and for us. Here's our 2017 core marketing toolkit, our 'wooden spoons and bowls' and 'cake mixers' of lead-generating marketing automation.
The cake mixer approach – fastest digital marketing tools
HubSpot – marketing, sales and CRM software platform

HubSpot is sales and marketing software that you can use to build a website, implement marketing activities to drive traffic and leads from it, and then nurture these leads through to paying customers using the in-built CRM.
According to the 2016 Market Measures study, HubSpot is the marketing automation platform of choice for New Zealand technology companies. 20% of firms using this kind of technology are using the HubSpot platform.
HubSpot is like the Kitchenaid cake mixer of digital marketing tools. It has every attachment you can think of, and even some that you don't think of, all working together within a core system.
Some of HubSpot's abilities include:
Website CMS
Forms
Landing pages
Lead intelligence
Lead scoring
List management
Email distribution
Workflows
Keyword management
Lead analytics
Social media publishing
Reporting & dashboard
Blogging
CRM
Check out HubSpot's full list of marketing tool features.
With HubSpot, you get all your apps in one place, the reporting is amazing, and it makes it easy to prove the value of marketing, to your boss and yourself.
Concentrate are unashamed advocates of HubSpot as sales and marketing software that can deliver highly efficient growth (we've even won an award for our work using HubSpot). However, we also understand that different solutions are required for companies at different stages of maturity.
The bowls and wooden spoons approach – fast digital marketing tools
1. Website marketing tools
WordPress - Website Content Management System (CMS)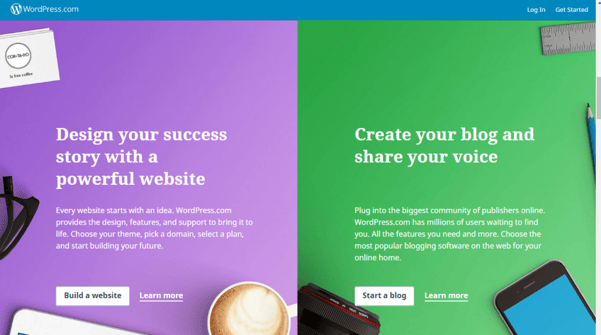 We've worked on multiple website CMS's over the years, but usually recommend WordPress for its simplicity, usability and flexibility when it comes to building beautiful, functional and affordable websites. Blogging is a key focus for WordPress and it makes it easy to publish new posts and optimise them for search engines.
I find WordPress very easy to use and one of the most intuitive CMS's available. From a design perspective, there's a great selection of customisable templates.
2. Marketing automation tools
Mailchimp - Marketing Email distribution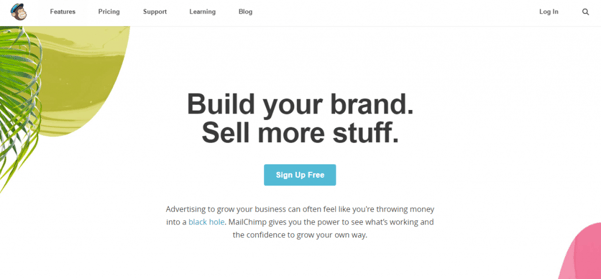 Mailchimp makes it easy to build and send engaging emails to your business contacts. With list storage, attractive templates and excellent reporting tools, Mailchimp is our favourite standalone email marketing tool.
I love being able to easily create reports - who opens each email we send, what they click on etc – so we can tweak our future emails to be more engaging for our clients' contacts.
Buffer - social media publishing

By connecting different social media accounts such as your company Twitter and Facebook pages, and your sales team's LinkedIn accounts, you can easily schedule and monitor your company's social media activity with Buffer. For B2B tech companies, we generally use these channels:
LinkedIn
Facebook
Twitter
Google+
We've consistently found that messages posted on LinkedIn and Twitter get the most engagement with B2B tech company content, although different combinations of social media channels can be utilised depending on the type of audience you're trying to reach.
Being able to schedule posts from one place through multiple accounts makes managing social media activity less fiddly and time-consuming.
Google Analytics - Reporting & dashboard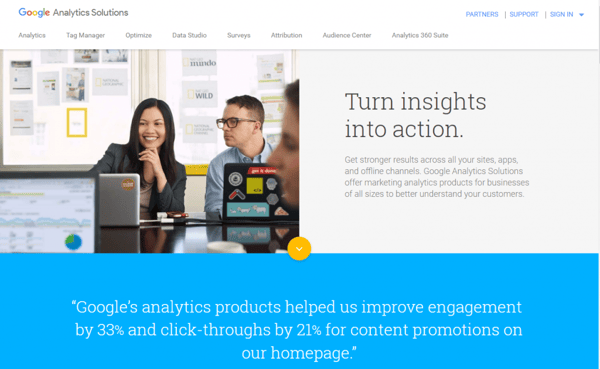 Google Analytics helps to monitor website traffic and the behaviour of visitors. It offers reporting and dashboard functions to help you evaluate the effectiveness of your marketing activity.
Being able to measure the effect that clients' marketing activity has on their website via easy-to-understand dashboards, and be alerted to any 'victories' or 'red flags' helps us to continually improve clients' marketing effectiveness.
3. Content promotion tools
GoToWebinar – Webinars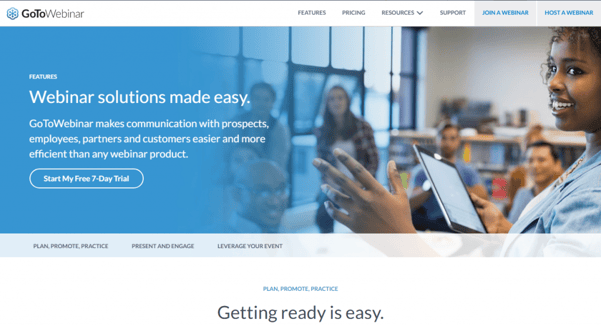 GoToWebinar is part of the 'GoToMeeting' suite of communication apps. Although not the most intuitive tool in the world, we've found GoToWebinar to be the most reliable tool with this functionality to host and record webinars.
Being able to not only host, but also record live webinars, gives our customers an additional engaging piece of content to offer their prospects who aren't able to attend the webinar in real-time.
Google AdWords - Remarketing & paid ads

Google AdWords is an effective online advertising tool. It can be extremely targeted towards the keywords that people search for in the Google search engine and other affiliated medium.
A lot of New Zealand companies struggle to gain awareness in overseas markets. AdWords is a great way to reach potential customers and build brand awareness in new markets.
4. Sales CRM tools
HubSpot - CRM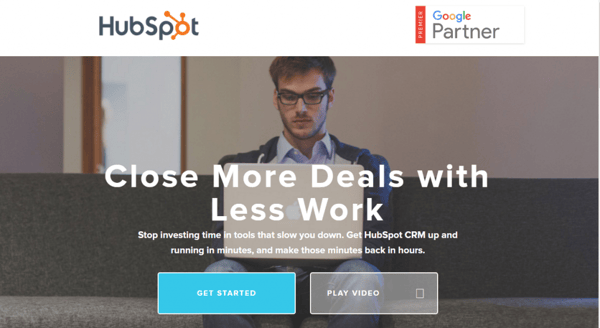 HubSpot CRM does everything that sales teams need, and nothing they don't. HubSpot CRM automates the tasks salespeople hate and takes minutes to learn – not months. That means doing more deals and less data entry.
This is a CRM I've actually seen sales teams using. It mirrors the marketing database, all data is updated all the time, automatically. The sales rep can 'see' in a lead's timeline what marketing collateral they're interacting with, and it is free!
Zapier - Integration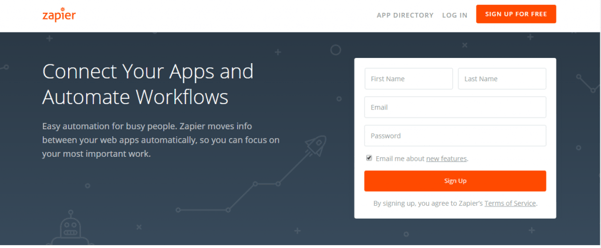 Zapier gives you granular control over what data connections you create where there aren't native integrations in place. It's quick, easy, and has the largest directory of possible connections between different apps.
Zapier is the best middleware out there that marketers can use to create single sources of truth.
What recipe of marketing tools you should use depends on your company's strategy, and can range from a suite of different apps, through to an integrated sales and marketing solution like HubSpot. Whether you are evaluating different marketing technology applications for your business, or are looking to make the most of your existing investment, have a chat with us and we can help.