What is B2B lead generation?
B2B lead generation is the process of attracting potential buyers from your target market to volunteer their contact information so you can start guiding them along their buying journey.
Your tech won't sell itself
In 2021 it is now rare for technology leaders to think their innovations will simply sell themselves. No matter how brilliant your product, there is an understanding that you need to tell your chosen market about it.
The question then is how to best achieve this? How can you efficiently grow sales for your company?
This is a practical guide to the first part of the process: generating leads. We've attempted to answer most of the questions we've been asked, but would welcome yours if it's not addressed below.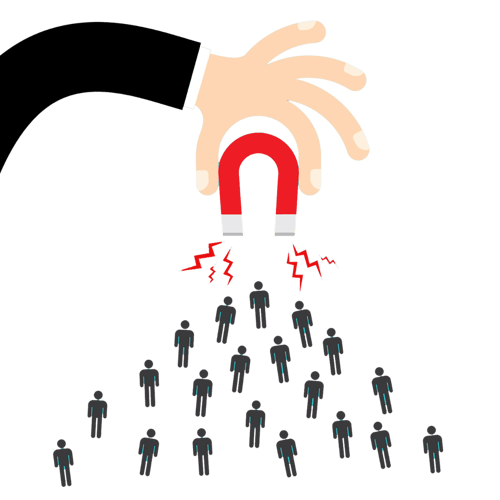 Chapter 16
What are some tips for B2B lead generation?
Here's 15 quick ideas for improving your B2B tech lead generation, in completely random order:
Use pop-up conversion forms on relevant website pages. If a website visitor is viewing a certain product page, you could serve up a pop-up for a calculator to help them calculate ROI.

Email marketing – it's an old dog, but still a hardworking one. With a quality database and strong offer, you can generate plenty of sales opportunities using email.

Blogging is key to improving your website traffic. You can't blog too much, as long as its focussed on the search terms your prospects are using.

Add a chat function, or chatbot, to high intent web pages like pricing information.

Go retro, buy a target list and send them a snail mail with an offer to download some content on your website. Follow the letter (yes letter) up with a quick call to seek opt-in permission to send them an email follow-up with the content offer.

95% of visitors to your website aren't ready to convert on a contact-us form. Add Call-to-action (CTAs) buttons throughout your website giving website visitors lots of opportunities to engage and convert, no matter where they are in their buying process (e.g. download eBook, talk to sales, calculate ROI, free assessment, request a consultation, subscribe now, register for the webinar).

At the end of a conference presentation, have a slide making an offer using a short URL that your audience can access and download something of value.

Include a 'negative persona' i.e. someone you don't want to sell to, in your contact groupings. You can use it to 'park' contacts that have converted on forms throughout your website, and you don't want to include in lead nurturing activities. For example, students, competitors, Government Agencies, your Mum etc.

Run a webinar on a high pain point subject for your target audience. Promote it aggressively through all of your channels, and then once completed push out the recording for download on all those same channels.

Run a highly targeted lead gen advert on LinkedIn, using a specific content offer. Cost per click can be high, but quality is often excellent.

Produce video (educational, instructional or interview) and push through your website, social media and other channels. Convert them into the podcast too.

Paid media (e.g. Google Ads) is a quick way to generate leads. Trial ads with a small budget and then double down on the search terms and ads that work best.

Send out a monthly email newsletter linking back to key updates on your website, including a landing page with an offer to convert on something like an eBook.

Find Facebook groups relevant to your sector and become a regular contributor. Once your authority is established, point members to genuinely useful resources on your website.

Run a joint promotion with a reseller partner with a dedicated landing page.