HubSpot CRM platform supports seedigital's vision for delighting customers and growing sales
How Concentrate helped seedigital to utilise the HubSpot CRM platform across its website and customer service operations
seedigital is a New Zealand based security solutions company known for its comprehensive suite of state-of-the-art AI security solutions. With solutions available to detect on-site intrusions as well as monitor health and safety risks in real-time, seedigital are focussed on both delivering high levels of satisfaction to an established customer base, while focussing on growth opportunities with their new technology. They approached Concentrate to put in place the systems to support these goals.
The Challenge
A traditional sales approach paired with an unreliable CRM system was stunting business growth
seedigital, CEO & Founder, Bede Cammock-Elliot knew there was a better way to address two primary challenges in the business:
The website wasn't built with lead generation in mind - The design of the existing website was outdated and there was no clear way to distinguish website traffic to contact conversion rates, or even easily update the content. In addition to this, seedigital had just released a new product, SEEO Know and were eager for its digital presence to be a success.
Their existing SugarCRM system no longer met their needs, especially in terms of supporting existing customers - Software changes affecting usability, security issues and poor support all combined to undermine seedigital's confidence in the platform, and look for a more modern alternative.
"We need something that's robust, but simple to use. And the issue was that it (Sugar CRM) just always felt clumsy. Often things wouldn't work,'' is General Manager Andrew Tremewan's summary of the situation seedigital found themselves in.
Bede says, "We saw an opportunity to kill two-birds with one stone. We could build a lead generation focused website with a CRM backend."
From one core CRM system, seedigital wanted to streamline:
Customer service and ticketing
Website traffic and lead generation activity
Website maintenance and design
The Solution
A HubSpot CRM backed website and customer service solution
After initial workshops with the primary users to map out their use-cases, Concentrate proposed a multi-platform HubSpot migration and implementation, segmenting the project into to three key phases:
Migrating seedigital from SugarCRM to HubSpot CRM for company and contact data management.
Developing seedigital a new website at seedigital.co.nz. This would incorporate content and functionality for the SEEO Know brand as well as heighten the existing seedigital one.
Replace SugarCRM with HubSpot Service Hub to support seedigital's customer service activity and support ticketing.
The SugarCRM to HubSpot CRM migration
Concentrate worked closely with key seedigital users to distinguish the exact functionality required to complete a successful migration. After configuring the HubSpot CRM system and loading the SugarCRM data (contacts, companies, and tickets), our internal HubSpot experts were on hand to offer training and support until the seedigital team felt comfortable.
Bede says, "As an example, the previous shift from our first CRM to SugarCRM was a lot more painful than shifting from SugarCRM to HubSpot. We just haven't had the same level of complaints from the team. It has just worked."
Developing the new seedigital website
The website phase of the project was split into three sub-projects:
Design
Build
Test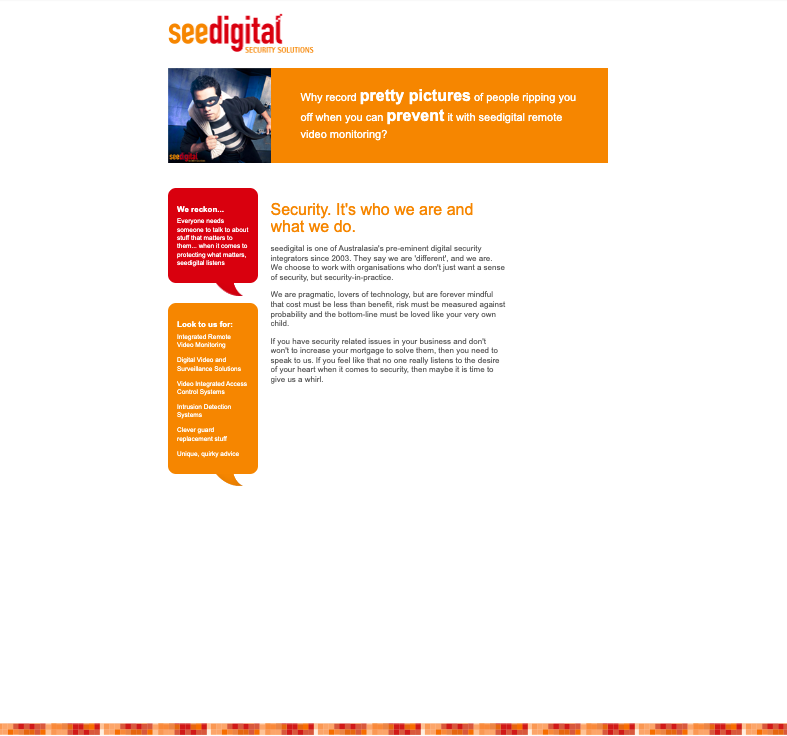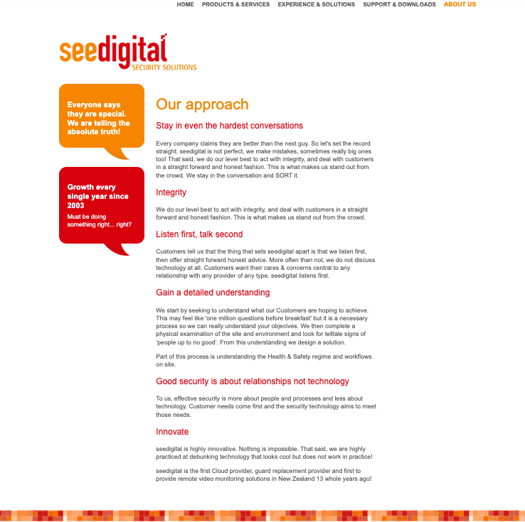 Figure 1-2 - the old seedigital website
We began by assessing the current website's performance and based on our initial scoping session with seedigital identified the following requirements for the new website:
Improve record keeping for new and ongoing contacts
Enhance search engine visibility through a clearer information architecture
Simplify the backend system to make content updates more cost-effective and user friendly
After our initial ideation phase, and brand guideline development, we presented seedigital a collection of visual concepts for the website that aligned with the proposed brand guidelines. We used the ProX Premium template from the HubSpot Marketplace to reduce costs and make future website changes attainable for seedigital.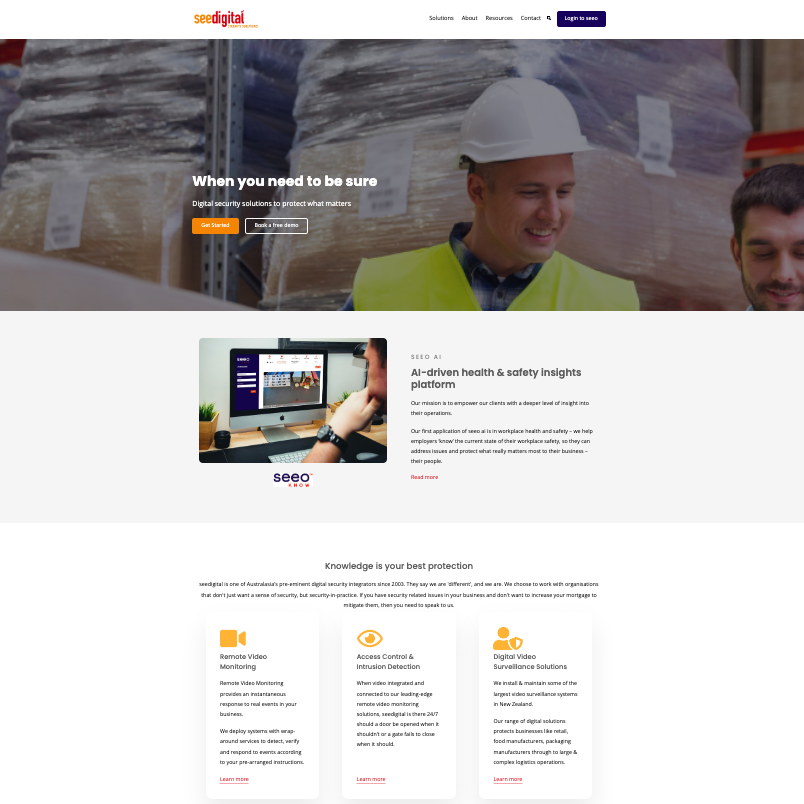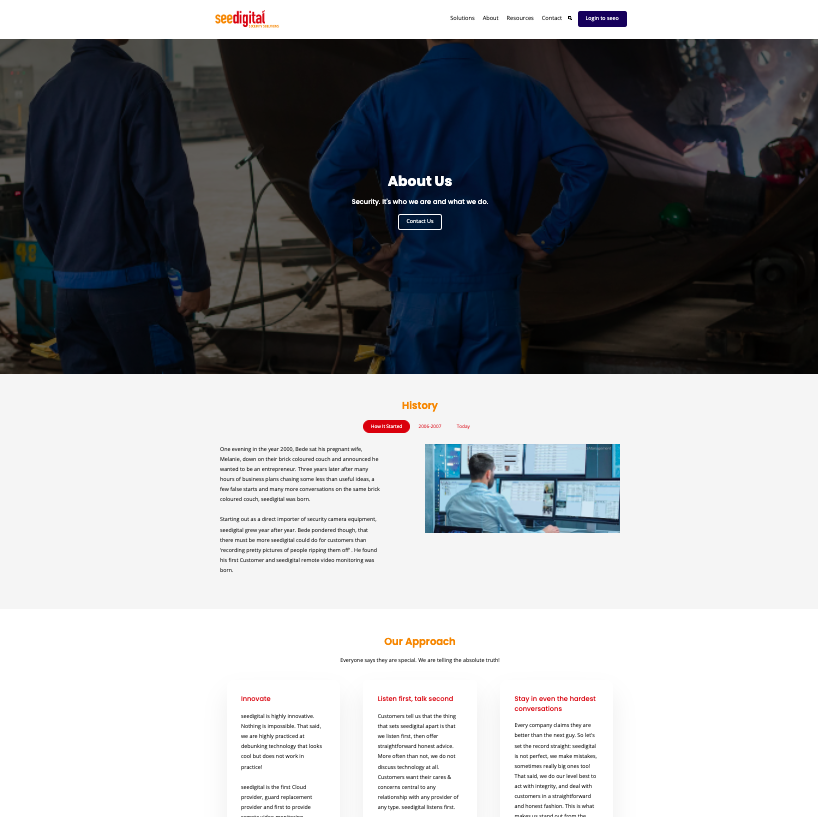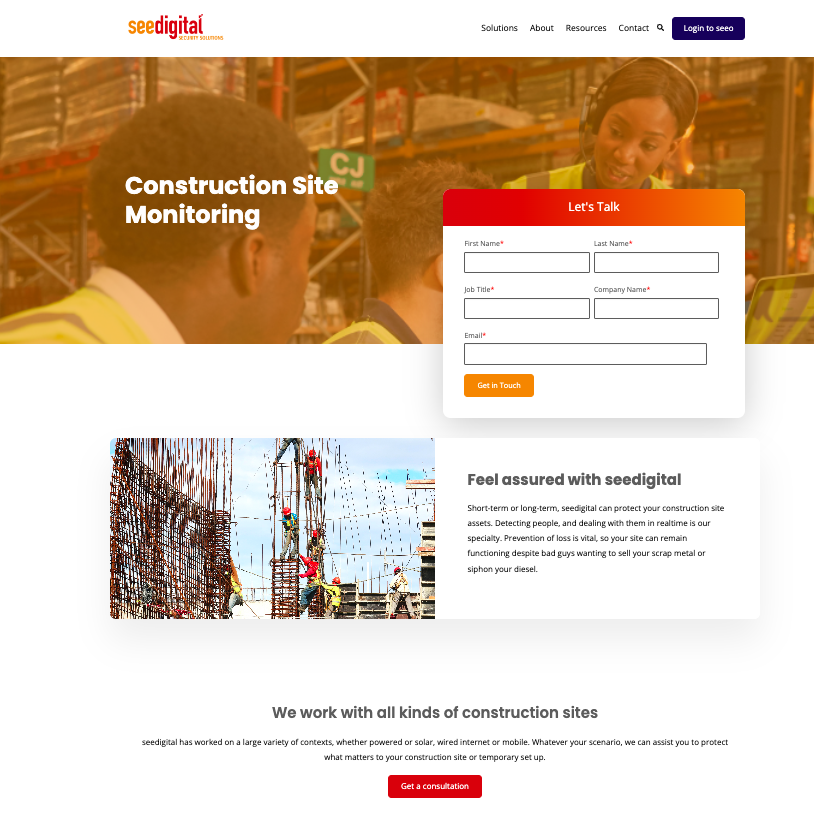 Figure 3-5 - the newly designed seedigital website
"It's really great to have a well-designed website," says Bede. "And our sales team no longer hang their heads in shame – which is always a plus."
The Service Hub implementation
Similar to the CRM migration segment of the project, the Service Hub implementation was broken down into use cases, deployment and support.
Bede says, "Right from the get-go we were able to be functional…We were able to be up and running from day one and that massively increased the credibility of our new HubSpot solution."
According to Andrew, ". . . it worked seamlessly in terms of the process, we had quite a tight timeframe of about six weeks before we pulled the plug on Sugar and we got there, which was great."
"Being able to tailor each user's interface was a great feature", says Andrew, "We have several staff from our operations team that drive HubSpot Service Hub all day. The focus on personalising their screens was great and basically tailored the configuration to how each individual approaches their work".
The results
Better lead generation and customer support
The outcome of the project for seedigital has meant that they not only have a website that their team can be proud of but one their customers can too. "It's given us credibility," says Bede.
From the front-end website design to the back-end CRM and customer service management, seedigital are not only pleased with the outcome of the project but the team that implemented it.

Bede says, "The process with Concentrate was fantastic. The project plans were provided in clear detail with realistic deadlines set. From there, it all magically happened to schedule. I can't fault it. The experience of the website build, and the CRM migration were both magic. It was certainly not chaotic in any way, the deliverables were kept, and the outcome has been excellent."
"The biggest feedback is there is no feedback from the team about the CRM system anymore," says Andrew, "it has taken away the angst for sure. It's intuitive so I think they can quickly get the information that they need because there's multiple ways of accessing that same information. "
"There has been certainly an improvement in terms of just the functionality, more efficient use of resources in terms of being able to quickly find things and create jobs."
Andrew sees lots of opportunities to grow their use of HubSpot, "I think there's plenty still untapped - and that will ultimately yield additional benefits."