HubSpot performs heavy lifting for PTminder customer advocacy
Concentrate developed a creative approach using the HubSpot platform to achieve a 90% decrease in publication time and a 93% increase in customer advocacy.
The Client
A powerful cloud-based software designed to help Personal Trainers manage their day-to-day business operations.
Available through the web and mobile app, PTminder helps fitness businesses efficiently manage their front-desk operations and administrative activities including client management, class bookings, trainer scheduling, client progress tracking and payment processing.
Since launching in 2012, PTminder has grown into a leading business management tool for independent trainers, personal trainer studios and boutique gyms around the world. To date, PTminder has helped nearly 500,000 clients and processed over $244 million in payments. The PTminder team, though lean, has established roots around the world including the US, UK, Australia and their home base - New Zealand.
As their customer base grew, the founders of PTminder - Rick Thompson and Callum Cook, realised the need for a marketing platform to help scale the business. Rick explains, "We're a small team with a large and expanding customer base, so we needed something that could help us at every step of our journey. HubSpot was the only marketing platform that could easily adapt and grow with us."
HubSpot then recommended Concentrate to PTminder to assist them with developing and implementing their digital marketing strategy. We planned to better leverage the website using thought leadership content and build an ongoing system of efficient lead generation.
"As a high performing HubSpot certified partner and the largest technology focussed HubSpot agency in Australasia, we knew Concentrate would be a great fit for our business," said Rick.
The Challenge
The company wanted to increase the momentum of its flywheel by improving the process of gathering customer endorsement.
An inbound marketing strategy was implemented using HubSpot. Three months after deploying HubSpot and the inbound marketing plan, PTminder's traffic increased by 25% overall.
PTminder's bottom of the funnel content performed well, particularly customer stories. However, the process of generating these customer stories was manual, time-consuming and unreliable.
Every month Rick would send Concentrate a spreadsheet of customers that gave PTminder a 5-star Net Promoter Score (NPS). We would then individually email each customer to request an interview, but the response rate was both low and slow.
By the time a response was received and followed up, the interview was scheduled and completed, copy was written, approved and published -we were looking at an average of a 30-day turnaround on one customer success story.
We challenged ourselves to do better and with HubSpot, we knew we could.
"On top of it all, HubSpot shares our belief in a customer-centric approach. Every tool HubSpot provides is designed to help businesses develop into a customer-first organisation."
Rick Thompson
Co-Founder, PTminder
The Solution
Our goal was to accelerate the process of generating customer stories. To do so, we needed to step back and identify the points of friction and then consider possible solutions. We turned to HubSpot to fuel our creative problem-solving.
Customer Insights, Active List and Filters
We first looked at customers we thought were advocates of PTminder. We established that the contacts we were reaching out to weren't at the right stage in their journey to be considered an advocate. We needed more insight into the customer - not just the NPS score they gave PTminder. So, we created an active list of customers in HubSpot with filters based on properties such as their level of activity within the app, number of clients and how long they've been a customer.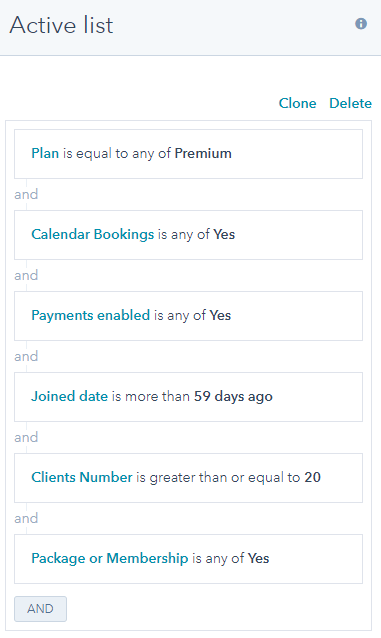 Automation and Personalisation
Another friction point was the time it took to arrange and conduct an interview. Personal Trainers are time-poor and PTminder's customer base is global, adding to the difficulty of securing an interview.
With that in mind, we developed a workflow to automate and personalise communication with potential advocates. Once a contact meets the criteria to enter the advocacy list, they trigger the workflow that then sends a personalised email on behalf of Callum.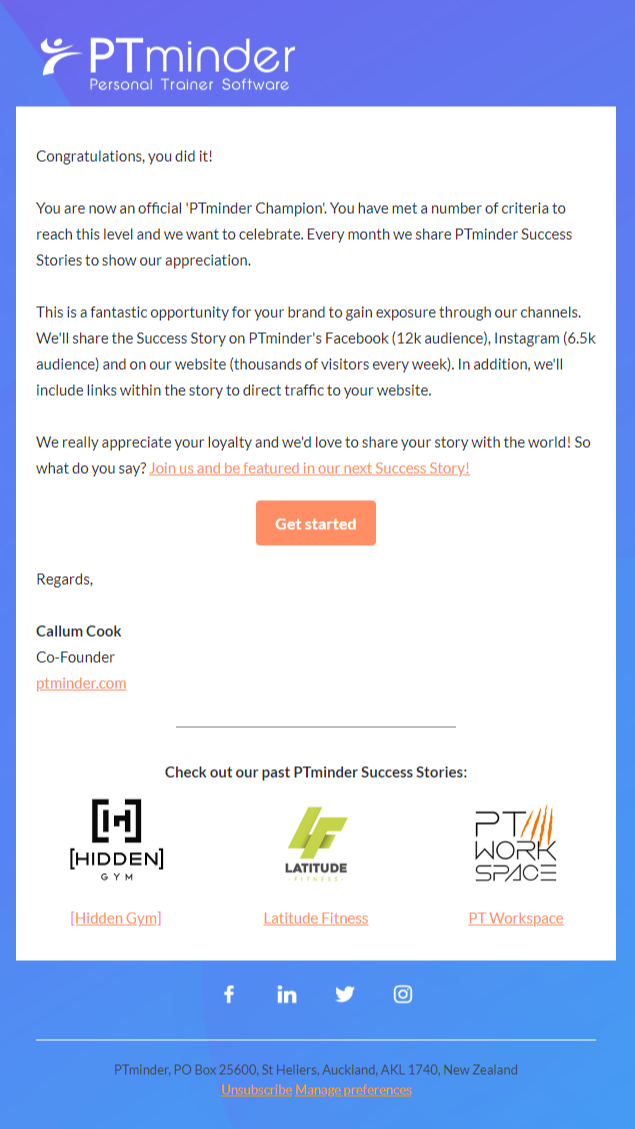 The email recognises the customer's loyalty, provides value and motivators and then directs them to a landing page with a form that includes the same questions they would have been asked in an interview. We also added an option to upload images, which saved us time looking for stock images or scraping their social channels for images. This gives advocates the opportunity to provide their story at a time that suits them.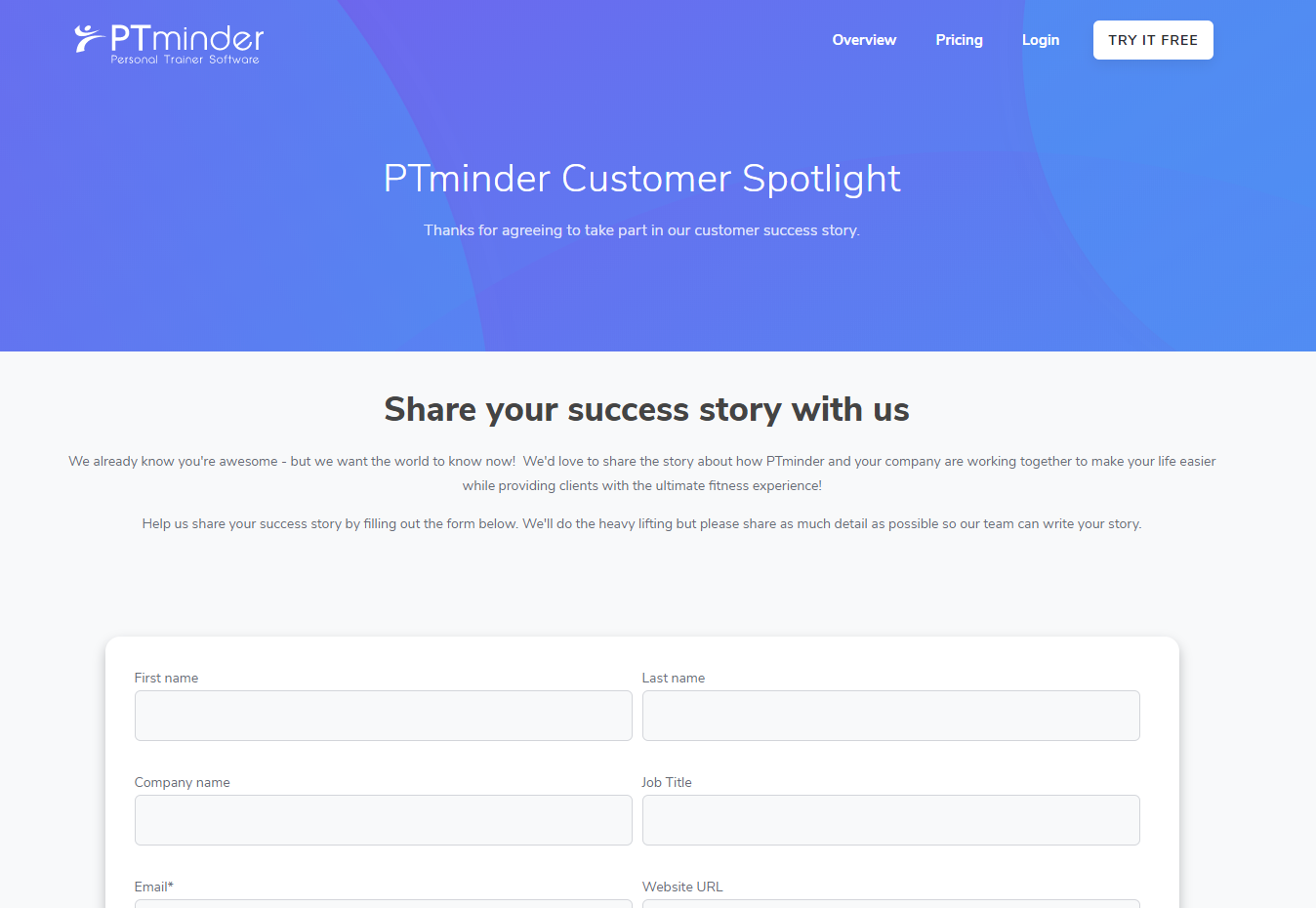 A successful combination of personalisation, automation and customer insight all powered by HubSpot.
The Results
Publication time decreased by 90% and customer advocacy increased by 93%.
We saw results almost instantly - we received 5 submissions in the span of 10 days as compared to our traditional approach which would have taken approximately 5-6 months to receive the same number of submissions. We now see a 93% increase in responses from customer advocates every month.

The Impact
The roll-out of automated customer advocacy has made a significant impact on PTminder.
Callum explains, "We've gained massive efficiencies from using HubSpot workflows and emails to gather user generated content. From our side of it, we're no longer spending hours every month pulling together a spreadsheet of customers for Concentrate to contact." By utilising HubSpot, we're able to apply fresh thinking and innovate methods to power PTminder's flywheel.