How HubSpot turned PTminder into an inbound marketing success story
We increased traffic by 25% and leads by 10%
PTminder is a business management software product designed specifically to help Personal Trainers (PTs) manage their day-to-day business. With features like client management, online bookings and payment portals, PTminder gives PTs the ability to run their fitness business efficiently so that PTs can focus more of their time on clients and less time on admin.
PTminder has processed over $310 million in payments, scheduled 13 million bookings and provided support to over 577,000 clients worldwide. The PTminder team has also grown in parallel and is strategically placed in the US, UK, Australia and New Zealand.
When founders, Rick Thompson and Callum Cook, first launched PTminder in 2012, they were managing all aspects of the business on their own. From marketing and development to customer support and sales, the duo was stretched thin and on top of it all, their systems were disparate – further adding to the complexities.
Nearly six years after launching, they knew that changes were necessary in order for the business to continue growing effectively, and identified four core challenges:
Need for a growth engine
Need for further investment in marketing automation to deliver sales efficiency
Reliance on paid advertising
Lack of resources
"Concentrate were early adopters of HubSpot. So, their long-term experience with the platform coupled with a deep understanding and knowledge of tech companies, made them a perfect match for us."
Callum Cook
Co-Founder, PTminder
The Solution
The HubSpot platform and a partner with industry expertise
In order to overcome these challenges, they needed one system to bring it all together and chose HubSpot. "The decision was easy," Callum explains, "instead of the plethora of systems we had in place, now we only needed one." The ability to create marketing emails, set up automation, manage social media channels, analytics and reporting, develop landing pages and blogs and a CRM all in one place was a game-changer for the team.
Once the growth engine was setup, the necessity for additional resources to drive that engine became even greater, and PTminder decided to outsource rather than build an in-house team. HubSpot recommended Concentrate, a New Zealand based B2B tech marketing agency and HubSpot Diamond Partner.
The Results
Leveraging HubSpot to reduce friction in buyer journey
Using HubSpot, Concentrate implemented an inbound marketing programme, with a goal of reducing paid advertising and a focus on driving organic traffic to generate more qualified leads.
Smart email marketing
Over the last six months, we have introduced smart content into emails to personalise the call to actions depending on what stage of the journey a contact was in. This resulted in an increase of 7.59% for the click rate and an increase of 12.9% for the click-through rate on all automated emails.

Content production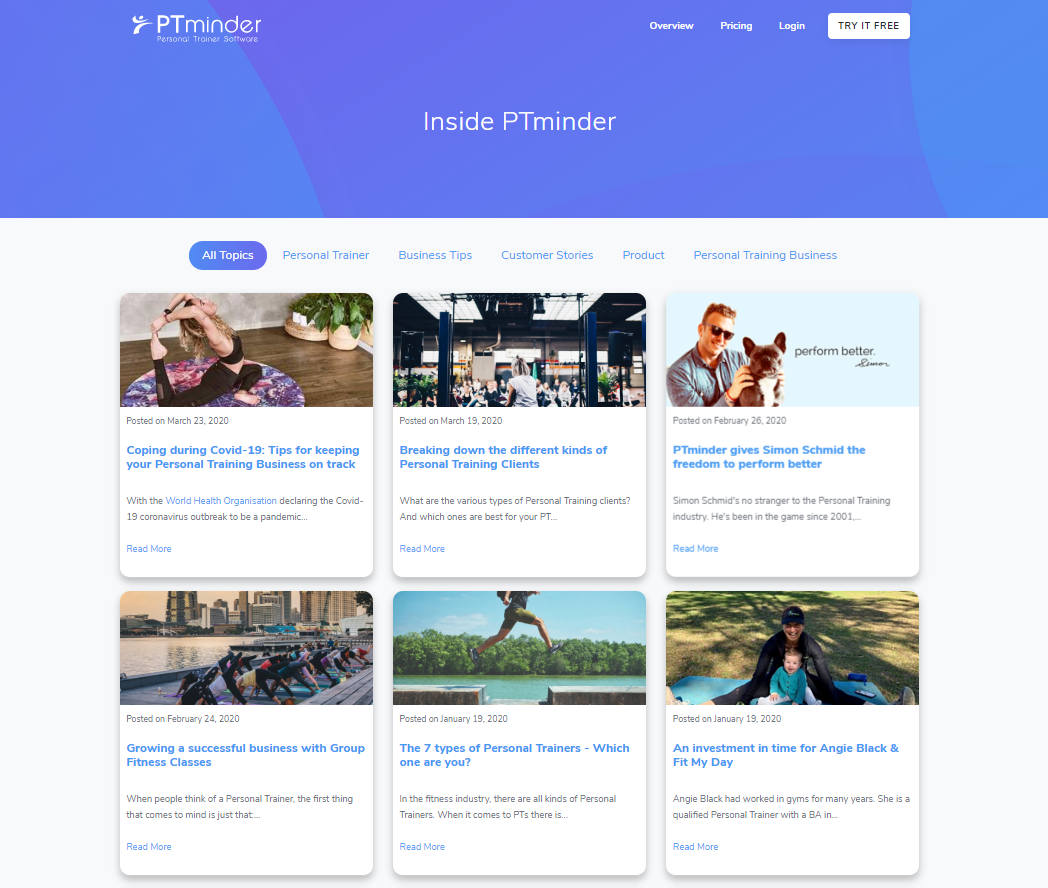 As part of our inbound marketing programme, we've developed an arsenal of blogs, customer success stories, product updates and more. In 2019 alone, these generated nearly 3,000 views. In addition, when comparing the first half of 2019 to the second, we increased the number of impressions for blogs by 358% and the number of clicks to blogs by 353%.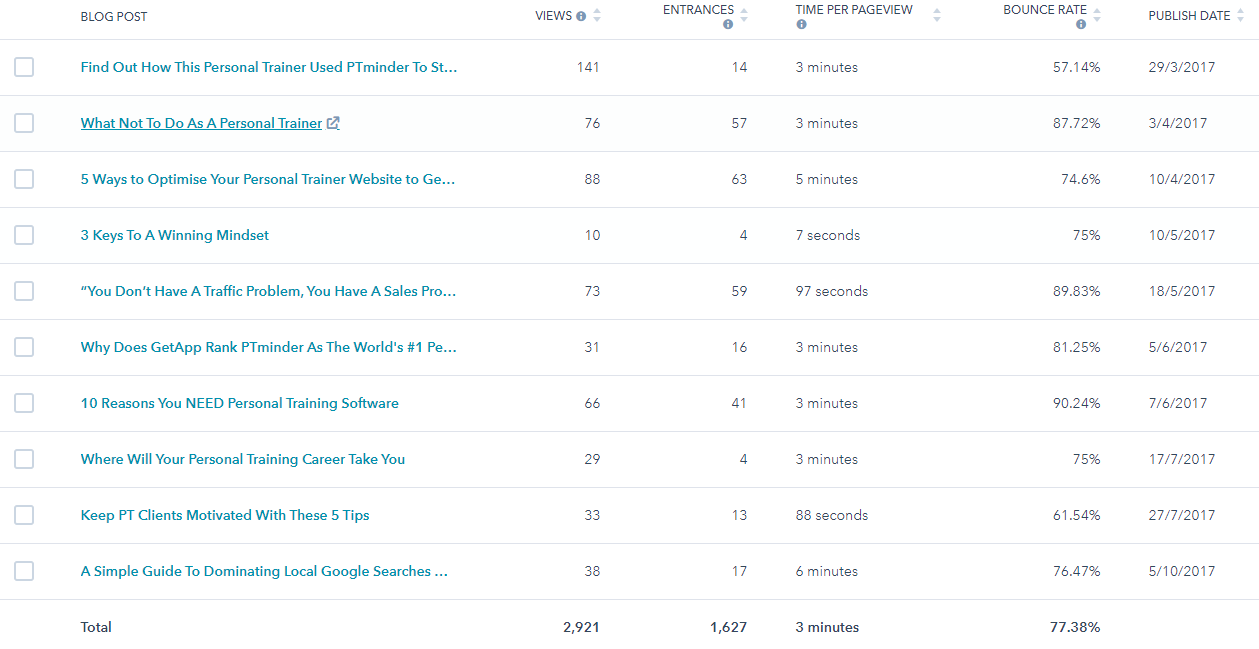 Paid Advertising
Using HubSpot, we implemented remarketing tactics and developed lead generation ads. By creating this in HubSpot we were able to set strict targeting parameters and automatically target visitors to specific URLs as well as lists created within HubSpot.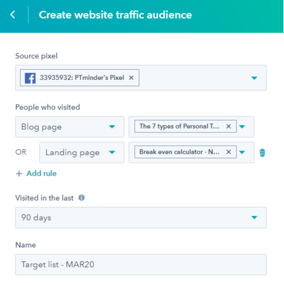 With HubSpot's lead syncing function setup, the submissions from the lead generation ads fed directly into HubSpot so they can be automatically included in nurture workflows.
The tight targeting parameters and seamless lead syncing function have resulted in higher quality leads for less and increased the likelihood of converting hot leads to customers.
Resource Centre
Once we began creating a range of content, we then developed a resource centre using HubSpot to house a variety of types of content. This gives visitors an organised, easy to navigate view of the different resources PTminder offers to help PTs run their fitness businesses.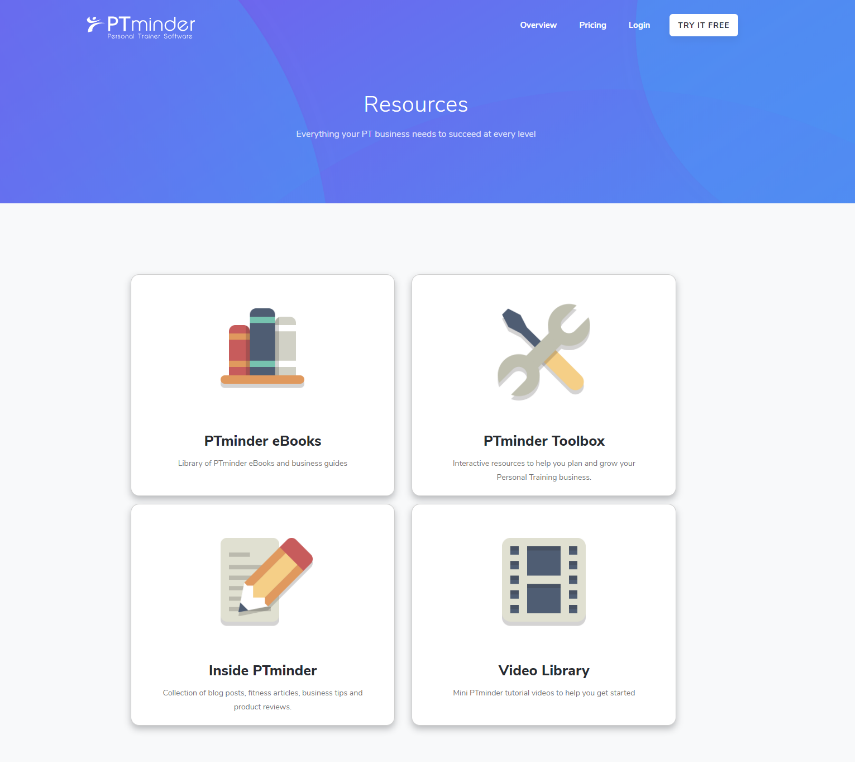 Elements for a Lead Generation Machine
Well optimised landing pages and strategic content have been the key factor for generating leads for PTminder. We've developed clear, concise and beautifully designed landing pages that have resulted in an average submission rate of 47%.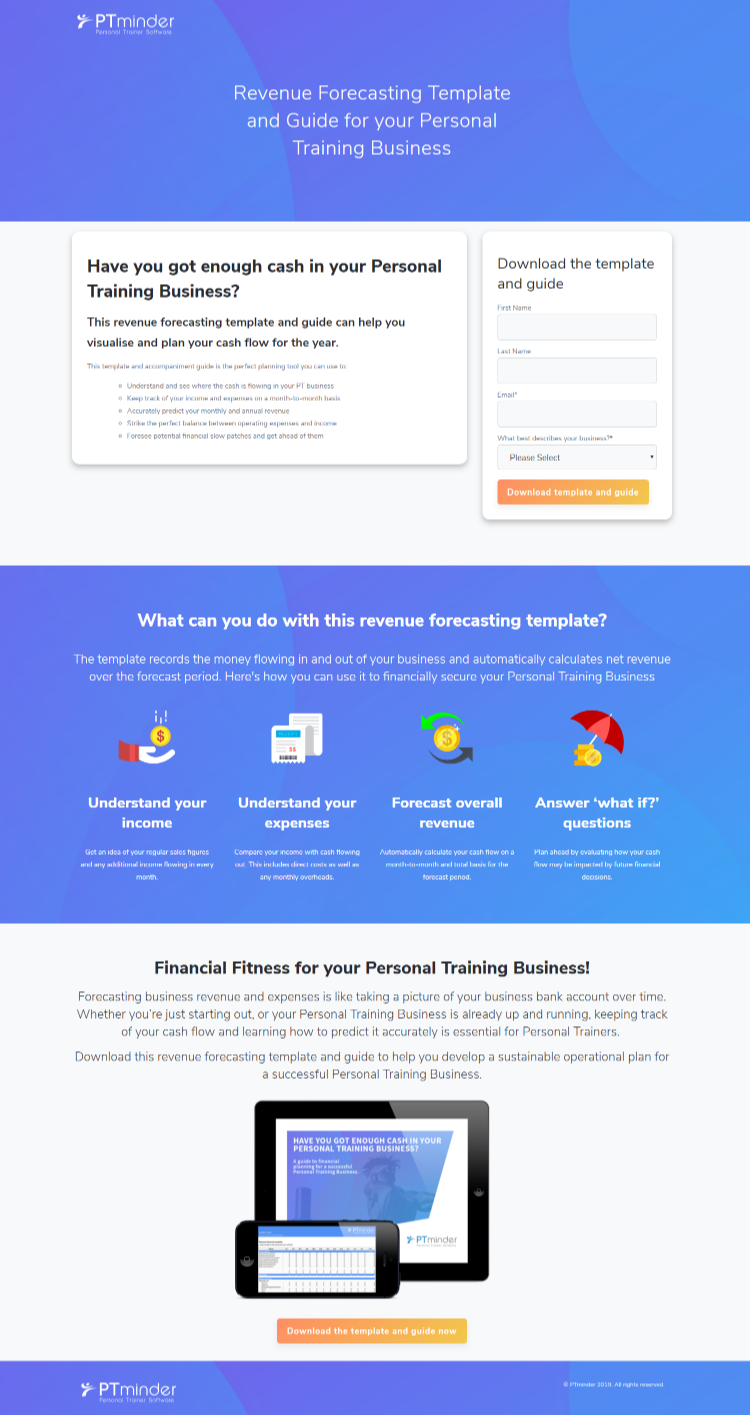 The Impact
Cost of acquisition improved through inbound marketing efficiency
"Concentrate has helped us scale our business in a more affordable way. We're a small team with a large, expanding customer base, so we needed an agency that could help us along our marketing journey."
"We've seen a 25% increase in website traffic, we've seen a 10% increase in our growth in our leads over time, and we've also seen an increase in conversion rates as our marketing and sales are working closer together."
When discussing the impact inbound marketing has had on PTminder, Callum explains, "It has enabled us to decrease our paid advertising because we are producing a more consistent flow of leads coming from organic sources. So, we don't have to rely on paid ads through social media and Google Ads." We've been able to reduce PTminder's paid advertising spend by 25% while continuing to generate the same volume of leads with organic traffic.
He goes on to say, "Not as easily measurable, but just important for us, the introduction of HubSpot and Concentrate has meant that our team now have more time to focus on other aspects of PTminder."
An effective inbound marketing strategy powered by HubSpot and driven by Concentrate has been integral to the continued success of PTminder. As part of our ongoing support, we are aiming to implement additional tactics to further reduce friction from the buyer journey and continue to drive high quality leads.