Rose Batteries' move into inbound with a website driving 25% more traffic
How Concentrate used HubSpot CMS Hub to help Rose Batteries grow its authority online
Based in Silicon Valley, Rose Batteries has built a reputation as an expert provider of battery technology solutions over almost six decades.
A global company with a global reputation, Rose Batteries knew their website was not reflecting its authority in today's online driven B2B buying cycle. Eager to work with an agency partner that had experience in both the HubSpot CMS Hub and in selling to engineers, Rose Batteries reached out to Concentrate to help modernise the company's online presence.
The Challenge
A website ill-equipped to manage a modern tech business
The Rose Batteries bespoke website had been built in the 1990s using PHP (Hypertext Preprocessor). It had become difficult to make changes in and was causing challenges; it was time for a refresh. They needed a modern CMS that didn't require contractors to make simple changes.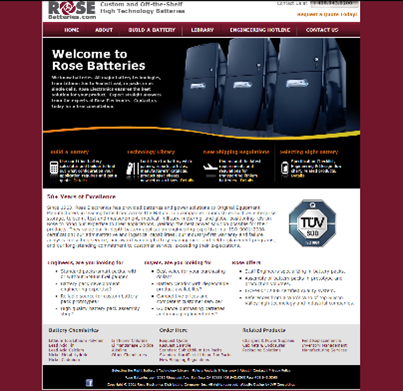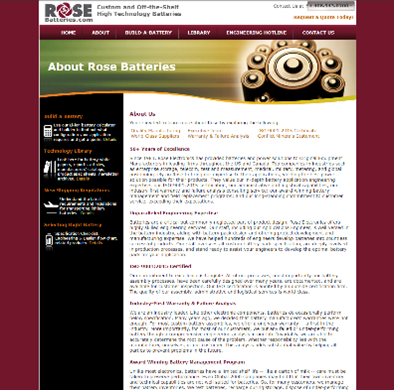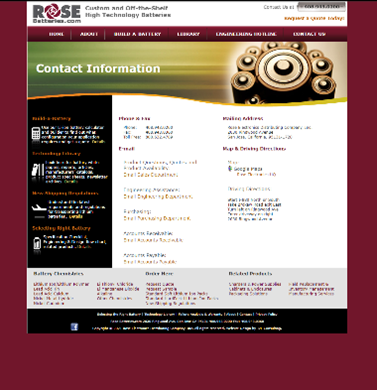 Figure 1-3 — the old Rose Batteries website.
The old website caused friction in getting the team's expert content to their prospects and customers. And, because of its design, became difficult to rank on Google and track activity in the way they knew other businesses, especially their competitors, were doing.
Having done their due diligence, Rose Batteries decided on the HubSpot CMS platform, CMS Hub. Its reputation as an easy-to-use CMS gave them assurance that they could add and adjust content as needed and gain visibility across each contact's journey.
The website needed to:
Be SEO optimised for high-performance
Provide visibility into traffic and overall performance
Be easy-to-use and update
Integrate with wider digital sales and marketing activity as a platform for inbound marketing
The agency to support Rose Batteries needed to prove:
Experience in marketing and selling in the engineering and technology sector
A proven track record of designing websites using CMS Hub
The ability to work to a tight deadline
The ability to achieve optimal results within a tight budget
The Solution
A CMS solution designed to Convert More Sales
Ticking all the boxes, that's where Concentrate came in — our geographic location and friendly accent a bonus for the US based company. Rose Batteries looked at a total of seven other agencies, but ultimately chose Concentrate because we could demonstrate through our work and customers that we had the skillset to develop a website on CMS Hub that would engage their audience.
Our first step was to identify the performance of the current website and what Rose Batteries was looking to achieve with their new one. Through our initial scoping session we identified that the new Rose Batteries website needed:
Better system of record for new and ongoing contacts
Clearer information architecture that increased site visibility across key search engines
Responsive design that made the site more accessible and usable regardless of device
Simpler backend user experience to make content updates more cost-effective
After our initial ideation phase, we presented Rose Batteries a collection of visual concepts for the website that would guide the overall art direction. We made use of the templates available in the HubSpot Marketplace as we knew this would reduce costs and allow Rose Batteries to easily make website changes going forward. We presented the Act3 and POWER themes as both boasted a variety of modern page option designs.
Rose Batteries confirmed the art direction and chose the POWER theme. From there we got to work developing and bringing the vision to life.
The Results
25% more traffic and a reduced bounce rate
The website has been live since February 2022 and has already seen a great return; the results speak for themselves.
Website traffic is up by 25%
Website traffic is up by 25%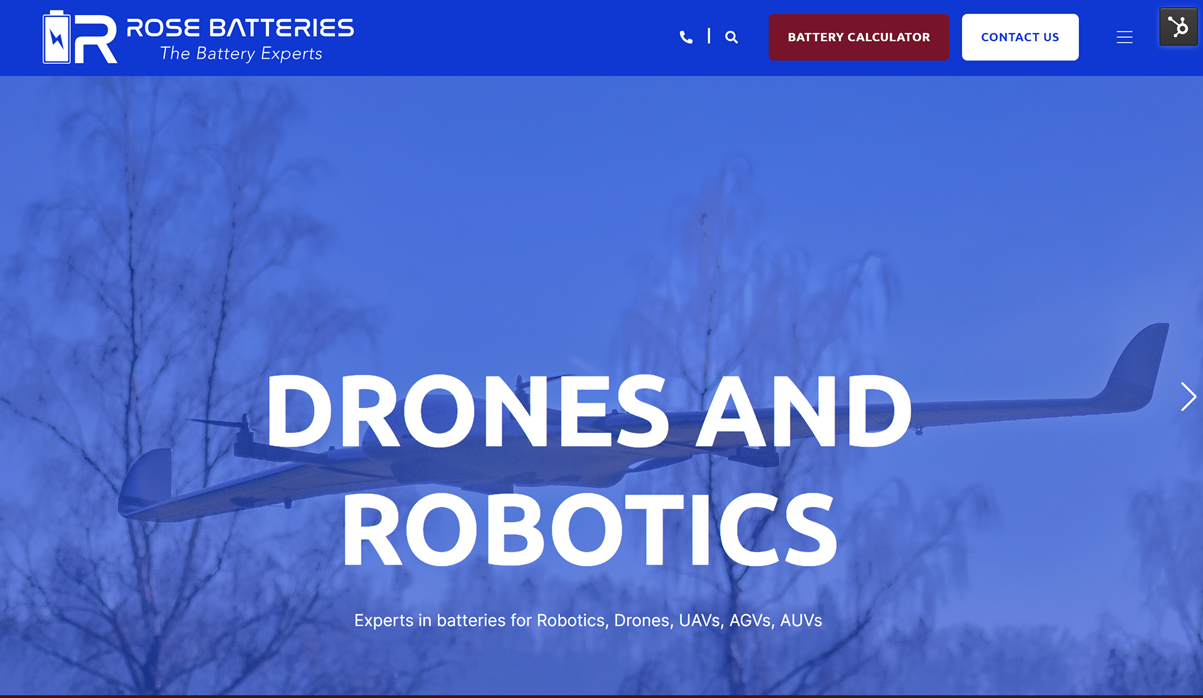 Figure 6 - Rose Batteries new homepage design


Rose Batteries CEO, Itamar Frankenthal explains that their new website has helped their business to grow in three ways.
1. It represents the company more clearly
Based in Silicon Valley, Rose Batteries is a leader in providing cutting edge battery technology to the world's most innovative and advanced companies in a range of industries, and their website now conveys this says Itamar.
2. It's better equipped for lead generation
When people land on the Rose Batteries website, they're now greeted by a responsive design that directly speaks to their needs. Itamar says, "We have an excellent homepage now, when companies or engineers come to our website, they choose to click on the contact us page versus bouncing out because we look like an old nineties company."
Through CMS Hub we were also able to create a landing page and gate their best performing content piece - the Battery Pack Runtime Calculator. This allowed Rose Batteries to convert a large chunk of their website traffic into new contacts in their HubSpot CRM.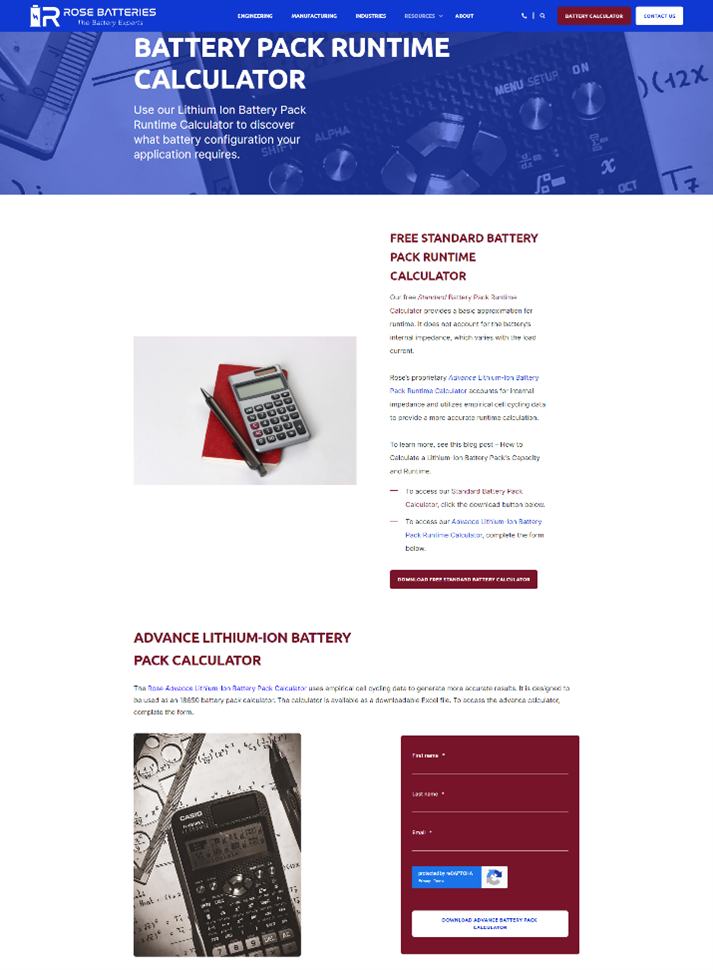 3. It has helped position Rose Batteries as an authority online
The new website has helped Rose Batteries to take their renowned reputation as battery technology experts, online. Because CMS Hub is dynamic in design and boasts a great user experience, the Rose Batteries team have become more self-sufficient; they can now post their articles without a third-party contractor.
Now geared with a responsive, SEO optimised, and content-rich website Rose Batteries has noticed not only an increase in lead generation but an increase in marketing and sales qualified leads. Itamar says, "Customers are entering our initial sales calls with questions already answered and with the confidence and knowledge that Rose Batteries is the right partner for them."
Rose Batteries' new website has not only created a better channel for lead generation but has enabled the team to streamline their entire sales process and match their digital presence with their physical one.