Marketing automation with HubSpot the right tool for global trade tech business to increase paid subscriptions
The re-engagement campaign that brought the tradies back to tradify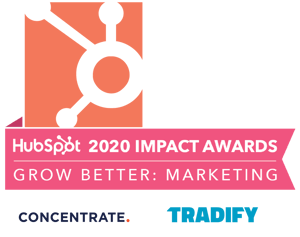 The Client
Tradify has tens of thousands of customers across

UK, US, NZ, Australia, and the rest of the world

.
Tradify developed a job management app that makes quoting, scheduling and invoicing easy, and integrates seamlessly with existing accounting software. Their goal is to help tradies get their life back by saving time with Tradify's user-friendly job management solution.
The Challenge
No time to trial!
Tradify offers a 14 day free trial of their software, during or after which the trialist can convert to the paid version. Although they were seeing good conversion numbers, Tradify believed they could improve the number signing up to the full version.
"We use the free trial as a primary CTA in all our marketing efforts," says Vice President of Marketing, Sarah Berkowski. "The problem is that tradies are so busy that even though they've signed up, sometimes they don't actually get around to even having a look at it."
Recognising that these people were still valuable prospects, Tradify decided to develop a re-engagement plan to encourage time-strapped tradies to take another look at the solution, so they could see how much of their life Tradify could give them back.
Sarah says it was important to take action fast. "I wanted to get going and do something quite quickly, and the re-engagement seemed like low-hanging fruit.''
"Concentrate's approach was highly collaborative. Their experience across different tech businesses, and what I knew we needed to do at Tradify, helped us to map out the workflow design together. We did some brainstorming, looked at a number of different options. They were great to work with, and they brought a lot of experience and expertise to the table."
Sarah Berkowski
VP of Marketing at Tradify
The Solution
Workflow automation powered with hyper-relevant content
Concentrate had been on Sarah's radar through networking events around New Zealand, and she was familiar with Concentrate's annual study of hi-tech sales and marketing - Market Measures. Relatively new to Tradify herself, Sarah had not used HubSpot's marketing automation platform before, but Tradify had been using it for a number of years. Leveraging HubSpot's powerful email workflow functionality was an opportunity to drive a re-engagement programme with free trialists.
"I was familiar with the approach Concentrate used - personalised nurture - but it wasn't something that Tradify had tried before," Sarah recalls. "As we all know from a consumer perspective, the more relevant you can make the content and the message to the recipient, the better. And for tradies, there are nuances between plumbers, electricians etc. Customising the emails by industry and focusing on electricians and plumbers - which are the majority of our free trialists - made a lot of sense."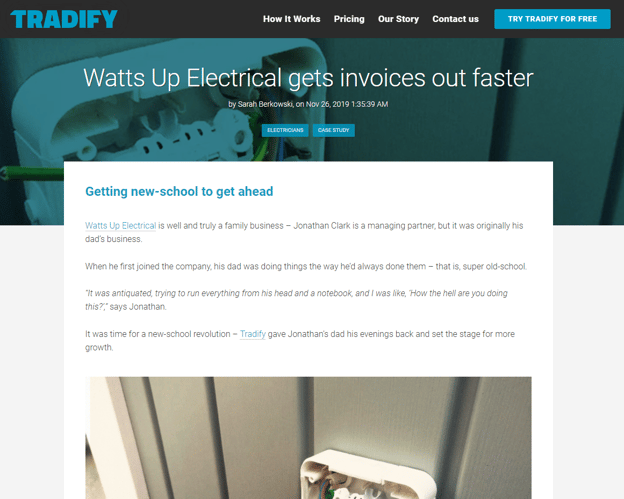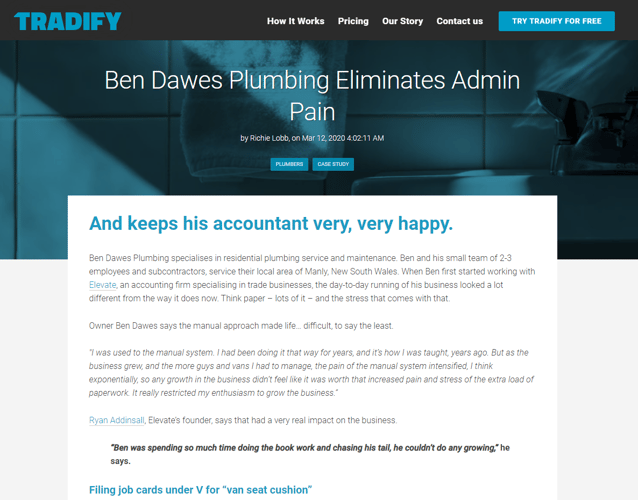 The Results
Significant increase in the number of paid subscriptions
After enrolling the first batch of former triallers and lost prospects in the re-engagement workflow, many signed up for another free trial over the course of three months, and went on to purchase a Tradify subscription.
Sarah goes on to say that they're experiencing higher open rates and click-through rates on the industry-specific emails. "We've also had people requesting demos, which has really helped drive re-engagement with the sales team," she explains. "We have those emails going out to, literally, hundreds and hundreds of trials per month, and we've had more success catching those who haven't upgraded to the paid version."
Not only have they been seeing results in terms of conversions, but Tradify have also gained some valuable insights since the campaign launched eight months ago. "Because we're sending the emails to such a high volume of trialists, we've learned more about what kind of content appeals, which content helps to re-engage," Sarah explains. "So we're able to test different messaging and content in the emails, which has been really helpful, and it's influenced some of our other marketing activities."
The Impact
Mining a whole new source of potential leads and sales
The outcome of what's now an on-going campaign has been highly positive. Not only do Tradify have those tradies who convert to the full version during or after completing their trial, they now have what Sarah calls a second wave of demand. "Most of our sales come from trials that come in that month - it's a quick decision process," she says. "Now we have this additional layer of tradies coming in as a result of the emails, on top of the first-time trialists. It's really bolstered the leads for the inside sales team and has helped us to increase our sales volume."
Tradify's relationship with Concentrate has expanded to include gated content such as eBooks, a billable rate calculator, a cashflow forecast template and guide, and a marketing toolkit. "These are campaigns to capture more TOFU leads," Sarah says. "They've all worked really well for us in terms of bolstering our database and capturing leads higher up the funnel."
So what advice does Sarah have for businesses similar to Tradify, those that offer a free trial? "As marketers, we focus a lot on getting a lead in - getting someone to start a free trial," she says. "But don't overlook that second tier - they're qualified leads, but they may just not be ready to purchase within the time period that a business prescribes."