A quarter of Kiwi tech companies use HubSpot as their CRM platform
Most Kiwi tech companies (84% according to the Market Measures study) use a CRM to manage their sales activity, with HubSpot the most common choice. What is a CRM, what are the benefits and why is HubSpot leading the pack for local tech businesses?
What is a CRM?
Customer relationship management (CRM) is not as the name suggests, a system for just managing relationships with your customers, it is really about managing interactions with people and the companies they belong to from prospect to loyal customer. A vital building block of any sales and marketing technology stack, CRM software helps automate the process of selling and making visible the results. With a CRM system supporting your sales and marketing strategy you can effectively monitor and improve the quality and consistency of your customer and lead relations. Fundamentally it is about increasing the efficiency of your sales process.
The benefits of CRM
Here's an overview of the benefits you gain from using a CRM:
1. Simplified communication with prospects and customers
As the name suggests, a CRM provides a central hub to manage all your relationships. This means your team has a singular point of reference for all contact had with your customers and prospects. They will not only have the ability to see previous engagements like phone calls, emails and live chats, but they will also be able to see when and where a contact has visited your company's website, and if they downloaded any content.
Along with this, they will have the ability to segment prospects based on where they are on their buyer's journey through contact properties such as lead types, actions, and lifecycle stages. They can also set up reminders to ensure every prospect is engaged at the right time, with the right communication throughout their buyer's journey.
2. Enhanced data management and security
Good relationships stem from great understanding, and in the era of digital lead generation this understanding comes from data. As mentioned above, CRMs provide a central hub to record all prospect communications and interactions, in conjunction with this they also offer increased data management and security features to ensure the information you gather about your prospects is accessible yet, secure.
Traditional means of customer relationship management mean sales and marketing teams were slowed down trying to find the appropriate answers to simple questions; who are our customers? How do we get in touch with them? How do they interact with our content? What does our pipeline of new business look like? With a CRM, these answers are visible and easy to answer on the go.
CRMs also make it simple to obtain and document your contacts' permission to store and use their personal details (consents); send automatic notifications to all new contacts informing them that you would like to store their data; manage your customers' subscription to email communication preferences; set up rules to update personal details for groups of contacts – all at one time. This also makes the management of country-specific privacy regulations like GDPR much easier to comply with.
Along with this, CRMs streamline the administrative time needed to manage growing and varying customer databases helping sales and marketing teams to add value where it truly counts, with your customers.
3. Detailed insights, analysis and reporting
As data is secured in one place, CRMs allow your team to collect and organise data about prospects and deals using reporting features such as sales dashboard and reports. These allow your team to better automate and manage their pipelines, deals and contacts as well as their own individual performance, which in turn allows managers to quickly see how their team is tracking and if any strategies need to be adjusted.
Complete analysis makes diagnosis and problem solving easier for you and your team. With everything interlinked, it is simple to drill down and find detailed information about a campaign or contact.
4. Accelerated internal team communications
An effective CRM is communication-focussed and will not only help you improve customer communication but internal communications too.
With detailed information, tracking and tagging capabilities embedded throughout a CRM, your organisation will no longer need to rely on email and other forms of third-party communications to discuss leads and sales opportunities. Instead your organisation can utilise CRM functionality to facilitate and streamline internal communications.
5. Accommodates business growth
CRM functionality is designed to scale both internal and external communications; regardless of your initial starting size, your CRM will be able to facilitate growth regardless of how quickly it occurs. Whether you're looking to track more leads, gain more insight or record more transactions, CRMs have the inbuilt functionality needed to handle your growth as it happens.
CRMs can help you increase revenue, manage your sales pipeline, nurture leads, personalise communication with customers and leads, manage your team, run customer service reports, and analyse data. As a centralised system, HubSpot makes it straightforward for everyone in your organisation (with access) to retrieve and keep track of customers and their key data.
What do Kiwi tech companies use?
According to the Market Measures study, around a quarter of those tech companies who use a CRM have chosen HubSpot. Other options include Salesforce, Dynamics CRM, Pipedrive and Zoho.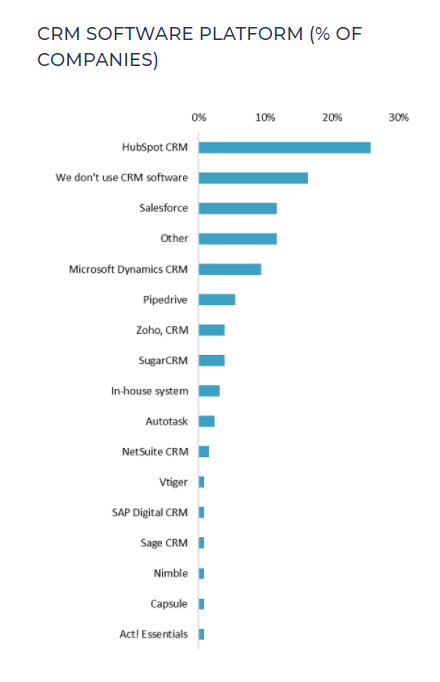 While CRM penetration itself is strong, the 'do it yourself' attitude heavily embedded throughout Kiwi culture has us behind in the adoption of sales and marketing automation tools (e.g. email automation, LinkedIn Sales Navigator, call recording and analytics) that make sales, marketing, and service management that much easier. As a comparison, US tech companies will use (on average) 4 sales enablement tools per team while in New Zealand, high growth Kiwi companies use 2.9 and the rest, 1.9. While it's true, the tools don't make the artist, they do help get the job done faster. With more tools in your team's pocket, what could your business achieve?
Why is HubSpot the CRM of choice for Kiwi tech companies?
Owen Scott discusses how the HubSpot CRM is transforming the sales efficiency of B2B tech companies.
HubSpot has multiple parts, but what really ties it all together is the CRM, where all the data about a customer is stored. There are many benefits to having a singular overview of your customer; you can understand how they engaged with your marketing; how they've engaged with your sales team; how they're interacting with your services and your product.
Most New Zealand tech companies are export focussed; trying to get into North American, European, and Asian markets. To do that, they need to look at ways to sell more efficiently, and HubSpot is a platform that enables businesses to generate leads, manage the sales process, and efficiently manage all customer service enquiries. As a cloud-hosted platform with seamless integration options, HubSpot is quickly becoming the CRM of choice for Kiwi tech companies.
Concentrate is a HubSpot Diamond Partner, specialised in B2B tech marketing. We work to understand your processes and can configure HubSpot to suit. If you're interested in learning how HubSpot can benefit your business, schedule a HubSpot CRM demo with the Concentrate team.