The Ultimate Guide to HubSpot for B2B Tech
A resource for tech companies looking to use HubSpot to drive growth
Chapter 1
What is HubSpot?

HubSpot is a CRM platform that tech companies use to grow revenue by managing their marketing, sales and customer service. As a single, integrated solution it enables tech companies to move faster and be more flexible.
This guide is our introduction to how HubSpot works, from a tech business perspective, and draws on our engagements in using the software and all the questions we've been asked along the way. We've attempted to answer most of these questions we've been asked, but would welcome yours if it's not addressed below.
Chapter 2
Is HubSpot a good fit for the B2B tech companies?
Concentrate has been using HubSpot since 2013, and has worked with hundreds of tech companies in New Zealand, Australia and the USA to get the most out of the platform.
We looked at a bunch of platforms at the time, and found that HubSpot offers more flexible options for the fast-moving tech businesses we worked with. Firms that wanted to drive efficiency in their sales and marketing, while maintaining great visibility to the results.
Chapter 3
So what is this HubSpot thing?
The official spiel is that HubSpot is a CRM platform that ''has all the tools and integrations you need for marketing, sales, content management, and customer service.'
For the average tech company, HubSpot means you can:
Build an effective lead generating website (i.e. with smart landing pages, personalised content, high speed, highly secure)
Manage all of your typical digital marketing activities (email marketing, SEO, paid search, paid social, organic social) more efficiently, and measure the results
Make it easier for your salespeople to manage their activities and report on them
Look after customers well
What is HubSpot's inbound methodology?
The CRM platform popularised the concept of 'inbound marketing', i.e. where a prospective customer who is using the internet comes 'inbound' to you to understand what your product could do for them. Founders Brian Halligan and Dharmesh Shah even wrote a book about it back in 2009.
Inbound is as opposed to 'outbound', where you as the seller are sending out information to prospects in the hopes of attracting them.
The original inbound marketing concept has broadened into a 'flywheel' concept, which is firmly focused on customer success. While always a foundation of business success, customers are taking on greater importance for marketers in the digital age as online 'word of mouth' drives so much buying.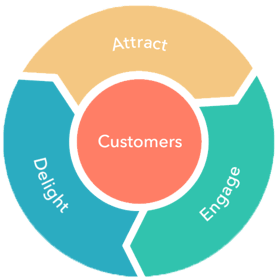 The flywheel holds that buyers have access to so much information about products and companies that they can educate themselves completely online, they are less likely to be persuaded solely by our marketing. Increasingly what they need amongst all this noise is a trusted endorsement or referral from an existing user – whether that's from online reviews or direct conversations. These are becoming more and more important.
This means as marketers and sellers we need to make sure we pay attention to customer experience. HubSpot Co-founder Brian Halligan proclaimed this as the death of the marketing and sales 'funnel' i.e. that model of a linear flow of buyers from becoming aware of your brand through to purchasing, and the birth of what he terms the 'flywheel', a cycle of activity where people are attracted, convert and then become loyal customers that influence new buyers to purchase.
Chapter 4
If I buy HubSpot what can I replace?
A stack is defined as a pile of objects, typically neatly arranged. In terms of HubSpot, it refers to the various technologies a tech company will use to drive their marketing, selling and customer support. Given there are around 8,000 technology options at last count, this stack gets a little unwieldy.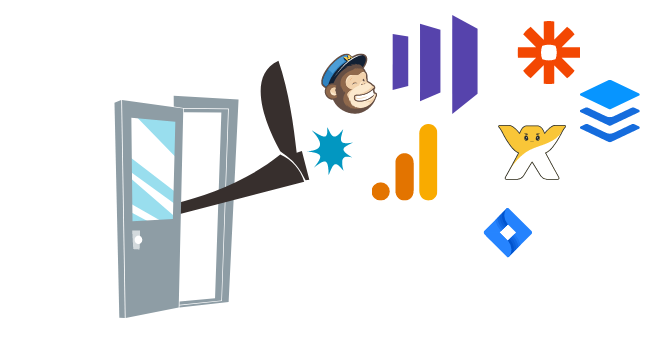 In simple terms, tech firms we work with have typically replaced all or some of the following 'stack' of technologies with HubSpot:
We've produced this handy marketing tech stack guide to dig into the stack concept and what you can use.

Migrating to HubSpot needs to be carefully planned and executed. It's not just about transferring contact data or replicating workflows for example, but understanding how the CRM platform can best meet your business needs. You should take the time to talk through your objectives with HubSpot or a HubSpot partner before you start any migration. Here's 12 things to consider before implementing HubSpot.
Chapter 5
Does HubSpot play nicely with other technology?
When we started our journey with HubSpot, the level of integration with outside tools (apart from SalesForce) was relatively limited, but so was the level of customer need. That has changed markedly, with most clients needing integration into other key systems.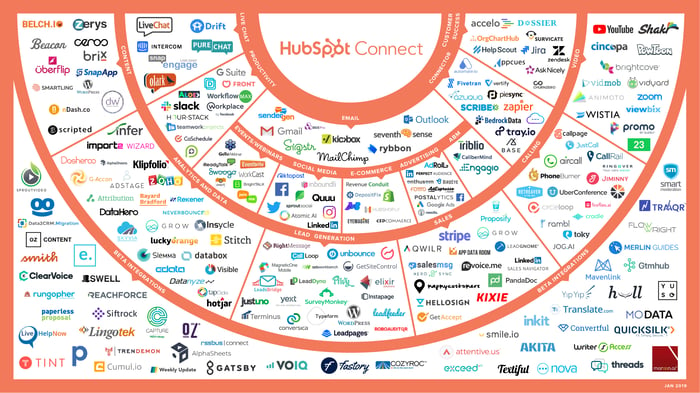 Photo credit: HubSpot
On a functional level, connecting HubSpot with common email clients like Outlook or Gmail is straightforward and works well. Like many CRMs, this means you have a record of communication with prospects against their contact and company record.
Connecting up channels like social media or paid media with the platform is also straightforward with simple configuration tools in the software. That means it is easier to manage your posts and platforms, and monitor the results against specific campaigns, companies, sales deals and even people.
With the more significant integrations, where data needs to be synced to keep HubSpot aligned with other core systems like financial software (e.g. Xero, Quickbooks) or e-commerce systems (Shopify, WooCommerce), HubSpot's Operations Hub is an effective tool. Other dedicated integration tools like Zapier are effective means of keeping systems synced.
Chapter 6
What does HubSpot cost?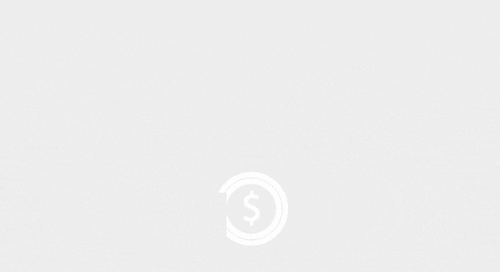 All the details are laid out on HubSpot's website, but as they offer tools to work from the start-up to mature company, the cost can vary from completely free to $USD 50,000+ a year for an enterprise version of the software.
In simple terms there are four tiers to HubSpot licensing: Free, Starter, Pro and Enterprise. Figuring out which is best for you depends on the above considerations: your needs and goals, and your budget. There are different license levels for each Hub, plus a range of product bundles.
Free - it's what it sounds like. You get a small taste of the tools for nothing, but there are limitations on each one. Marketing, sales, service and operations tools are all included, and it's not on a trial basis – access to the free tools doesn't expire. It's enough for you to familiarise yourself and get started with the platform and is a good option if you're completely new to cloud-based platforms like HubSpot.
Starter - this option has some great features to get your sales and marketing program up and running. It's the more robust version of Free, and best suits small businesses with a limited budget. You'll get all the basics set up and it'll help you decide if it's worth investing in the more sophisticated options as you start to grow and scale. For example, the Starter CRM Suite includes all the marketing, sales, and customer service tools you'll need, and you can pay upfront or commit annually.
Pro - this is a step up from both the Free and Starter options. If you're looking to scale your business and really drive growth; Pro is your best choice and our recommendation. This unlocks the ability to automate manual processes, robust reporting and dashboarding, and advanced sales and marketing tools to drive efficiency throughout your business.
Enterprise - this was designed with large sales and marketing teams in mind. The extras you get over and above Pro are mostly about managing those teams and their sophisticated processes. If you've got a huge contact database and you've got a lot of leads coming in, Enterprise is going to be the best choice for managing them.
Whatever tier you choose, HubSpot requires an investment of time, effort and capital. That investment should primarily be focussed on supporting the growth of your business, in terms of improving your marketing, selling and customer experience. An investment in HubSpot can also deliver savings in licensing costs on tools you will be able to replace, and in terms of people's time to administrate multiple, disparate systems.
HubSpot have surveyed their global customer base to provide some hard numbers on the return on investing in HubSpot.
The benefits are endless, and you can optimise this platform by leaning on HubSpot Partner Agencies to support your growth - we've calculated the ROI for you.
Chapter 7
Why should I use the HubSpot CRM?
What kind of companies does the CRM suit?
With a breadth of levels, from the free entry point through to enterprise solutions, HubSpot is designed to scale with any entity that is focussed on growth. That is, the need to generate more leads and convert them more efficiently to customers is at the core of the company strategy. HubSpot's library of case studies can give you a view of the type of organisations using the platform, or you can listen to the Growing Tech Podcast where Dan Tyre discusses his tech sales strategies, and how HubSpot's CRM can support your sales team.

Tech companies fit this growth definition perfectly, which is why HubSpot is achieving good penetration in the sector. Concentrate's Market Measures study showed a quarter of those tech companies using a CRM had chosen HubSpot. Other products used included Salesforce, Microsoft Dynamics CRM, Pipedrive and Zoho.

What are the main benefits of a CRM like HubSpot?
Growing companies manage their marketing and sales data in some form, we see people using spreadsheets, building bespoke systems, using the customer modules of ERP systems and a combination. To really scale a formal CRM system like HubSpot does make a difference, but how? Here are five key benefits of using HubSpot CRM we have identified for tech companies:
1. Simplify communications with your prospects and customers
With HubSpot CRM, you can manage all of your relationships in one place. A single point of contact for all customers and prospects. In addition to being able to see previous interactions, your team will also be able to see when and where a contact accessed your company's website, as well as if they downloaded anything.
Besides this, they will be able to segment prospects based on where they are in the buyer's journey through contact properties such as lead types, actions, and lifecycle stages. The prospect can also be reminded to engage at the right time, with the right communication, throughout their buyer's journey.
2. Improve how data is managed and protected
With traditional customer relationship management, sales and marketing teams were slowed down trying to find answers to simple questions; who are our customers? What is the best way to contact them? Which content do they interact with? How does our pipeline of new business look? HubSpot makes these answers visible and accessible on-the-go.
HubSpot also makes it simple to:
Obtain and document your contacts' permission to store and use their personal details (consents);
Send automatic notifications to all new contacts informing them that you would like to store their data;
Manage your customers' subscription to email communication preferences;
Set up rules to update personal details for groups of contacts – all at one time. This also makes the management of country-specific privacy regulations like GDPR much easier to comply with.
Along with this, HubSpot streamlines the administrative time needed to manage a growing and varying customer databases helping sales and marketing teams to add value where it truly counts, with your customers.
3. Get detailed insights, analysis and reporting
HubSpot allows your team to collect and organise data about prospects and deals in one place using reporting tools such as sales dashboards and reports. By automating and managing pipelines, deals, and contacts, your team can better see how their team is performing and make adjustments as needed. At the same time, managers can easily see how their team is tracking and if strategies need to be adjusted.
A complete analysis simplifies diagnosis and problem solving for you and your team. Everything is interconnected, making it easy to explore details about campaigns or contacts.
4. Streamline internal communications
An effective CRM is communication-focused and will not only help you improve customer communication but internal communications too.
With detailed information, tracking and tagging capabilities embedded throughout HubSpot, your organisation doesn't need to rely on email and other forms of third-party communications to discuss leads and sales opportunities. Instead your organisation can utilise CRM functionality to facilitate and streamline internal communications.
5. Scale the system as you grow
Despite your initial start-up size, HubSpot CRM will be able to handle growth, regardless of how quickly it occurs. Whether you're trying to track more leads, obtain more insight, or track more transactions, CRMs are equipped with the features needed to handle growth as it happens.
Overall, HubSpot is about helping you increase revenue, manage your sales pipeline, nurture leads, personalise communication with customers and leads, manage your team, run customer service reports and analyse data. As a centralised system, HubSpot makes it straightforward for everyone in your organisation (with access) to retrieve and keep track of customers and their key data.
It can be tricky choosing the right CRM for your B2B tech business, especially with so many options available.
HubSpot and Salesforce are leaders in the market

- but what's the difference between them? Which one would be best for your business?
Chapter 8
How can I implement HubSpot successfully?
Like any software implementation, success is as much about having a clear understanding of how it needs to work to support your business, as it is the technical aspects of setup and configuration.
Typically that is trying to understand things like how leads are sourced and qualified, the steps of the current sales process (e.g., qualify, discovery, solution, proposal, closed won/lost), how sales are managed (e.g. meeting cadences and structure), how cross-selling/upselling of products is done, what sort of monitoring and reporting is needed.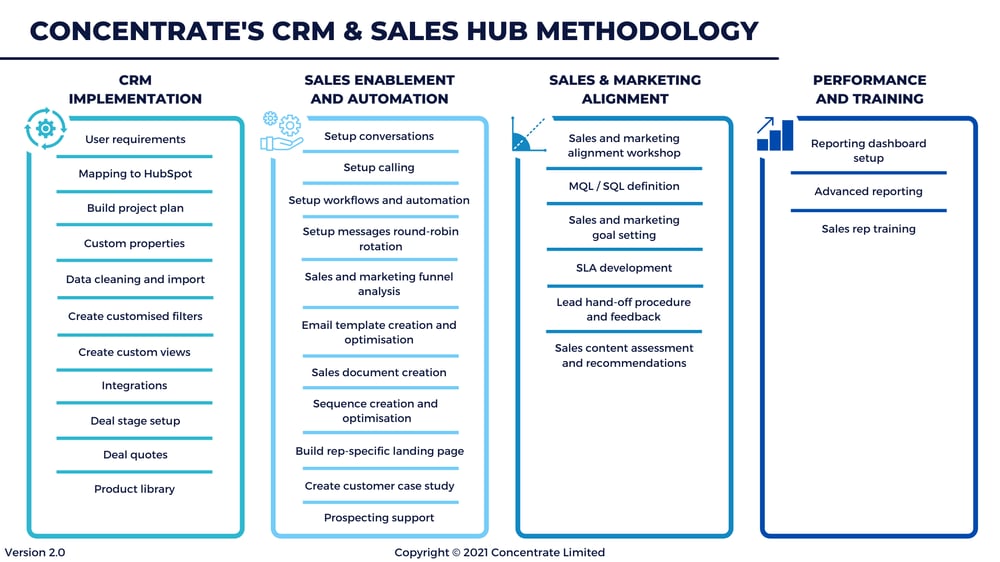 How can I actually get my salespeople to use HubSpot?
Most salespeople see CRMs as a compliance tool not something to make their job easier. This is exactly the wrong way around. A CRM that supports a salesperson with productivity tools, rich insights into prospects and good reporting both engages the sales force and gives management the data they need to monitor progress against budget.
CRMs tend to focus too much on the requirements of sales managers, rather than the needs of sales teams. Many CRM systems are used to impose structure and reporting by management across the sales team, rather than helping front-line salespeople.
After trying and failing with a bunch of different CRMs, HubSpot has been the first sales tool we've used at Concentrate that achieves this balance of helping the salesperson while giving visibility to performance. Here are six of the best HubSpot features we think contribute to that with the HubSpot CRM and Sales Hub, making it better than your average toasted sandwich maker:
It's easy to use - as a natively cloud-based app, it has a very intuitive, consistent interface that most users can get a handle on very quickly.
A flexible relationship structure - it doesn't enforce relationships between entities like companies, contacts and sales opportunities. You can get going fast with one and then add the others as the picture emerges.
Auto-populating company information - HubSpot can automatically fill in the gaps about the companies in your CRM. (HubSpot have their own large database, along with a third-party database, of company information to automatically create a company record for a contact with the email domain. The properties include company name, company description, number of employees, revenue, address, contact information and URL.)
Cool add-ons - notifications, automated email sequences and online meeting booking are just some of the useful productivity tools.
Connection with marketing automation - if you have also purchased HubSpot's marketing automation product, your CRM is supercharged with a whole lot of data about prospects and their behaviour. Where they came from (e.g. LinkedIn ad), what pages they are visiting on your website, what emails of yours they are opening, etc.
A mobile app - pre-Covid at least most salespeople were out and about a fair amount, and having a mobile app to check data about a prospect, enter in important deal information or tasks is invaluable.
The last word on the HubSpot CRM - you can get going for free. So give it a go, load some contacts, set some deals and see if it works for you.
If you've been thinking about moving away from disparate marketing tech and bringing marketing automation on board, you're making the right move. But what exactly is marketing automation and how can it benefit your B2B tech business?
Chapter 9
How does HubSpot help with content marketing?
What is content marketing?
Marketing techniques that interrupt a target audience are less effective than they once were for reaching prospects and converting leads into customers. It is for this reason that content marketing has become more popular than traditional marketing methods such as print, radio and television. Why? Online is the first place people look when researching goods and services.
Content (i.e. useful information for a buyer) is king for getting potential customers to your website, generating leads and supporting them through their buying journey. By providing target audiences with useful content to help them explore and clarify their business problems, show them how to effectively solve their pain points and challenges and then get them interested in something you sell, you can increase conversions, improve brand awareness, boost revenue and more.
Examples of content include:
| | |
| --- | --- |
| | |
| | |
| | |
| | |
| | |
| Video (live-streaming media) | |
For tech companies especially, content marketing provides the opportunity to explain often complex solutions, and their benefits, to an audience in multiple ways. Businesses use it to increase brand awareness and position themselves as experts. HubSpot data shows almost 70% of companies used content marketing in 2020.
How do I build a content strategy?
Content marketing works best with a planned approach, oriented around a good understanding of what search terms (i.e. the terms people use in Google to find your kind of solution) your target audience most commonly use. You want to build a pipeline of content that can fuel your marketing programme.
For those selling B2B technology products, there are some unique challenges in content marketing effectively. You often have an intelligent, well-informed audience who only want high-quality, technically accurate content - no marketing 'fluff' allowed. Tech companies need to leverage their experts to produce content, with a willingness to 'give away' advice to start engaging with prospects.
In simple terms, you need to do three things with your content marketing in B2B tech:
Describe the business (and therefore technical) challenges your audience are facing
Demonstrate your deep understanding of the topic; positioning yourself as an expert to boost your authority and credibility
Explaining how they can use the solutions you offer to solve their problems, and offer proof it has helped others
This blog explains the basics on building your content marketing strategy, and we've also put together a detailed guide and associated content planning spreadsheet tool.

How does HubSpot enable me to do content marketing?
HubSpot was built as an 'inbound marketing' platform, i.e., to enable businesses to help their customers and prospects come 'in' to their website and other digital platforms to support their buying process. While it has grown to include a CRM, CMS and customer success platform, at its heart HubSpot is all about helping you create effective content and enabling prospects to find it.
At a basic level the role of HubSpot is to:
Host your content, e.g., as a blog, web page, landing page, downloadable content
Promote through social media, email marketing and paid search
Measure the results, e.g., conversion rates, new contacts created, contribution to revenue gained
For each of these tasks there is an array of software features, supported by templates, best practice advice and case study examples.
Chapter 10
Building websites with the HubSpot CMS
As your #1 marketing asset and a key part of your sales efforts, your website plays a vital role in your business. Your website is where most of your potential customers encounter your company for the first time, and where you should be receiving sales leads from every month.
Concentrate's Market Measures research shows that 43% of Kiwi tech businesses don't monitor what their website is doing, let alone understand whether it's effective. Your website should be the hub of lead generation activity, converting 1-4% of traffic to leads.
Because they can be tricky to operate and maintain, B2B tech firm websites don't get the kind of attention they deserve. Traditional CMSs require you to constantly worry about your website's security and performance. In addition, your business can also face scaling obstacles as it grows, especially if you need the website's developer to do basic updates.
So what's the solution? A user-friendly content management system (CMS) that your marketing team can drive.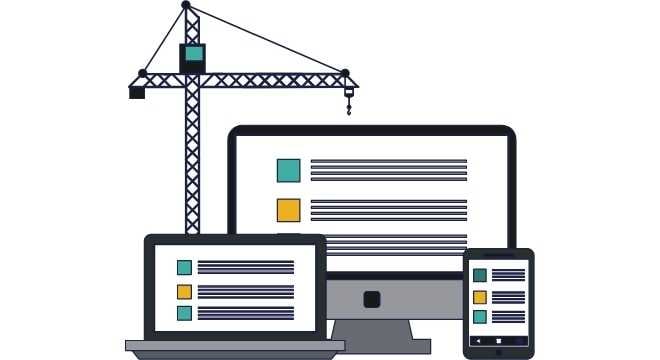 HubSpot built a CMS to target these pain points and help marketers take control of the business's website, with a focus on lead generation. Rapidly growing businesses benefit from the CMS Hub's speed, security, and scalability. CMS Hub takes the hassle out of managing software, which enables users to focus on creating a remarkable website experience for their customers with user-friendly drag and drop functionality, unlike traditional CMS which becomes more difficult to use over time.
How does the HubSpot CMS compare to other CMS like WordPress, Joomla, Silverstripe and Squarespace?
There's a vast array of CMS platforms out there, with WordPress being the most commonly used. But there are plenty of others we work with regularly on customer projects, such as Drupal, Joomla, Squarespace, Wix or the homegrown Silverstripe.
The best way to understand the pros and cons? Google it. There are all manner of impartial and more partisan reviews of the different platforms. HubSpot actually do a pretty good job of trying to provide a balanced view of their tech vs other platforms, eg.. comparing WordPress and Hubspot, or doing a WordPress vs Joomla vs Drupal analysis.
Many of these CMS share similar features, but the critical difference with the HubSpot CMS is that it is part of an integrated stack.
What are the advantages of an integrated stack including a CMS?
CMS Hub is part of the HubSpot CRM platform. This means you'll have all the tools you need to create a seamless digital experience that customers really enjoy. Additionally, the entire CRM platform has been built by HubSpot from the ground up. Data, reporting, and individual tools are all similar and interact with each other, resulting in an enjoyable and consistent user experience.
You must cobble together different plugins and solutions to create your company's digital experience when using an open-source CMS platform like WordPress. Due to the fact that each plugin was developed by a different software provider, it will require custom development to ensure that these tools work together and provide value for your business. Not only does this make WordPress harder to adopt, but it also limits WordPress' ability to scale with your business.
How can I build a 'growth-driven' HubSpot website?
With traditional web design, the team needs to consult with all stakeholders, consider best practices and future-proofing, take industry standards into account, and evaluate what's worked before. A hypothesis of what we believe will work is the culmination of thousands of little decisions and guesses. Our problem is that we ignore the hypothesis when launching the next site. Our fingers are crossed and we hope for the best. After that, it sits for two to three years without any evaluation or analysis, which means all the time and effort invested in getting it up and running was ultimately a waste.
However, you don't have to accept this. A smarter approach to web design can reduce headaches and risks while maximizing results. Growth-Driven Design (GDD) keeps your website up-to-date and dynamic by leveraging user data. Using what you learn about your users, you can inform other departments, such as marketing, sales, and product, so that they can improve their impact. Likewise, you can talk to those departments about what they've learned.
Growth-driven websites typically follow a simple three-stage process:
Understanding user requirements: really getting to grips with how your website can help a prospect on their buying journey
Building a minimum viable website: what is the minimum you need to launch your website? Too often first try and include everything in their website projects, causing project creep and delay.
Continuous improvement cycle: get into a continual approach
What are some examples of good B2B tech lead generation websites built with HubSpot
The definition of a good B2B tech website is one that effectively supports your sales process by helping generate and nurture leads. Between 1-3% of your visitors should be turning into leads (unqualified at that point).
A few basics you need to observe:
Don't prioritise aesthetics over function - your website has to act as the hub of your lead generation activity
Be mobile friendly
Simple navigation
Design that fits your buyer personas
Lots of content offers, at the top, middle and bottom of the funnel
Setup well for search engines
Here are a few websites Concentrate has built for B2B tech firms, that adhere to these basic principles:
Chapter 11
How can I educate myself about HubSpot?
One of the things that attracted us to HubSpot in the beginning was the resources the company provides to help, and the community around the product. All the resources are out there to learn all about inbound marketing, and the HubSpot CRM platform itself.
Quick tip: simply google 'subject, HubSpot' and you will get a wealth of blogs and other resources to help. For example, try searching ''email marketing, HubSpot'' and you will get a bunch of resources on email marketing best practice, and also how to implement campaigns in HubSpot itself.
General resources
Academy
There are a huge range of HubSpot courses and associated certifications on the HubSpot Academy. Each course has video and written resources, and will require the completion of an exam and sometimes a practical test to obtain certification.
Blog and other resources
The HubSpot blog has a mountain of content, and is updated daily. You can search for specific topics, or subscribe to email updates to specific areas of interest such as marketing, sales, service or website.
There are also all manner of ebooks, guides and other tools on various subjects, accessible here.
For B2B tech companies upskilling on HubSpot, the Concentrate blog offers best practice advice, for example:
Enjoy a HUG
Another source of useful input is participating in a HubSpot User Group (HUG). These are structured around geographical areas as well as special interest groups. Concentrate run a HUG especially for B2B technology businesses across Australia and New Zealand. Visit the HUG page for more information and to sign up for event notifications.
Case studies
If you want to get a sense of how local tech companies are using HubSpot, try these case studies:
Chapter 12
How does HubSpot compare?
If you're wanting to assess HubSpot relative to other technologies, a good place to start are the software review sites. These have crowd sourced reviews and voting to help you get a picture of relative strengths, weaknesses and value:
A differentiator for us with HubSpot has been the community. While many of the tools reviewed on these sites have comparable feature sets to the HubSpot platform, the level of best practice knowledge and content, user support and community cooperation makes HubSpot standout.
Chapter 13
How can I get started with HubSpot?
To get your head around the HubSpot software, the getting started resources is a good place to, well, start. That helps you get going with the HubSpot tools themselves.
We'd also recommend you build a base understanding of the 'inbound' philosophy that underlies te HubSpot CRM platform. These two base certifications are a great place to educate yourself:
Concentrate offer implementation and coaching services to help companies get going quickly and effectively with HubSpot. For some businesses there is a real opportunity cost to having to learn about the platform, and it makes sense to get help from experienced experts to create momentum.