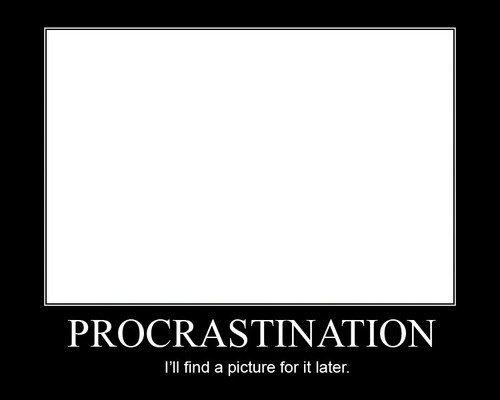 Anyone who was once a student knows what it's like to procrastinate. You know you should be studying for that exam on Wednesday but it would be best if you tidied your room first so you have a calm environment to work in… and now that that's done, you notice the lawns need mowing… and after all that hard work you really do deserve a lunch break… maybe watching the Jeremy Kyle show will motivate you to study… and oh look now it's time to start making dinner.
We live in a society with so many distractions. It's not easy to knuckle down, concentrate and get things done.
Producing useful online content is the backbone of Inbound Marketing. It draws new leads to your website and promotes your credibility as a company. But the process of constantly pumping out engaging, helpful content is HARD. So we procrastinate.
Many Kiwi tech companies are placing blogging, eBook making, case study writing and white paper creation at the bottom of their 'to do' list because writing is time consuming and often frustrating. It is all too easy to set these tasks as low priority, when in fact writing content has the potential to become one of your most valuable assets.
Here's 6 tips to get it done!
1. Mix up your content formats
You don't need to complete a time-consuming eBook every week. Think of quicker ways to make information fresh for your prospects such as infographics, blog posts and how-to guides. Stagger these shorter forms of content with the larger, meatier ones (like reports, eBooks, whitepapers and case studies).
2. Have different authors
Don't leave all your content creation up to one person every week. Allocating employees of different strengths to write a piece once a month makes constant content publishing a lot more achievable.
3. Look for inspiration for your content topics internally and externally
One of the most challenging things about content writing is coming up with new, relevant ideas. Here are a few suggestions to get your brain juices flowing:
• What questions are your customers frequently asking?
• What relevant stories have been in the news lately?
• What are your favourite bloggers posting about?
• What are you focussing on improving as a company right now?
• What is your area of expertise?
4. Make a plan and stick to it
Collaborate on a list of topics to write about every couple of months with your fellow content creators. Allocate the topics to the people who are most knowledgeable in these areas. This makes it easier to choose your focus when the time comes to pick a subject and gives you a bit of time to think over what you want to write about. It also ensures that no-one writes about the same thing.
5. Set time aside each month to write
Remember, content creation is now a high priority for your company. Allocate time each month to create. Block it out in your diary. Wake up an hour earlier if you already have a lot on your plate. Just get it done!
6. If you're really that busy…
Hire a professional content writer to do it for you.
Frequently posting fresh, helpful content on your website is pivotal to producing good-quality leads. Planning ahead makes it less stressful to publish regular content. Knuckling down and just getting it done is so much more satisfying and productive than spending weeks procrastinating. Embrace Nike's clichéd catchphrase.