6 min read
December 9, 2019
Four common and easily fixed website mistakes
Is your website generating as many leads as it could? Check to see if these common errors are hampering your lead gen efforts
For Kiwi tech businesses, their website is at the centre of their brand. It's where potential customers often get their first look at the company and what they do. When it comes to generating leads, it's an essential tool.
Websites aren't set-and-forget. They need to be dynamic and continually updated. They also need to be checked to make sure they're not making any of these common mistakes.
1: Lengthy conversion forms
Any type of form with an offering in exchange for user details and information is crucial for generating and converting leads. These include event registration forms, contact forms, newsletter sign-ups, pop-up forms - anything a potential customer fills out. That's why it's essential they're utilised properly.
If a form is excessively long and asking for too much of the user's information, it can potentially create friction and ultimately deter the user from completing it. Do you really need a home address, postal code, star sign, and their age if they're already providing an email address, and their first and last name when downloading an eBook or white paper? Of course you don't!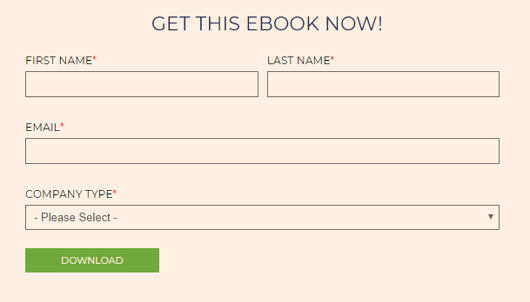 Don't overwhelm your users – keep it simple and only ask for the key information needed by your sales and marketing teams. We recommend asking for a first and last name, email, and company name, and if you'd benefit from having more information, leave those fields optional and allow for users to decide.
With the right marketing automation in place, you'll be able to progressively ask them for more data as they re-engage with your website and complete more forms. This is called progressive profiling; asking for a small amount of information on the first conversion, and then progressively asking additional questions at subsequent conversions.
2: Outdated and old contact/company information
If you clearly aren't keeping your website up-to-date with the latest information, a common reaction from potential customers is to wonder what else is being neglected. They'll be questioning the validity and credibility of your business, and whether it's still in operation which creates an unneeded point of friction and closes several points of contact.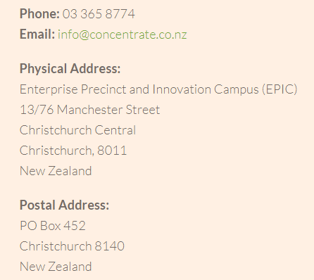 Not only that, but outdated contact information or none at all is a quick and almost guaranteed way to lose potential customers. Some aren't interested in engaging via email, live chat, or whatever contact form is on your website; they would much rather jump on the phone to make contact with you, so if the number is incorrect you're almost guaranteed to lose the lead.
Vendasta published a study highlighting consumer behaviour based on whether or not contact information was available. The key stats revealed that 65% of consumers want to see contact information on the site's home page, and 44% of consumers left the website because there was no contact information.
Clearly, this is an easy fix. All it takes is a bit of effort when something about your contact details or your company changes. Make sure you include a company address, phone number, postal address, and email, and keep those details up-to-date.
You can also trial contact methods like chat to improve the visitor experience.
3: Poorly worded and lengthy page titles
This is the text title that displays at the top of browser for each respective tab and on Google search results; usually a title for said page or description detailing what the page is about. Getting these right is essential to be found easily on search engines like Google.
If a page title exceeds 60-70 characters, or the 600-pixel limit, it's considered to be too long, both search engines and browsers will cut it short as a result. It may not sound important, but this tends to be a user's first experience with your website, especially if they've found you on Google. If it's not concise or to the point, and it's full of jargon, it can put potential leads off clicking through.
Backlinko found that after analysing five million Google search results provided by ClickFlow in 2019, title tags between 15 to 40 characters have the highest organic click-through-rate of 8.6%.
The solution is to lock down and target the most relevant and influential keywords related to your business, and then create a concise title using those words. The goal is for people who don't know about your business to be able to find you through relevant industry keywords and search terms; when they eventually land on your site, recognisable and important keywords displayed on a page title make sure they stay on track.
4: Inconsistent blogging
Blogs should be a feature of any tech business website, because not only are you keeping it updated with new, dynamic content that lets your business' personality shine through, but you can promote the blog through your social media platforms, increasing the amount of traffic to your website. It's an informal medium that allows potential customers to get to know you better.
It's also a great way to organically generate leads by targeting specific keywords, search terms, and solutions that your product or business assists with, resulting in higher rankings and discoverability on search engines.
If a blog section is neglected and allowed to gather dust, it becomes more of a liability than an asset, and damages your business's credibility.
HubSpot, the Content Marketing Institute, and iContact provided data around content marketing and found that:
329 million people read blogs every month
27 million pieces of content are shared daily
73% of customers prefer blog posts or articles over traditional advertisements
61% of consumers are more likely to buy from companies that produce content compared to those that don't
These figures demonstrate the value regular blogging brings to tech businesses and reinforces the idea of how beneficial regular blog posts can be to your lead generation efforts.
An essential component of your inbound marketing strategy should be to post regular blogs. Whether it's daily, weekly or monthly, the idea is to be consistent. We recommend publishing something new at least once a month around the same time to set credible expectations. If you're lacking in content, incentivise your employees to create a relevant blog post each month.
It's also a good idea to post case studies about exciting business ventures or successful endeavours, re-purpose unused or old content into shorter and targeted blog posts, or even combine your press, news, and blog section into one to keep it active and dynamic.