Why are resellers and distributors an unfashionable route to growth for tech companies?
Music fans mourned the untimely demise of Joni Sledge, one of the quartet of Sledge sisters responsible for the disco anthem 'We are family', released in 1978. The classic tune remains popular almost 40 years later amidst all the explosion of musical styles we enjoy today. Fortunately, we haven't become too carried away by the latest hip-hop to forget the big hair and big beats of disco.
In the marketing world digital has become pervasive, to the extent it sometimes seems the 'classic' ways to grow a business like using channels (e.g. resellers, distributors, sales agents) are seen as irrelevant. According to the evidence one of the best ways for New Zealand technology companies to grow is selling through channel partners.
The main method of indirect selling is through resellers who typically handle the physical distribution, sale and implementation of a product. Licensing is another indirect option, where a company can use your product, or a part of it, as their own branded product. And there are many variations on these themes.
"If the product is really good the next most important thing is to have a crystal clear understanding as to what is the best distribution channel for the product," said one respondent in the annual Market Measures study of hi-tech sales and marketing.
A finding of the 2016 study of 300+ Kiwi tech exporters was that although using a reseller or distributor had a positive statistical relationship with high turnover growth, only one third of companies surveyed used a channel of some sort. While that is an increase on the 25% of channel users in the 2010 study, there is still plenty of opportunity.
Channels: a missed opportunity for NZ tech companies? (% of companies)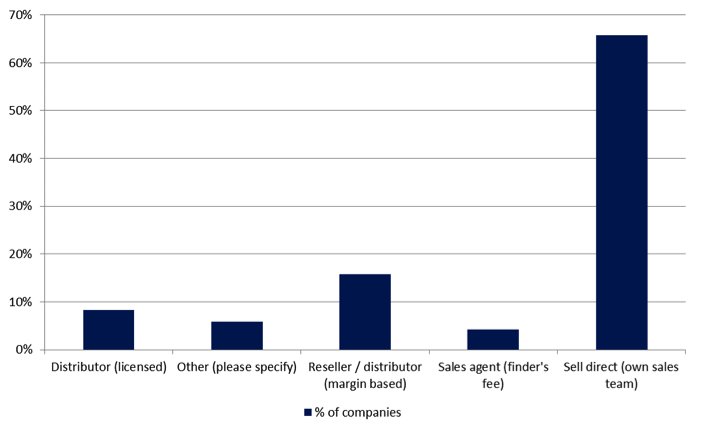 An effective channel provides more scale, reach, networks and helps with the sale – what you hopefully achieve is more sales with the same resource. This is the kind of reach Kiwi companies need.
Less tangible and less appreciated is a distributor's brand, i.e. its reputation in the market you are trying to penetrate. It lowers perceived risk, opens doors and generally makes people feel safe to buy. Another is all the relationships with key people in target markets that a distributor brings.
In some cases, a distribution channel can be more valuable than the IP itself. I remember discussing this with a prominent technology lawyer experienced with acquisitions in the sector, and in the transactions he had advised on, the quality and extent of distribution channels had contributed more value than anything else.
Musical partnerships like Sister Sledge (or the Jacksons, the Beach Boys or The Bee Gees for that matter) take focus and hard work to be successful. What's the secret for hi-tech firms and their channel relationships?
The effort in setting up some sort of reseller partner is not less than selling directly (product modifications, sales and technical support etc.), it's just the return can be better.
It's not about securing resellers and sitting back and watching the money roll in. The fundamentals of marketing exist whether you are selling directly or indirectly. Unless you understand the needs of the ultimate user of your product, and determine which of these have the greatest need and therefore are likely to be the most profitable to target, how can you even know which resellers will be effective?
If you understand your market then you will be able to determine whether direct or indirect sales, or a mixture of both, is the most appropriate strategy. For example, if you have a product that is usually highly customised, a channel strategy may be less effective than approaching and managing customers directly.
Many companies targeting resellers will espouse the many benefits of their products and what it can do for its users. Although your reseller needs to know this, the channel partners' motivation is not solving the problem the product solves, but solving their own problems – securing new customers, increasing revenue from existing customers, raising awareness of their brand.
For Kiwi tech companies, partnering should be an important consideration in the go-to-market mix. Partnering provides a way of getting into new markets, while also giving you the opportunity to access more customers and, ultimately, to scale your business. Partnering requires effort from both parties to be successful.
Whether you're looking to partner with someone across the country or across the world, the key is to select a partner that is aligned with the goals you want to achieve and is equipped with the right resources. But where do you start? How do you find a partner with the right fit, what do you look for, and how do you make the most of the partnership?
Get it right with the right partner and in no time you can be singing "we are family" while watching your sales grow.
Download our latest eBook "Getting started with partnering", produced by Concentrate in conjunction with hi-tech marketing leader Tim Howell of Offshoot Consulting. You can also register for our webinar on the subject being held on 3 May 2017.