7 min read
October 16, 2020

Sales enablement tools for tech businesses
'Efficiency' isn't usually associated with sales and marketing, which is why one of the major challenges faced by tech businesses today is how to improve it - selling more innovations at a lower cost. For some businesses, there's an actual need to build a stronger foundation for sales efficiency, but for many others, it's simply about introducing some sales enablement technologies to streamline sales.
Why is sales efficiency important?
There is no shortage of brilliant innovations across the tech sector. The challenge for many of these businesses is how to sell these products and services profitably, and at scale. Becoming as efficient as possible in your selling is key.
According to the Market Measures Report, the average Kiwi tech salesperson isn't as efficient as their US counterpart. At an average New Zealand tech company, a salesperson has 3.4 quality sales conversations per day, at a high-growth Kiwi company with 4.9 – in comparison the US average is 5.1.
This is mirrored in the level of technology use where US tech firms will use 4 sales enablement technologies, e.g. email automation and tracking, compared to high-growth Kiwi businesses with 2.9 and the rest 1.9.
What is sales enablement?
Improving sales efficiency is like anything else – if you have the right tools for the job, you're going to get it done more efficiently. If you give your sales team the resources and tools they need, they'll close more deals. The trick is identifying which tools will help your sales team to operate more efficiently.
Sales enablement technologies used by tech firm sales teams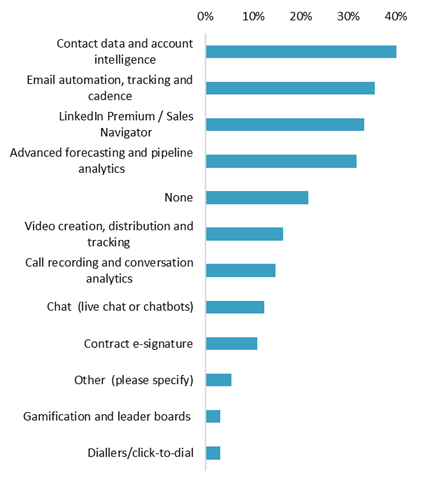 Source: Market Measures Report
Most, but not all, of these tools come with an industry standard customer relationship management system (CRM). To support the sales efficiency of your sales team, select a CRM that offers the following at a minimum:
Contact Management - this is where all contact information is stored
Deal Stages - no matter how many deals you have, you can tailor this to suit your business
Daily Dashboard - a visual tool that lets you view data at a glance
Task Management - manage on-going and overdue tasks, assign tasks to colleagues, and set-up task queues
Content Repository - helps your sales team to find content fast and easily
Automated Data Capture - automatically logs calls and emails, and makes them easy to view
Reporting - exports and distributes trends
Mobile - gives your team the flexibility to access the system anywhere, from any device
Integration with Marketing Automation Software - so you don't lose any information or opportunities
Personalised Sequences - targeted, timely email templates
Canned Snippets - your sales team can create reusable messages via email and chat
Email Integration - crucial for streamlining your outreach process
Custom Support Form Fields - user-friendly form creation capabilities
Meeting Scheduling - syncs to Google or Office 365 calendars and shares the availability of each of your sales team with their prospects
16% of New Zealand tech businesses don't use a Customer Relationship Management system (CRM), which is the building block of any marketing technology. Of those that do, HubSpot is the most popular choice.
CRM Software Platform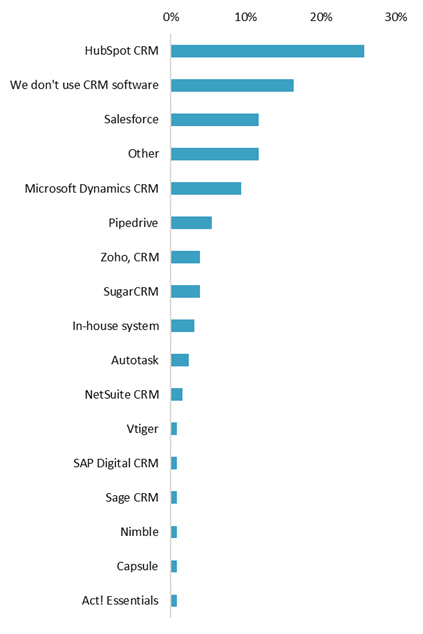 Source: Market Measures Report
How can these tools can make your selling more efficient?
Digital transformation is disrupting business models on a global scale. The advent of Covid-19 has seen a major acceleration in organisations adopting digital technology, and this is true of sales teams in all industries - but especially in the tech sector. Many processes that used to be entirely manual can now be automated for sales reps, enabling them to sell better and faster. Automation means that your sales team can:
Create email sequences
Automate prospecting
Use live chat and direct messaging to engage prospects in real time
Sales enablement tools means your sales team can create, share, edit, and manage their content, materials and resources with ease. For an in-depth look at some of these tools, we asked Concentrate's Business Development Representative Nathan Jessup to outline some of his every-day favourites, and how he uses them to become more efficient.
Managing sales tasks
Good task management is key to improving sales efficiency. It's basically how to keep track of your sales to-do list, and it enables you to automate task creation against deals and when they progress through certain stages throughout your sales pipeline. You can create tasks several different ways within HubSpot:
Create tasks in your task home/queue
Create tasks in and against a contact or company record
Create tasks after logging/sending an email, or after a call
Automated task creation throughout HubSpot, i.e. against deals and deal progression, within a sequence, following form submissions, and much more

This screenshot illustrates the due date, the company/contact it's associated with, what type of task it is, and has a customisable message to add additional context to that task, - as displayed.
"This is hands-down, the number one tool I use," says Nathan. "Nothing slips through the cracks. You're always reminded about ongoing deals, you've got notifications on email and Slack as well as within HubSpot. And this is visible to the rest of the sales team, so they know what you've got in the pipeline."
Email tracking
This tool means you're never left wondering if your email actually hit the mark - or was even opened at all. If it arrived in a busy Inbox and fell out of sight in the first day or so, HubSpot's email tracking tool will indicate that it was never opened. On the flip side of the coin, it will also tell you if it's been opened multiple times, which is a good indicator that it may have been shared around the company or amongst colleagues.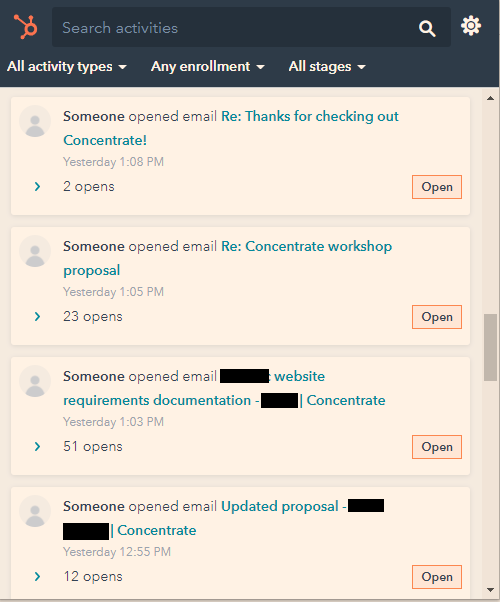 This screenshot illustrates HubSpot's Google Chrome extension that tracks email opens and clicks – this is also recorded directly in HubSpot against a contact's record. It shows the specific email, who clicked/opened it, and how many times.
"This feature is super helpful, and it's really powerful," Nathan says. "I can tell if the recipient just doesn't care, or if I've actually hit the mark, in which case I'll follow up on it. And if you've included a link in the email, you can see how many times that was clicked on too. It's the kind of tool that if you don't have it, you wish you did. It gives you so much more to work with."
Automation email sequences
This tool enables you to send a series of targeted, timed automated emails. The idea is to nurture prospects over time, using automation. You can add personalisation tokens into the email template, so that each one is specific to the person you're sending it to - it's important to make it personal. The automation comes in with the sequence; you set the timing for each email.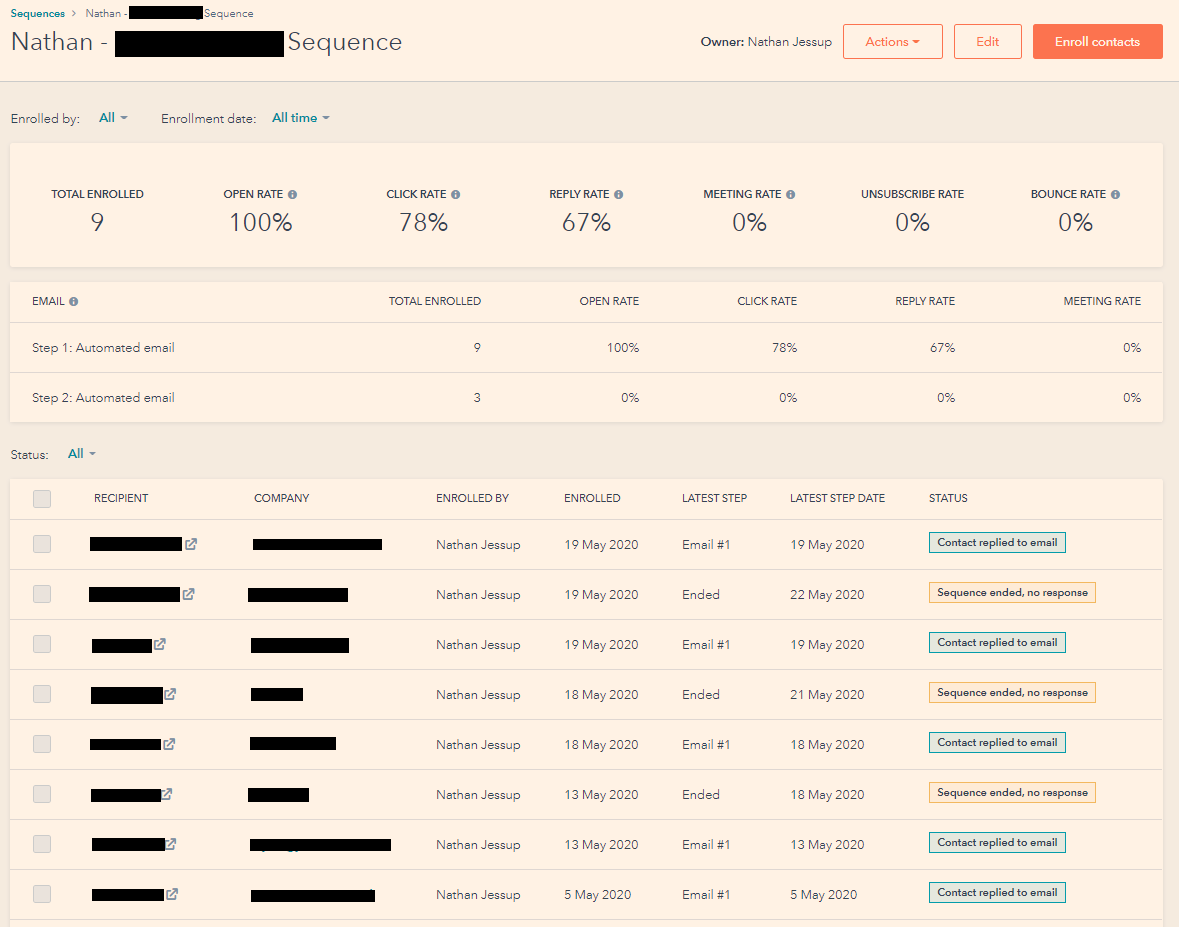 This screenshot illustrates the results from a sequencing campaign - you can see the number of automated emails; two in this case, who replied, opened, and clicked etc.
"All you really have to do is fill in the details for the first email, and then those details replicate into the rest of the emails in the sequence," Nathan explains. "It's a huge efficiency booster. The automation just saves me so much time. And again, nothing slips through the cracks. Not only that, but there's reporting around the tool as well, so you can make use of these really useful metrics like open rate, click rate, reply rate etc."
Email templates
Designed as a significant time saver, HubSpot's email templates means your sales team can spend more time selling and less drafting repetitive emails. You can make use of the email tracking tool and sequences with these templates, and it can be used individually or shared amongst the wider sales team.
This screenshot illustrates the HubSpot templates with personalisation tokens that display a prospect's name, company, etc.
"You can pre-build templates, and then automatically have them personalised by using personalisation tokens," says Nathan. "When you load a template, it pulls all the relevant information into it, and then all you need to do is give it a quick proof to make sure all the details are correct."
These are just a few of the sales enablement tools HubSpot offers. There are a whole range of other options, and investing in them will have a significant impact on your business's bottom line. In fact, businesses with structured sales enablement efforts report having 35% higher sales quota attainment than those that don't.
"When it comes to sales efficiency, enablement tools are critical," Nathan says. "In today's digital world - and especially in the tech industry - they're not just nice to have, they're a must-have."
Investing in sales enablement technology will improve the efficiency of your sales, meaning you can realise your potential and achieve maximum sales from that investment. The ability to scale and grow relies on a repeatable, measurable process and 'systematising' of sales. Sales enablement tools will provide your sales team with the resources they need to sell more efficiently.
Keen to find out more about HubSpot's CRM? This video provides a great overview.
If you're thinking of applying a more efficient model to your tech sales, check out our eBook: Hunt for the sales unicorn.