It's down to building a strong foundation for sales efficiency
You know you need to invest in sales and marketing, but how much of your revenue should be committed?
A key is understanding that the only reason marketing exists is to make your sales process more efficient. When it comes to B2B companies - and the majority of Kiwi tech businesses are - it's important to understand that marketing isn't just about brand awareness and PR. The focus needs to be on lowering the cost of sales by delivering qualified leads to the sales team, which is something that the 2018 Market Measures survey found that Kiwi tech companies need to improve on. It's all about sales efficiency, and it's one of the major challenges faced by Kiwi tech firms today.
What is sales efficiency?
Efficiency is not a term traditionally associated with sales and marketing. Creativity, persuasiveness and persistency maybe, but not efficiency. So what is it, and how do you achieve it?
Sales efficiency means being able to sell more of your product at a lower overall cost. For some, it's simply about introducing some sales enablement technologies to streamline sales. For others, there's an actual need to build a stronger foundation for sales efficiency. What it all comes down to is making your sales team and their processes more systemised and efficient, and knowing how much of your business's revenue to invest in that objective.
Proving value
Is there a 'villain' in your company – someone who loves to say 'no' when it comes to marketing spend? It's usually a senior manager or even an owner. A study by the Fournaise Marketing Group that surveyed 1,200 CEOs across North America, Europe and Asia, found that 80% didn't 'trust and value' the work done by marketers in their business, while 90% did see the work of Chief Financial Officers and Chief Information Officers as valuable.
No wonder, when marketers talk more about logos, social media and design than generating and nurturing leads for sales. The 'Dr No's' in your business are focussed on results, not marketing fluff, so marketing need to be able to demonstrate value.
So how do you convince them to increase marketing spend? You need to be armed with focus, efficiency, ideas and data. If you can prove that what you're doing contributes to improving the efficiency of sales, you can justify what it costs to achieve it.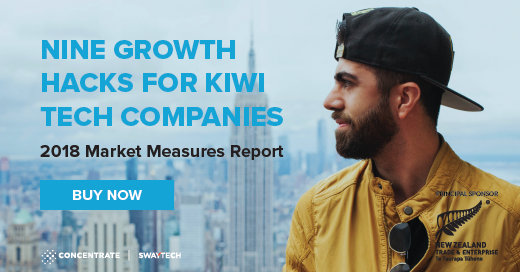 Investigating the benchmarks
A good place to start when you're deciding how much to invest in marketing is to look at what other Kiwi tech firms are spending, and what kind of success they're having.
Kiwi tech firms typically invest aggressively in sales and marketing. The challenge is getting the most out of that investment, something there needs to be greater focus on. The 2018 Market Measures survey found that only 15% of Kiwi tech companies put 'proving the ROI of marketing activities' as a top priority in the next 12 months, compared to 42% in the US.
Based on the Market Measures survey of 318 companies, we found that Kiwi tech firms typically break down their marketing spend like this:
Expenditure on employed or contracted sales staff - 14%
Expenditure on employed or contracted marketing staff - 6%
Expenditure on non-staff related sales & marketing activity - 7%
Total sales and marketing expenditure (as a percentage of turnover) - 27%
As one Marketing Measures respondent said: "Invest in marketing by at least 25-30% of revenue." So that 27% figure is bang-on as an average, and it's a rule of thumb to use when considering how much your tech business should be investing in marketing.
The maturity of your company also needs to be factored in when considering this benchmark. Previous Market Measures data has shown that start-ups spend a much larger proportion of their revenue on sales and marketing than the average (above 50%), while established companies tend to be lower (around 20%).
It's really important to remember that the people on your sales team are quite expensive. That means you don't want them to waste their valuable time nurturing and chasing unqualified leads. Achieving sales efficiency is down to marketing providing them with qualified (i.e. high quality) leads, so that they can focus on what they do best – converting those leads into customers.

Founded in 2009 by Concentrate, and supported by Swaytech since 2011, Market Measures is a national study that benchmarks the sales and marketing activity of New Zealand and US technology companies. Since that time Market Measures has built a strong body of knowledge, and we share it with Kiwi tech companies with the aim of helping them fuel growth.