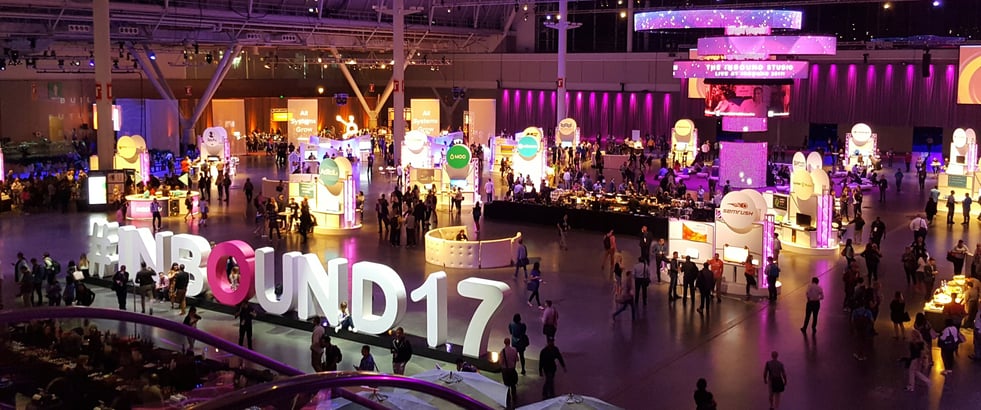 My highlights from Inbound 2017:
• Observing the attention to detail and data driven insights that are the catalysts for the evolution of the HubSpot ecosystem
• Incredible number of new features and product updates being rolled out in the next 12 weeks (details below)
• 20,000+ marketers from across the world, in one place
• The lightbulb moments in exchanging ideas with other HubSpotters
• Selfie with HubSpot co-founder Brian Halligan!
---
Concentrate has been represented at Inbound before, but it was my first opportunity to witness it first hand, and I did not know what to expect. Except, maybe, an under-the-hood view of the platform, learn some tips and tricks about marketing tech…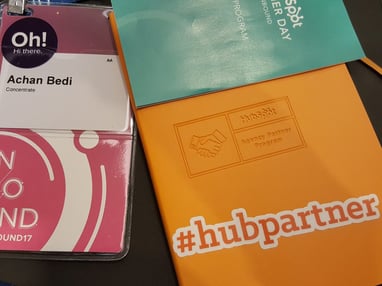 What actually awaited me was a festive atmosphere, a cornucopia of talks and learning sessions on a variety of topics that ran in parallel, all of which I wanted to attend (leading to serious FOMO).
The four days there were jam-packed with inspirational speeches and interviews with the likes of Michelle Obama, Ed Catmull, buzzy product announcements – the sort that would put the hyped annual iPhone curtain raisers to shame. Then there were the marketing tech vendors' stations that featured some cutting-edge solutions that are coming to our shores (and Concentrate's clients) soon.
While the overwhelming theme of 'what's coming' and 'what's new' was around the use of video, there were a few novel products incorporating what some would consider 'old-school' into the digital age. Consider a tool that integrates into your CRM and based on pre-defined triggers, sends a physical direct mail to your contact. I am looking at you, the amazing folks at Postalytics.
I've been using HubSpot for over five years now and there have been times where I have been blown away by the ease of use and its integrated features, and there have been times when I have been frustrated with what would seem like a simple and logical fix to an obvious issue. And each time the place I'd vent that frustration would be the HubSpot Ideas portal, where users across the world can make suggestions for improvements and others in the community can upvote that feature request – the top voted ideas very often making it into the next product release.
And the new features announcements at Inbound 2017 were an example of this openness to ideas and bringing them into a rapid production schedule. Here are some that caught my attention and would interest you too:
A couple of years ago the announcement of the free HubSpot CRM took many by surprise. What was even more surprising was how much was packed into a product really was free with no-strings attached. It was great for a single person outfit or an early stage start-up, but was not a convincing proposition to transition off an enterprise level CRM. Two years is a long time in HubSpot product development world and the CRM product has grown by leaps and bounds and so has the Sales pro add-on (which, by the way is $50/user/month till the end of October 2017 and the price is set to increase after that. If you're sales person looking to build in more efficiency into your daily workflow I would recommend getting in now). There's also a free version with fewer features if you're just looking to check it out.
Read more about the difference between the two here.
Acknowledging the fact that prospects and customers interact with a multitude of company representatives over a variety of channels, HubSpot will roll out 'Conversations' in 2018. This feature will allow marketing, sales and support teams to have visibility to the conversations a prospect or customer has with the company – whether that is over a slack channel, online chat, Facebook messenger, chatbots or email.
Yes. Read that again. Then read this.
3. HubSpot Marketing has more muscle
Saved the best for the last.
Search engines (ha, I used plural – actually there is only one you should care about) have stopped focusing on keywords and now follow intent. It's no more about robotic search terms like "Market Research Software" and a lot more about "Which is the best market research software available in Australasia."
There are new tools available now and more coming to the suite that improve your content strategy and helps move beyond a myopic focus on keywords.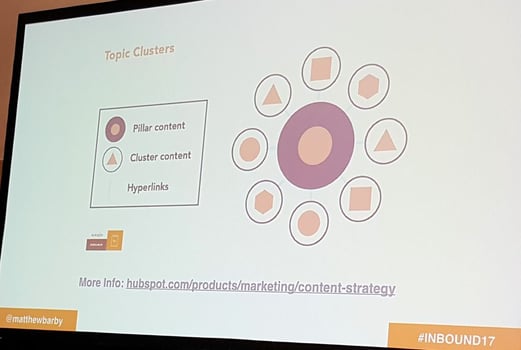 Attribution for deals closed won and closed lost is getting clearer, better and it is available now. I am a beta tester and I am using this tool right now and this is such an improvement over the current campaigns tool. This new tool helps attribute revenue back to the email campaigns delivered and blogs written.
Take that Mr. CFO.
There is a lot to take in and here's a video you can check out to understand it in more detail, but tl;dr – When a deal is marked closed won, credit for that deal is given to all the campaigns that influenced its contacts along the way. Yes.
Just going to leave it there.
No it isn't. But how about native integration with Shopify? And an eCommerce bridge – a new set of API's written specifically to integrate with eCommerce platforms.
If any of these shiny new toys pique your interest and wondering how we could integrate it into your sales and lead generation strategy, get in touch with me and we'll have the ideas (and execution) flowing.