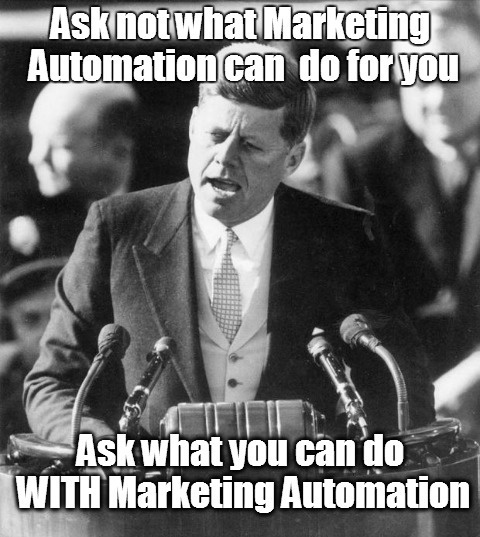 "Marketing automation" - if you had no context, the words would conjure up the image of a massive, sophisticated, intelligent machine that works independently and churns out leads that replenishes and rejuvenates a dry sales pipeline.
And you might not be totally off the mark.
Except, it does not work in isolation, independent of other parts of sales and marketing.
It is not even new, in the sense that the components that make up modern marketing automation systems have existed for a very long time –
• Email marketing
• Social media
• Website landing pages
• Web forms
• Content generation
• Blogs
• Marketing campaigns
• Prospect / customer lists
• SEO
• Analytics
• Lead management
What marketing automation systems do is bring all these elements together and add a certain intelligence and efficiency to the entire sales and marketing funnel. As the name suggests, these systems automate the labour intensive tasks that are necessary to progress and nurture leads from marketing response to marketing qualified leads - list segmentation, marketing emails, reporting and analysis.
In most cases this works as a force multiplier for small marketing teams to plan, execute and manage sophisticated campaigns. Not only does this free up precious time and resource for sales and marketing teams, but clever tools like lead scoring helps them target quality leads and ultimately improve conversion rates.
According to research by the Aberdeen Group, the companies using automation in lead management had a massive 53% higher conversion rate compared to those who didn't use any automation.
But before you get all excited about marketing automation, a bit of perspective...
You can only automate a system that already exists. If your marketing so far has only been ad-hoc and meant renting a stand at a trade show, sending out email blasts to purchased lists and praying for leads, you need to get your house in order before you bring out the big marketing automation guns.
I am not a big fan of the 'X things you need to....' style lists, but here I actually do have 6 suggestions about setting up a marketing system which we can then automate.
1. Start with a list. Build your database. Refine it.
Purchasing email lists for ad-hoc campaigns is ineffective in the long run. Work on your database and keep it transparent (between Sales and Marketing teams)
2. Take the sales and marketing teams out for stout. Or a BBQ. Or whatever works to build an open culture where both teams talk to each other and have a sense of reciprocity.
3. Define the ROI for Marketing or the Costs per lead.
Laying accountability on marketing for a set number of qualified leads per thousand dollars spent is not always easy but it doesn't have to be this hard. If you have a good grasp on the Marketing ROI for your business, you will love the dashboard in a marketing automation system that presents the numbers behind a campaign and does the ROI calculation for you.
4. Leads are still leads, even if they haven't bought from you. Yet.
Too often sales teams treat leads as dead if they weren't ready to buy. If the sales team finds disappointment with a certain lead, instead of simply junking it, have it handed back to marketing to nurture and qualify and give back to sales when ready.
Recycle your leads.
5. Look after your current customers.
If you've been in a B2B environment long enough, you will agree with me when I say that a significant proportion of our business comes from referrals and repeat purchases from existing clients.
Keep them happy and they'll do you much good.
6. Content is important.
It is laborious, sometimes boring and generally the whole process of writing a blog or another piece of content with no immediate apparent monetary benefit seems unappealing.
But it is most critical in developing a thought leadership, advisor-like position for your company that can present itself with authority in its chosen field, as well as make your target audience stop and give you the attention you need.
Think landing pages on your website. With valuable content that they want to read and download (and are willing to swap their email addresses and phone numbers for it).
Quality. Leads.
Marketing automation is a beast that dies if you don't feed it new, quality content.
In the end, it is easy to plonk in an assembly line-esque marketing automation system and expect it to deliver quality leads (which it will) but you gotta do the hard yards before that.
---
P.S. if you are a sales or marketing leader and looking for technology that will help you get more out of your lead generation efforts, talk to us, and we can help audit your current setup and align to be as lean and agile as possible.