The Press, September 2013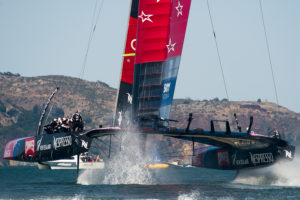 For a sports movie, Hollywood couldn't write a better script than the current America's Cup. It is a grand sporting contest, with our underdog crew taking on the big boys (including a 'turn coat' New Zealander in Sir Russell Coutts) and competing hard. There are high speeds, high risks and high drama, like Sunday's near capsize.
What's more important for our fast-growing tech sector is the fact we have gone into the centre of world technology and tweaked the nose of one of its crown princes, Larry Ellison of Oracle.
As New Zealand enjoys our performance the way only a small, relatively homogenous country can, it is clear that the America's Cup is more than simply a yacht race.
It's become an opportunity for New Zealand to tell the world something. As local venture capitalist Rebecca Lynn was reported saying in local newspaper The Mercury News, ''The America's Cup gives New Zealand a platform to stand up and tell Silicon Valley what they're all about.'' This means that the simmering tension underlying the magnificent yacht racing is that we have so far 'out-teched' the technology experts in Oracle, the major backers of the US syndicate.
No wonder then that the Americans are not only talking about us, they are talking to us in terms of technology.
While 150 Kiwi companies are participating in hosting activities organised by New Zealand Trade and Enterprise, nine hi-tech firms have been selected to pitch themselves to top Silicon Valley investors.
Exposure at the Cup helps our country brand move on from the wonderful, but increasingly distant, success of the LOTR franchise.
''We're competing in a regatta that is hi-tech in every sense of the word, which demands world-class,'' said Kevin Shoebridge, Team New Zealand's Chief Operating Officer, in a press statement. There is a whole range of Kiwi technology being exposed at the event, from all the yachting specific innovation to more generic hi-tech products like the Tait radios used by the crews. According to media reports, three of the four syndicates involved in the overall regatta have relied on New Zealand technology for major components. For example, Auckland company Southern Spars and Warkworth-based Core Builders Composites (actually owned by the Oracle Racing syndicate) have both made major contributions to the AC72 catamarans involved in the racing.
The AC72s are incredible machines, boasting aerospace-type technology and capable of amazing performance, with solid carbon-fibre ''wings'' (in the place of sails) that are the equivalent of 13 stories high and weigh over 2 tonnes, and can generate incredible speeds.
Incredibly sophisticated yet fragile, as Popular Science magazine put it ''it takes 77,000 man-hours to build an AC72. It takes just seconds to wreck one.''
This alignment of tech and yachting is more than just providing the gear – the doyens of the industry love the sport. Docked alongside Ellison's two superyachts, are boats owned by billionaires Jim Clark, founder of Silicon Graphics and Netscape, and Larry Page of Google fame, on what has been dubbed by media ''techie-billionaires row.''
Team New Zealand's creditable showing thus far shouldn't be underestimated – we are competing against a large and well-backed operation. Major sponsor Oracle, a very successful software company with products used by organisations all over the world, turned over $US37 billion in their last financial year, almost a third of our whole nation's GDP.
Founder and CEO Larry Ellison alone has a personal worth $US43 billion.
The question remains as to whether $36 million of public investment in Team New Zealand has been well spent.
We don't have many entrepreneurs with the bank roll and the ego to invest in something like this, so it simply wouldn't happen without some government input. That investment will pay off, and ultimately might create enough rich 'techpreneurs' to back their own America's Cup challenge in future.
Team Xero anyone?