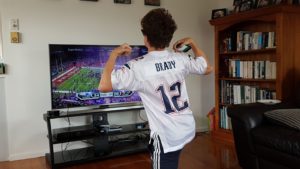 The Superbowl is as much a marketing battle as it is a game of gridiron, so are there any lessons in it for Kiwi tech marketers?
Every year the pinnacle of US professional sport, the Superbowl, gains traction in our rugby-loving nation. The coach of one of the teams, Dan Quinn of the Atlanta Falcons, even talked about the impressions the All Blacks had made on him.
Given his team suffered the biggest choke in NFL history, letting the New England Patriots come back from a 28-3 deficit to win 34-28, I'm assuming his favoured All Black team was one that crashed out in the quarters of the 2007 World Cup.
I admit to being a fairweather fan, leaving the game to go grocery shopping in the third quarter as the Pats' cause looked hopeless. My 15-year old son Jim (pictured) showed much more faith, accurately predicting that Tom Brady would lead a comeback.
In a marketing sense the real battle was TV advertising during the big game. 111 advertisements of 30 seconds' duration were served up during the game, at an average cost of $USD 5.2 million per placement (let alone the avalanche of supporting online and offline advertising in which brands invested).
Estimates put the typical costs of advertising production for each advertiser to be an average of $USD 5 million, making it an expensive way to connect with your market. Forbes Magazine estimated that the cost per thousand impressions (CPM) was around $USD 45, compared to the average CPM of advertising during a hit US TV show of $USD 35.
What's the relevance for all of this for Kiwi tech marketers?
One lesson is the power of telling a compelling story about your brand. As former Xero marketing boss Andy Lark wrote recently, B2B marketing has lost its mojo in this digital age and needs to refocus on being creative about the way we communicate. You don't necessarily need a Superbowl-sized budget to tell a compelling story, you mainly need to understand your market well.
In dollar terms there is very little to learn from Superbowl marketing. Companies able to advertise during the Superbowl are on another planet from Kiwi tech companies, many of which would love to have $5 million to spend on their entire annual marketing budget, let alone a single TV advert.
As a humble tech marketer in little old NZ, what should you be spending, and on what?
The 2016 Market Measures study gathered data from over 300 local tech companies. It showed on average companies were investing 34% of their turnover on all sales and marketing costs (staff and external costs). That investment of course varied by company maturity. Companies at different growth stages invested (again as a percentage of turnover) as follows:
Expense
Start-up companies
Early growth companies
Established companies
All
companies
Expenditure on employed or contracted sales staff
18.0%
13.7%
9.2%
12.9%
Expenditure on employed or contracted marketing staff
9.9%
7.2%
3.8%
8.8%
Expenditure on non-staff related sales & marketing activity
10.3%
7.2%
4.5%
12.5%
Total expenditure on sales and marketing
38.2%
28.0%
17.6%
34.1%
Fortunately for us marketers, investing in sales and marketing was worth it for the firms in the survey. There was a statistical correlation between the level of investment in sales and marketing and a higher annual growth rate.
How did they invest this money? They tried a broad variety of tactics, with not a lot of confidence in how effective they were. Given the survey showed low levels of measurement in place around marketing effectiveness this isn't surprising (you can bet those Superbowl companies have tracked every number imaginable to calculate a return on their investment).
Level of effectiveness of promotional activities (self-rating from unknown effectiveness to always effective)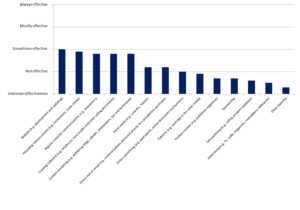 Benchmarked against US companies, our marketing investments don't look as wise. 80% of firms from North America typically generate their leads from a high volume, cost-effective approach of using indirect marketing. Only a third of our leads come from this cheaper, more scalable approach.
Our tech firms tend to rely on more direct activities such as calling by the sales team, or referrals. Both are valid tactical approaches, but don't deliver the scale of planned and sustained indirect lead generation campaigns, especially those conducted online.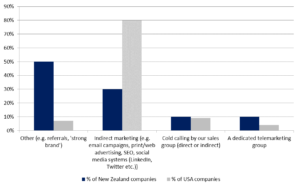 Whether you are going to be a Patriot or Falcon in your marketing this year depends on making some smart investments. What pays is to focus on what makes your sales more efficient, and measuring it tightly.
Want help planning your FY2017 marketing investment? Contact us for an initial consultation.
You can download the full Market Measures 2016 report here.