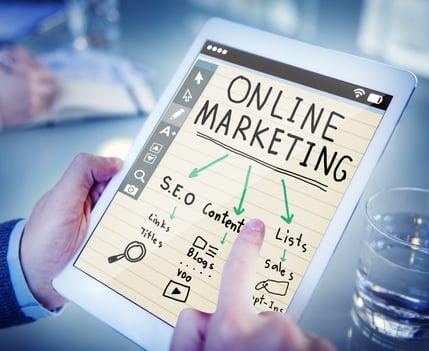 Why has content marketing become a more effective and popular choice than traditional marketing methods such as print, radio and television? Because Google's the first place that people look when they're searching for, or researching, products and services. This is especially true for technology-based businesses, for everything from a simple SAAS product through to a complex enterprise software of specialised industrial electronics product. Not only do your potential clients expect to find you online, they'll get their first impressions of your business when they land on your website.
Content marketing is about creating content that's relevant, informative, and targeted to a specific audience. It's designed to boost brand awareness and position a business as an expert in its field. It's a great way for business owners to become thought leaders in their industry. Effective content marketing has a clear strategic direction, one that's targeted to a business's marketing objectives.
That's not the only reason content marketing is more effective than traditional methods. It's also because it's such a flexible tool. Everything you might have included in a brochure, a flyer, a newspaper or magazine advertisement can be achieved via your website for a fraction of the cost. Print advertising can be read online, videos can be uploaded, podcasts can be shared and the sky's the limit when it comes to graphics.
Why it works for tech-businesses
Just like anything else, people will search online to find out about a business's products, service and reputation. But there are other reasons that content marketing trumps traditional marketing when it comes to technology businesses, such as:
No media costs – compared to the expense of producing and airing TV and radio ads, videos on your website are much cheaper. And you're probably going to gain a higher audience share, because people are more likely to be researching tech businesses online than waiting for the advertisements on TV and radio.
Content marketing lets you focus on your target market, often more effectively than traditional marketing. After identifying your buyer personas, you can produce content that targets their concerns. For example, if you're developing a new cloud-based application, you can create content that targets people who are thinking of, or in the process of, moving their business data into the cloud.
Blogs – it's something that lets your personality shine through. People often prefer to buy from someone they feel they have a personal connection. And it's easily shared across your social media platforms, as well as by others. What you're looking to do is create content that a) engages your readers; b) gets them familiar with your brand; c) encourages your audience to tell others about you; and d) shows that you're a leader in your area and knowledgeable about your product or service. Additionally, Google values websites highly that are regularly blogging, therefore increasing organic traffic by answering people's Google searchers.
Target specific issues – you can address subjects in-depth, such as a white paper on a new mobile application or an eBook discussing the benefits of a new HR system.
Make sure you get the SEO right
What's great about content marketing is that good SEO (search engine optimisation) means your potential customers will find you faster. That's why it's important to get the advice of experts so that when your content is being created, the relevant keywords and phrases are being used properly.
The objectives of content and traditional marketing are the same – to promote your business – but there are a wealth of additional reasons why content marketing should be a major part of your tech business's marketing strategy, and why it's streets ahead of traditional marketing.
Want some more insights into how to build marketing capability at your Kiwi tech company? Download our resource on the becoming a world class tech marketer.