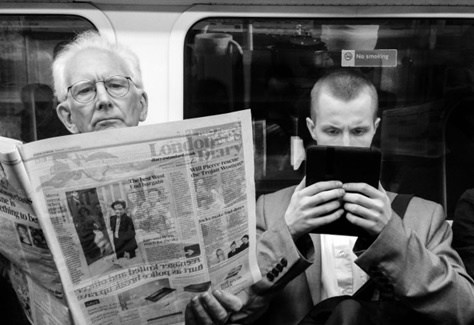 Over the holidays I enjoyed my daily ritual of slowly reading the newspaper over breakfast, a practice, it seems, is dying out in New Zealand, as it has in many other modern economies.
Various reports show readership of newspapers diving faster than a professional soccer player, but in this case the injury is actually real. This article I read before Christmas put the drop in daily newspapers sold in New Zealand at 23% over the last five years, with worse happening in the weekly newspaper space.
While the media typically paints this situation as terrible, I think it's actually an exciting time for the average company trying to market their technology product or service to the world.
What's happening in the place of falling media readership is fascinating – 'we' (i.e. companies like yours and ours) are becoming the media. Humble companies publishing information to their communities of interest.
Mainstream media will always play a part in our society and economy, and play an important role too. A strong society needs a strong and independent media. An independent voice keeping an eye on government, academia, business and other areas of our world is critical.
Promoting a brand, especially a complex technology-based one, has always been challenging through the mainstream media. They typically look at businesses in terms of what 'drama' is involved, so unless you have an amazing, world-changing innovation they will not usually be interested in positive stories.
I remember spending months trying to interest a particular national media organisation in the great things the large software company I worked for was doing, and consistently being ignored. Until we announced a round of layoffs and they were on the phone within minutes.
Now with the broad reach and low cost of the internet, and the ability to promote your story using channels like social media, search and email marketing; we all have the opportunity to be our own little media company. You can tell your stories to your audiences through writing, graphics, videos, podcasts and more.
Take AuCom Electronics, a very successful Kiwi tech exporter that sells a motor control product called a soft starter, as an example. They have become a publishing machine.
AuCom have authored a definitive guide to motor starting, and published it in instalments online, supporting this with webinars and podcasts. It doesn't mention their products, but it does help people who could potentially use or recommend them.
By being helpful and informative, they attract an average of 6000 visits to their website per month and scores of people downloading information and requesting contact. AuCom have become a media outlet in their own right, focussed on their very specific global niche.
How do you start on this journey to becoming your own media company? First, it's having all the basics we always harp on about at Concentrate in place – knowing your customer, understanding their problems, and being able to articulate how your product or service meets that need.
Then it's about simply trying to publish some of your own original content. Here's a few starting hints:
Help, don't sell: write content about the target audience's challenges and needs and offer useful advice, don't spruik your product. They know you are trying to sell them your wares, just do them the courtesy of genuinely trying to help. Think like a good journalist – they view their job as helping their readers understand an event or issue in an objective way.
Writer's block? If producing the content is a barrier, hire a writer – get a journalism student, hire a freelancer (on something like elancer or fiverr), try out your unemployed nephew. Whatever it takes, but make sure they base their articles on your insights – content has to pass the customer 'sniff' test. It has to be useful, grounded, and credible.
Get on with it: just start publishing. Use a blog on your website, and then promote it through any channel relevant (email, online ads, social media, direct mail etc) to your target audience. Sit back and monitor the results.
For my own sake I hope newspapers don't completely die out, as there is nothing better on a holiday morning than leafing through a broadsheet with a cup of tea at hand. But for the purposes of promoting your product, there is the exciting opportunity of becoming a micro-publisher.
Find out more about how online lead generation can transform the efficiency of how you can sell your tech product by downloading our free eBook "Hunting like a pack".