4 min read
December 11, 2020

Does your marketing team have what it takes to slam dunk sales leads? Is it time to evaluate your lead gen game plan?
Take our Tech Marketing Benchmark Quiz to find out!
If you're serious about growing sales for your B2B business, you'll need to get serious about creating a lead generation strategy. As the execution relies more and more on digital marketing outputs, the expertise and skills needed to successfully generate B2B leads has broadened, leaving many B2B businesses questioning their efforts and their internal teams' capabilities. With so much ground to cover, is it worth outsourcing your B2B lead generation to ensure all touch points are met?
Driving lead generation internally can be an effective approach, but sometimes you are limited by size and budget. Typically you will need skills across inbound marketing strategy, SEO and SEM, email marketing, content production, graphic design, social media, conversion rate optimisation, event management, data and analytics.
We've benchmarked what skills are required to execute a typical ongoing lead generation programme for a B2B tech company, based on data gathered from more than 50 New Zealand firms. This graphic gives you sense of the spread of skills and the relative emphasis on each output: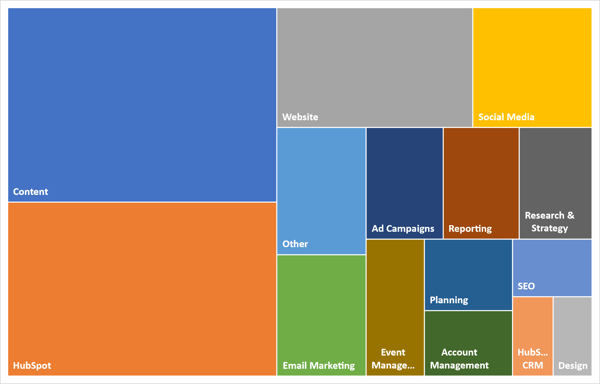 Figure 1: Typical capability and capacity mix required for lead generation in B2B tech companies
While you might have found a digital marketing superstar who has all the skills you need to successfully action your inbound lead generation strategy, they are limited by time. That's when a digital marketing agency can come in handy. Digital marketing agencies can offer your business the technical variety and in-depth knowledge you'll need to successfully execute your B2B lead generation strategy and slam dunk those sales leads.
But outsourcing marketing isn't for everyone, and with such wide and varied opinions available on the subject, we thought we'd break down the PROs and CONs to help you decide if outsourcing is the right option for your organisation.
Why not outsource? The potential disadvantages of outsourcing your B2B lead generation include:
1. Lack of control
When you outsource your marketing you put that responsibility into the hands of another person and business. This can make some companies feel they are losing control, and in some instances, they are. But that shouldn't be the case! A well-equipped agency will take the time to update you on all the important aspects of your project. At Concentrate, we involve provide clients with a live view of what's happening right through the whole process, so you know what's happening when.
2. Lack of quality
Quality assurance is a big draw back for many organisations looking to outsource their marketing; many fearing the quality control they have internally won't be reflected when outsourced. However, a good agency understands these reservations and will have some form of quality assurance process in place to ensure all brand guidelines and key messages meet your business's standards. At Concentrate we run a peer review system to ensure quality is at its highest before it leaves our door, along with strict client approval mechanisms.
3. Possible miscommunication
Misalignment of communication and project direction can cause friction between agency and client. However, this can be avoided. As a tip, ask your prospective marketing agency how they communicate with their clients and how frequently. At Concentrate we speak to our clients on a regular basis to request feedback and approval. We also hold monthly planning and performance meetings and annual reviews to ensure we're performing as expected.
Why outsource? Advantages of outsourcing your B2B lead generation include:
1. Access to a wider range of skills and expertise
With more experts at your disposal, executing successful lead generation activity is faster. As mentioned above, digital marketing and B2B lead generation requires a wide skill set working in unison to attract and engage leads. While this can be difficult to come by internally, a B2B lead generation agency has the team of specialists ready to 'sub-in' and get the win.
2. Reduces costs
There is a preconceived idea that agencies are more expensive than internal departments. However, once you take into consideration all the disciplines of marketing you need to account for to execute inbound lead generation, an agency's cost will end up being cost effective. For the price of a mid-level employee, you can get access to a range of skills, when you need them, as you need them. See our lead generation package prices for yourself to compare.
3. Fast turnaround
The technology sector is ever evolving, which means technology centred organisations need to update their product/service and associated marketing materials at pace. By outsourcing marketing, the internal focus can centre around what matters.
4. Experience
Problematic in-house set ups where small business owners do all the work or use a graduate marketer with little in-field experience, can greatly delay the needed results for a growing business. As an agency team works on similar projects day in and day out, they'll have the fieldwork and expertise needed to garner the best results fast. For an agency like Concentrate that specialises in the hi-tech sector, we bring a lot of specialist industry marketing expertise to the task.
The skills required to build a marketing dream team are broad and complex. The original 'dream team', the 1992 US Olympic basketball gold winners, had Michael Jordan as the GOAT, but he still didn't have all the skills to win single-handedly.
To help you pick your starting line-up we've created a benchmark quiz to calculate what skills you need in your marketing team to successfully generate sales leads. With our play book in hand, forget pointless air-balls and missed opportunity; slam dunk your sales leads' every time.
Our quiz is based on real data from 500+ other Kiwi tech companies from our Market Measures Report. Find out how your team measures up. Are they equipped to slam dunk those sales leads or do you need to reign in some subs? Take the tech marketing benchmark quiz now.