Automation. The word conjures up an image of a marketer leaning back in her chair, feet on the desk, while some fancy software does all the work for her. No need to reply to every email, because her emails are automated.
Although using automation can definitely make the life of a tech marketer easier, it is often a complicated process to assess every automation tool out there when they all seem to claim the same things – seamlessly integrated tools, easier sales process, and increased lead generation.
Alas, one of the key recommendations that came out of the 2015 Market Measures study for Kiwi tech companies was to "evaluate the mix of tools you use to deliver the component of a lead generation system, from promotion to nurturing to measurement. Determine if there is a case for adopting an integrated marketing automation tool."
Luckily, Forbes recently published a definitive blog to answer the question for you – which marketing automation software is the best?
Here's the gist of it:
Why Marketo is best for the giants
The contenders
The main automation software players for 'big' enterprises are:
Forbes dismisses Adobe, IBM and Callidus because they "not only having the three lowest user bases, but they also receive the lowest user ratings and their specialisations don't really aid the marketing department as much as they think."
The semi-final
As for Marketo and Eloqua, Forbes comments on their vastly different methodology of constructing workflows (a set of pre-set rules that dictate the actions the software will take based on user actions). Marketo has a more pre-structured approach whereas Eloqua users have to build workflows from scratch.
In regards to basic features, Eloqua makes it very difficult to perform A/B testing for landing pages and is missing a content calendar from its system.
But it's the pricing that really reveals the clear cut winner.
Marketo's monthly pricing matrix:
Spark – US$895. Standard – US$1795. Select – US$3195
Eloqua's monthly pricing matrix:
Basic – US$2000. Standard – US$4000. Enterprise – Custom Pricing
Forbes comments "Now, you can quickly see that Marketo is the more affordable solution, but you also might ask what are Marketo users giving up for the lower price. Well, not a whole lot. In fact, Marketo users get more user licences and the same amount of contacts as Eloqua but for more than half the cost."
The winner
Forbes ranks Marketo as the big business marketing automation go-to. Well done Marketo.
Why HubSpot is best for SME
The contenders
The main automation software players for small – medium enterprises:
Infusionsoft doesn't hold up well in the mid-market and Salesfusion is too focussed on the bottom-of-the-funnel actions. Forbes eliminated these contenders first.
HubSpot and Act-On have 'beautiful' user interfaces, however Pardot… not so much.
HubSpot and Act-On have intuitive navigation, however Pardot… not so much.
The semi-final
So comparing HubSpot and Act-On, who comes out on top?
Forbes says, "HubSpot stands head and shoulders above the other two when it comes to content."
They also praise HubSpot for its data capabilities. "Not only do they have one of the best tracking cookies ever. They also provide full funnel attribution and enables marketers to see all touch points with a client and not just last touch."
The pricing is not too different, but all in all HubSpot offers better value for money.
Act-On's monthly pricing:
Professional – US$600. Enterprise – US$2000.
HubSpot's monthly pricing:
Basic – US$200. Professional – US$800. Enterprise – US$2400.
The winner
And the prize for best SME marketing automation tool goes to our friends at HubSpot.
HubSpot popular amongst NZ tech companies too
The 2015 Market Measures study, which surveyed 323 New Zealand tech companies on their sales and marketing, found that New Zealand firms are increasingly adopting marketing automation software (36%, up from 3.8% in 2013), but still remain a long way behind the typical USA technology company.
Of the companies that do use marketing automation software, HubSpot was a popular choice.
Marketing Automation software platforms (% of companies)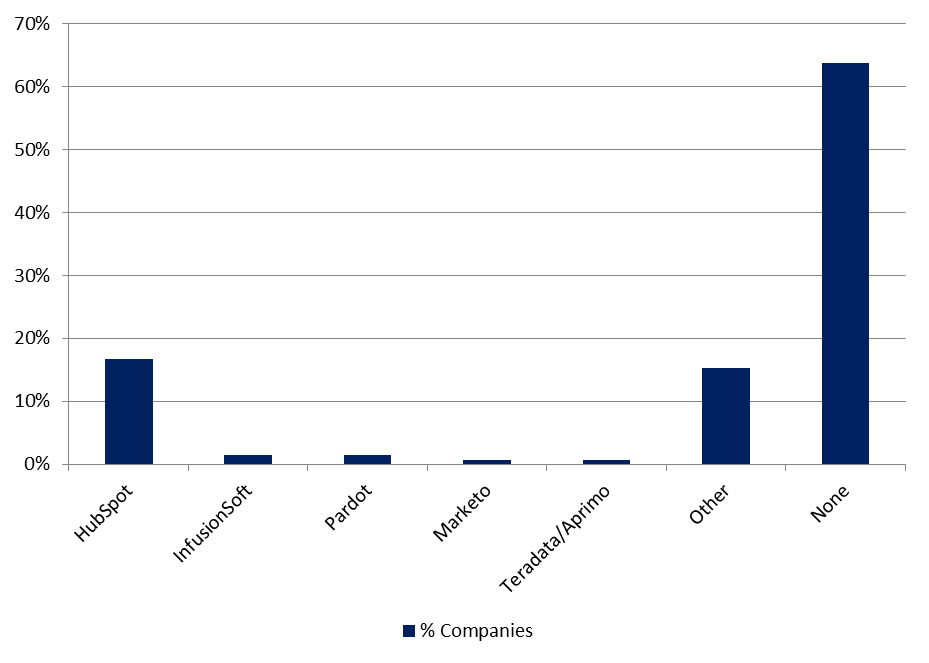 Did you know Concentrate is a HubSpot Gold Partner?
With Forbes and many other credible establishments advocating HubSpot as the perfect fit for SMEs, we believe Concentrate's Gold Partnership with HubSpot carries a weighty authority. This makes it easy for our small – medium technology clients to place their trust in us, and the tools we use to help them achieve results.
To current HubSpot users, bravo! You can sit back, relax and enjoy knowing that you've got the best of the best on your side.
If you are a New Zealand technology company considering using marketing automation software and would like to talk to us about the work we do with HubSpot, click here to organise a conversation.