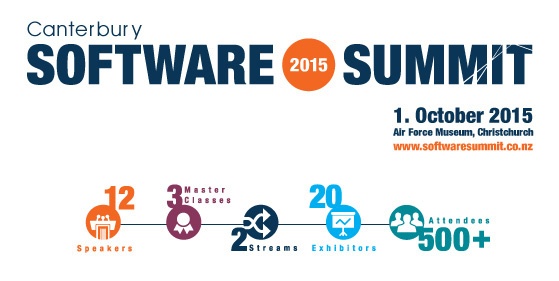 The annual Software Summit is the preeminent industry event of the year for the tech sector. The conference hosts an impressive line up of speakers across our business and technical streams plus three Master Classes, four Tech User Group sessions and a large trade show area.
The Software Summit offers inspirational and educational content, allowing attendees to learn about new technology developments, hear success stories, and explore new business opportunities. There are opportunities to network and share views, problems, and solutions with others working in the tech industry.
The business speakers include Andy Lark, CMO of Xero and Scott Houston, Founder of GreenButton plus CEOs from ARANZ Geo, Shuttlerock, Dynamic Controls & Lincoln Agritech, who all represent local companies playing on a global stage. Presenters in the technical stream will cover technical debt, big data, growing specialist skills in agile teams and improving software reliability through ream time feedback.
In addition to the two main streams, they offer three sponsor-run Master Classes: "Crowd Funding – a help or hindrance" (Lane Neave), "The DevOps Vision" (Microsoft) and "DevOps at Scale with Containers and Cloud" (IBM). Four local Tech User Groups will also be running informal deep-dive sessions alongside the main programme.
The Canterbury Software Summit 2015 is made possible through the generous contributions of our sponsors. Our Gold Sponsors are: IBM, Jade, SLI Systems, Assurity and Trimble. Our Silver sponsors are: Microsoft, Lane Neave, QualIT, Sourced, CDC, Planit, Wellnomics, Callaghan Innovation and Wynyard.
For more information visit: www.softwaresummit.co.nz
Where: Air Force Museum of New Zealand in Wigram, Christchurch
Date: Thursday 1st October 2015
Time: 12noon - 7:30pm (light lunch & registration from 12noon, programme starts at 1pm)
Cost: Free for members (subject to ticket allocation & membership level) or $97.50 +GST
Register: http://www.softwaresummit.co.nz