Get digital marketing and digital selling working together - a $trillion opportunity
Fish and chips, nuts and bolts, salt and pepper, gin and tonic. Marketing and sales are two things that belong together, but in tech businesses too often there's a disconnect between a business's marketing and sales teams. And when it comes to business growth, this misalignment is not something you can ignore. Especially when you consider that it's costing businesses more than a trillion dollars every year.
Yes, you read that right. A trillion dollars.
So why does it happen? In our experience, the main reasons for sales and marketing disconnect include:
A lack of communication - the marketing team believe they're generating leads that the sales team aren't following up on, who in turn think those leads are irrelevant so they don't bother to follow up on them. This leads to highly inefficient sales processes


A lack of understanding around roles - confusion around who is responsible for generating leads and who is responsible for winning them


A lack of combined goal setting - marketing and sales often set their strategies, and goals, separately from each other
This results in a lot of wasted effort and, obviously, a reduction in the number of qualified and converted leads, and therefore lost revenue.
According to Market Measures, high growth tech companies show better alignment than the average; in fact, only 7% of high growth companies in the survey showed a lack of alignment, compared to 18% for all companies.
Sales and marketing relationship (% of companies)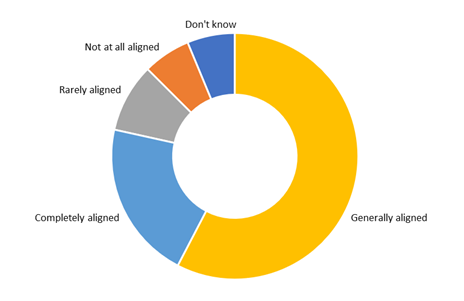 Why sales and marketing alignment is essential
Because we live in a world of continual digital transformation, it's important to understand the difference between digital marketing and digital selling.
Digital marketing - using online tools and platforms to attract and nurture groups of prospective customers.


Digital selling - leveraging digital tools to drive one-to-one sales, using inbound activity from potential buyers and the outbound effort of the sales team.
Digital marketing and digital selling are both essential functions in any company that wants to operate successfully in the fast-paced, competitive tech industry. So you can see why, especially in the world of B2B lead generation, it's essential for sales and marketing teams to work together. Let's look at how.
Here's how to achieve sales and marketing alignment in your business
1. Create a Service Level Agreement (SLA) between marketing and sales
This is a contract that sets out the deliverables one party has agreed to provide to another. In this case, both the sales and marketing departments use this document as a commitment to support each other, based on concrete, numerical goals.
According to Market Measures, 21% of the businesses surveyed believe they have complete alignment between sales and marketing with an SLA in place. HubSpot have a free SLA template that makes creating this agreement much easier.
2. Improve communication i.e. shared understanding
It's essential to get marketing and sales teams talking to each other, to achieve a common view of what's happening. It's the crucial first step to creating an SLA. But even after the agreement has been drawn up, the teams need to meet regularly to discuss how sales are going, the quality of leads, and how conversations with prospects are progressing. For example, is there a common theme with prospects - a challenge that a number of them are facing, or similar questions among multiple prospects?
3. Collaborate when creating buyer personas
Sales and marketing teams need to create these together. They need to have the same, clear ideas about the personas they're going to target, using the same data. A well-built persona will provide insight into the best places to connect with them, meaning the efforts of both teams need to be focussed in the same direction, all the time.
4. Use shared insight to produce highly relevant content
When sales and marketing are meeting regularly and discussing common themes between prospects - as mentioned above - this can provide inspiration for content that's highly targeted. If a number of prospects have similar questions, this can be turned into an FAQ section on your website (which not only helps reduce friction in the buying process but also can improve your SEO efforts). Or, if many prospects are trying to decide if it's better to purchase your software or build their own, you could develop a calculator that compares in-house vs. out of the box software. This content can be used in mass campaigns by marketing, and by sales in 1-to-1 interactions with prospects.
We've developed a 90-day content planning template that drives the production, publication and promotion of content, the kind that generates quality leads.

5. Step into each other's shoes
A useful trick is to get the marketing team to sit in with the sales team on calls and while conducting demos. This will help marketing to gain a much clearer idea of how sales are made. And it certainly won't hurt the sales team to learn more about how the marketing team generates and nurtures leads. Also, get the sales team to document their sales process, so that the marketing team get a clear idea of how it works in order to align nurture workflows and other marketing efforts.
6. Make sure you have the right tools
Any fully-aligned sales and marketing team will tell you that technology was an essential component in their success. Communication, CRM, marketing automation, sales acceleration and activity management platforms are all highly useful for keeping teams aligned. The HubSpot CRM is a good example - a place to store all company and contact data, and have a shared view of the sales and marketing activity.
7. Develop an MQL / SQL framework
A Marketing Qualified Leads (MQL) and Sales Qualified Lead (SQL) framework is essential. Establish criteria like behaviour, fit (does this lead meet our buyer personas?) to identify MQLs to pass onto sales for them to decide if they are a sales qualified lead that should be followed up with.
It's also important to remember to have some fun and get to know each other. Go out to lunch, celebrate achievements and work on building trust. Whether it's an industry meetup group, happy hour in your office, or an organised conference — spend time together in a casual setting. Attending an event together gives both teams a way to get to know each other outside of the work environment. If team members can lean on each other for support, they're going to work together much more effectively. Just like peaches and cream.
Keen to learn more about how to get your sales and marketing team aligned? We can help build a process and implement tools to deliver that powerful synergy between marketing and sales.