Annual study aims to lift New Zealand hi-tech business sales and marketing efficiency.

The eighth annual Market Measures survey of New Zealand hi-tech sales and marketing opened today.
Conducted by marketing advisory firms Concentrate and Swaytech, and sponsored by New Zealand Trade & Enterprise, the study draws data from a sample of New Zealand-based technology companies on their approach to marketing and selling their products.
"Tech is New Zealand's most exciting industry, but commentators often underestimate the huge challenge of marketing and selling our innovations offshore," says Owen Scott, managing director of Concentrate.
"Our tech companies are developing world class innovations, but too few of them realise their potential as they struggle to cost-effectively scale their sales activity," says Scott.
The Market Measures 2016 report found that while 60% of the companies in the survey were over 10 years old, 35% had annual revenues of less than $1 million and only 2% generated more than $50 million in turnover.
According to Scott, if hi-tech companies are to mature faster, they need to take a more strategic approach to marketing and sales.
This year's Market Measures study has a sales-strategy focus, recognising the potential for greater efficiency in lead generation and conversion across the New Zealand hi-tech sector, especially when exporting.
The results will be available as a report in late October 2017. Participants of the survey will receive this for free; members of Market Measures supporters can access the report for $75 including GST); and it will available for the general public to purchase for $375 (including GST).
Market Measures 2017 is supported by industry associations ATEED, Canterbury Tech Cluster, ChristchurchNZ, EPIC Innovation Centre, WREDA, Hi-Tech Trust, NZ Tech Industry Association, NZHIT, and Priority One.
To participate in the survey, click here.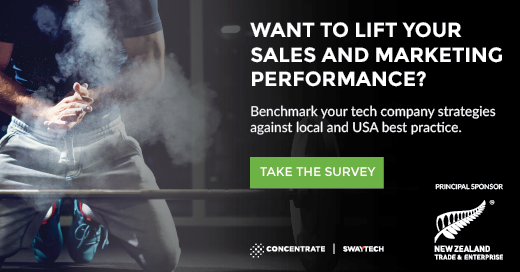 SUMMARY OF 2016 SURVEY RESULTS
Survey participants
327 New Zealand technology companies completed the 2016 survey. The typical company is:
Most likely based in Auckland, then Christchurch and Wellington.
Has been operating for 10-19 years.
Turns over between $0m - $5m.
Is an established business.
Sells software-as-a-service, software development services and software products.
Exports these products to other businesses, primarily in the manufacturing, retail and utilities sectors, in Australia, the USA and the UK.
Takes just under six months to close a typical sale.
Uses their own direct sales team, investing 15% of turnover on staff involved in sales and 5% on marketing staff.
Growth trends
The majority (73%) continue to be focused on export to traditional markets such as Australia, USA and UK.
Average annual turnover growth was 41% year-on-year.
Overall tech firms continued to invest in sales and marketing, on average spending 34% of turnover. Start-up firms were the most aggressive, spending 38% on average, while mature tech companies invested 18%.
What opportunities are there to improve sales and marketing performance?
To improve their sales and marketing results the Market Measures 2016 study found tech companies need to:
Gain more intensity with greater focus: get better results from their sales and marketing investment by being more focussed and strategic in the way they take technology products to market.
Find how to express and capture more value: extracting more value from sales by achieving premium prices.
Smarter lead generation: being more innovative in the way companies promote their products, especially in the use of digital marketing approaches.
About Market Measures
The Market Measures study has been operating annually since 2009. The concept was developed by consulting company Concentrate, which organises the survey along with technology marketing specialists Swaytech. New Zealand Trade & Enterprise is the principal sponsor of the 2017 Market Measures survey.
This year Market Measures has support from ATEED, Canterbury Tech Cluster, ChristchurchNZ, EPIC Innovation Centre, WREDA, Hi-Tech Trust, NZ Tech Industry Association, NZHIT, and Priority One.