5 min read
April 27, 2018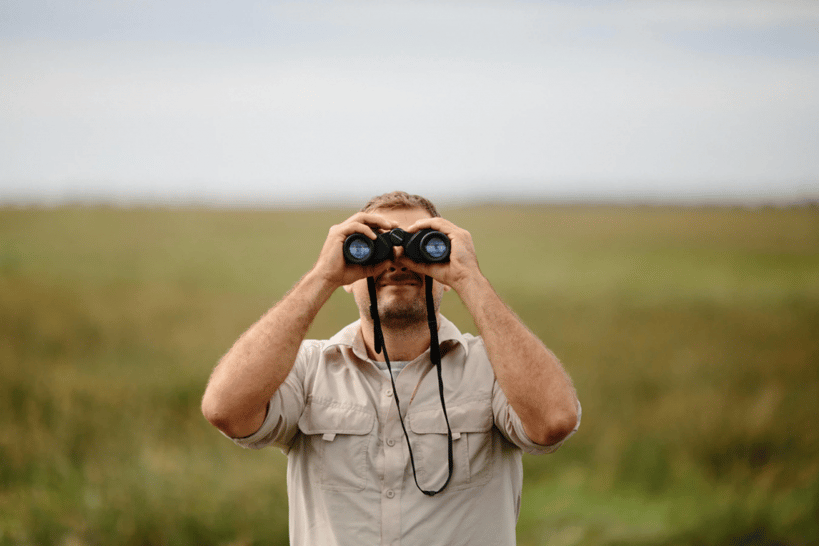 Is your Kiwi tech website playing hide and seek with Google?
Does your website leave a trail of breadcrumbs for potential customers to follow? Or is it hidden amongst a forest of competition on the 12th page of Google search results?
For a New Zealand B2B tech company wanting to grow domestically and overseas, having an engaging, informative blog is key to that success. Once you have this foundation right, you will also need a strategy to 'get found' by your target market. Social media, email and advertising are all great ways to build your brand and direct people back to your website, but when someone wants to find an answer to their business issue, where do they go?
Google (or, if they're super non-conformist, Bing).
When an online tool becomes an everyday verb, this is a pretty big clue that it should play a large role in your marketing strategy.
Search Engine Optimisation strategies for B2B tech companies
Blogging for beginners: just get writing
Blogging, or publishing articles, is one of the best ways to reach businesses who are actively searching for an answer to an issue related to your product or service offering.
For example, School-links, a school communication software company, wrote a blog 'Reduce truancy rates by connecting with parents' to help school principals and administration staff researching 'How to reduce truancy rates'. This post has helped them rank number #1 in New Zealand for this search phrase.

Blogs are a tried and tested way to attract more traffic in your target audience. That's because each blog you create is a new page on your website, so more for Google to index.
The keys to business blogging are:
Next level blogging: optimising for search engines
Once you've got a bit of momentum with writing blogs, you can start to look at Search Engine Optimisation (SEO).
In the not-too-distant past, the term SEO may have conjured up visions of complicated love potions that digital marketing specialists fed to Google to win it over. But Google is a clever beast. It now favours genuinely helpful, engaging blogs over keyword-stuffed fluff.
If you want your blog post to be found by the right people, long after it's featured in your e-newsletter or been promoted through your social media channels, ensure that you complete the following:
Use long-tailed keywords
Before you even start writing, you should have a clear topic in mind that you're writing about. This topic should be quite specific and longer than just one word (hence the term 'long-tailed keyword').
For example, business management software experts, Endeavour, recently wrote a blog centred around the topic 'technology advancements impacting ERP', instead of simply 'technology' or 'ERP'.
Include your long-tailed keyword (or variations of it – e.g. 'how AI, data and the multi-cloud world is impacting the way we do business.') in your blog title, headings, meta descriptions, URL slug, image alt text, and throughout the article itself. This proves to Google that this blog is definitely about the topic you've said it's about, and would be helpful for someone searching this sort of phrase.
Fill in the blanks
You may have seen in your content management system (CMS) all that stuff underneath the blog post content space. Fill it out! Usually your CMS will automatically generate it all for you, but editing the SEO title, slug, meta description and focus keyword with the correct keywords and shortening them down to the optimum length can help searchers (and Google) easily assess whether your blog could help them answer their query.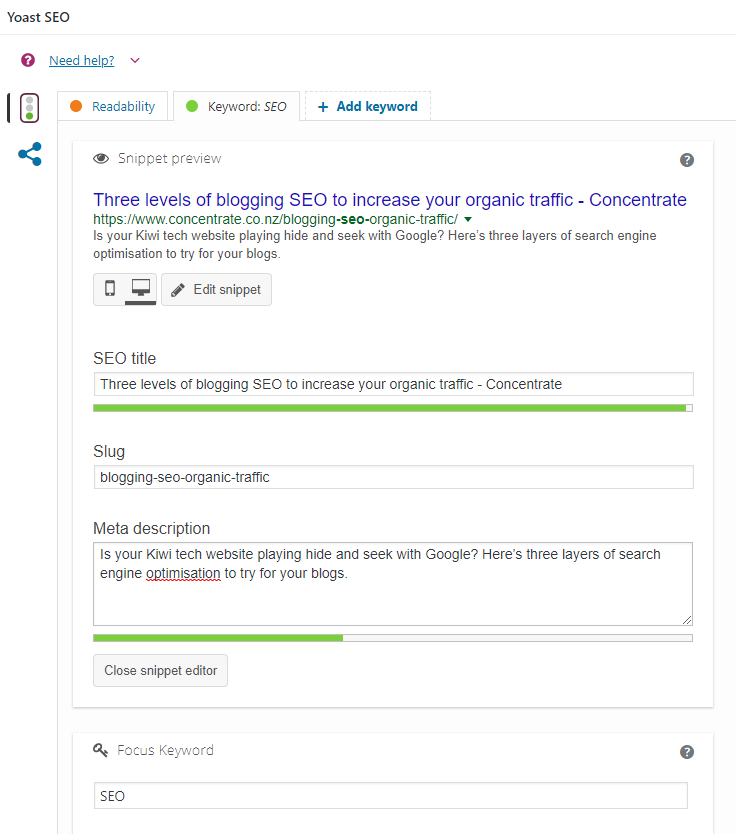 Engage your readers
One key question to ask yourself when writing a blog is "Am I confident that this topic and article discussion is useful and interesting for my target audience?"
You want prospects to spend as much time on your website as possible right? Ensure that your blogs are worthy of engagement. Depending on what your target market likes, this could include breaking up text with headings, lists, relevant images and diagrams, or GIFs, videos, links, podcasts, even polls.
Check your topic is being researched
Before you rush into writing, it's always wise to first confirm that although you may find this topic interesting and relevant, your prospects may not. To get an indication of how popular your topic is, do a quick check with Google AdWords Keyword Planner or Google Search Analytics. These tools will give you some statistics around how many people are searching about this topic per month, in the country/countries you're targeting.
Blogging with the big picture in mind: topic cluster strategy
Once you have the above strategies down pat, taking the time to develop a topic cluster strategy can help to boost traffic even more, and make certain website pages 'famous'.
What are topic clusters?
'Topic clusters' is a bit of a buzz word circulating the marketing world at the moment. In a nut shell, it's simply a planning method – a way of organising a website's content pages using a cleaner and more deliberate site architecture.
It's a bit like a tree. You have the trunk, or the 'pillar' content, that is your core, authoritative piece of content on an important topic for your business (this could be in the form of a web page, landing page or even an extensive blog article). Then you have the branches, or links, that extend to enticing bits of fruit, or blogs/articles/landing pages/web pages, to lure your target audience in towards the meatier bit of content, and converting on a form (this process is also known as lead generation).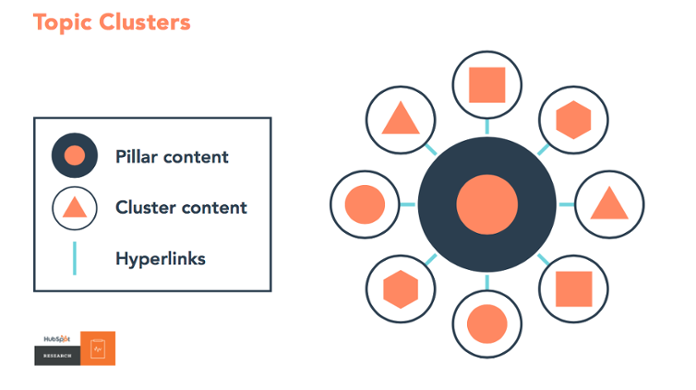 An example of this structure is Concentrate's focus around lead generation as a core topic, as it's one of our foundational philosophies of the marketing services we deliver.
Our lead generation services page is the 'pillar page', and our blogs on sub-topics of lead generation such as content marketing, closing leads, lead generation technology options, generating leads at tradeshows, definitions of a lead etc. all hone in on a specific sub-topic of lead generation, and link back to the pillar page. This helps search engines identify us as an expert on lead generation.
Why should I use topic clusters?
Marketing software company, HubSpot, explains,
"SEO is now shifting to a topic cluster model, where a single "pillar" page acts as the main hub of content for an overarching topic and multiple content pages that are related to that same topic link back to the pillar page and to each other. This linking action signals to search engines that the pillar page is an authority on the topic, and over time, the page may rank higher and higher for the topic it covers."
Optimising your website for search engines is extremely important for attracting relevant website visitors and converting them into leads. Whatever level you're at, paying attention to detail and being genuine is rewarded by Google. Never try to 'trick' search engines into ranking your page highly, simply focus on proving that your content is truly useful to searchers.
For more tips on increasing website traffic and lead generation, fill out this checklist.