If you're a regular follower of Concentrate content, you might have noticed that over the past few weeks our blogs have been taking the form of video instead of text. There's a very good reason for this, and that simply is that when it comes to content, video is king.
In the past I've written about why tech businesses need to be blogging. Some key reasons include:
Blogs boost awareness of your brand
They're a great way to reach your customers personally and generate their feedback
Blogs are easily shared across your social media platforms

Moving with the times – converting your text blogs to video – means that you're still benefitting from the above, but you're delivering content in the most popular format for your customers.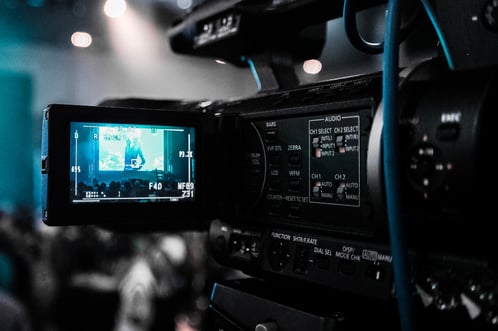 Last year, HubSpot conducted a consumer trends survey to find out what the most popular form of content is – and that was across several geographical areas around the world, and from all different kinds of business industries – and video came across consistently as the most preferred form of content for consumers to digest.
Those are YOUR customers. They're much more likely to watch a video about your new product or service than they are to read about it.
What else did the survey tell us?
A key outcome from the same survey revealed that a branded video – one that shows people not only what you're selling, but who you are as well – is head and shoulders above social media videos. What this means is that your potential customers want to find out about you, and your business culture, as well as what you're selling.
And when you think about it, that makes sense. If you think about your favourite places to shop, or the major retail giants out there, what they look and sound like will be one of the first things that pop into your head.
YouTube – easy, and globally accessed
The survey also revealed that most people, when they want to watch a video, go to YouTube. It's so easy to set up a YouTube channel for your business, which means you've got a really accessible way to engage your customers with video content.
If you're not convinced yet, here's a few more reasons video content is the way to go:
First of all, you can track your results easier. You can work out when customers stopped watching, look for full and partial views, and see how many times someone has watched a particular video. This is much easier than tracking text blogs.
A key reason is that video is seen as more technologically advanced. You can create video that customers can access on any device, and it enhances your reputation in the tech industry.
You're becoming visible through video. Your customers can put faces to names and feel like they're connecting with you personally, which is a great way to build trust and strengthen customer relationships.
And, in what will be a surprise to pretty much no-one, video is really versatile. You can demonstrate a new product or service, interview your customers for case studies and testimonials, and provide thought leadership on a visual level. In fact, there's really no content marketing situation that you couldn't create a video for.