A guide for Kiwi tech firms to transform sales efficiency
A trillion dollars. According to HubSpot, that's the average cost of decreased sales productivity and wasted marketing efforts for businesses each year.
It might seem a bit exaggerated, but that scary figure is actually real. And although it's globally representative, it still includes New Zealand B2B tech companies.
Productivity of sales teams a top business issue for owners of Kiwi tech companies, and if you're one of them, you've probably been pondering ways to systemise your sales process so you can increase your volume of new business. And of course, you'll also be thinking of ways to reduce the cost of achieving that. Some of that wasted trillion came from you.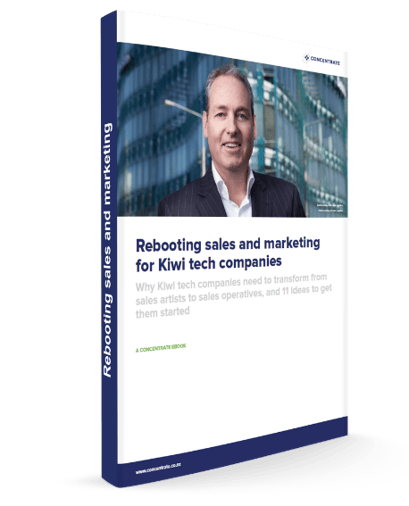 You're not alone. Many tech entrepreneurs are thinking of ways they can increase sales, and what it comes down to is the transformation of your team from 'sales artists' to 'sales operatives', to reduce your reliance on highly expert but highly expensive and unscalable sales people. How do you do that? One word – efficiency.
The rise of digital technology is changing the way we view sales and marketing. We don't usually think of the word 'efficiency' in this context, but we should. Marketing automation is a key to improving efficiency, as are sales enablement tools. Our Market Measures survey shows that 53% of businesses are using marketing automation, with HubSpot being the platform of choice by a significant margin.
And it could be that all your business needs to improve sales efficiency is simply the introduction of a sales enablement technology, and bingo - you've streamlined your sales. But on the flip side, you might need to build a stronger foundation for sales efficiency.
When it comes to the challenges that Kiwi tech businesses are facing around increasing the efficiency of their selling, we've got some ideas for making it leaner and more productive. We've developed a guide that's aimed at helping Kiwi tech companies sell more of their product at a lower overall cost.
Rebooting sales & marketing for tech companies will help you to:
Understand sales efficiency and the best way to get started


Understand why tech companies need to change their sales approach to become more efficient


Scale and grow by 'systematising' sales
Improving the efficiency of sales means more Kiwi tech companies can realise their potential, achieving the maximum sales from the investment made. The ability to scale and grow relies on a repeatable, measurable process and 'systematising' of sales. This skill is largely missing in our market and highly valued.
We invite you to download this guide, so that you can implement some core processes that will make a huge difference to your sales.