Finding your way through the increasing complexity of marketing technology
Updated: 5th December, 2018
Marketing technology (martech) is now the largest area of investment for lead generation, as reported in the latest Gartner CMO spend survey 2018-2019. Nearly one-third of marketing budgets are now allocated to technology whose sole aim should be to increase the efficiency and effectiveness of the lead-gen machine.
However, the sheer number of tools out there promising the world, is making it harder still for growing companies to choose one or a bunch of martech tools to scale up their lead generation. According to chiefmartech.com there are 6,829 marketing technology solutions from 6,242 unique marketing technology vendors.
The Gartner report cautions potential buyers and users of marketing technology / marketing automation tools, "ensure you have a martech roadmap for integrating applications, marketing and customer data to avoid costly mistakes".
We've been watching this space closely over the past six years and the capability and cost-effectiveness of the mar-tech applications available today has vastly improved. At the same time, the sheer number of tools promising the world has grown exponentially, making it that much harder for businesses to trial the multiple freemium/paid apps that take care of lead generation, campaign management, forms, CRM etc. AND tie it all together in one closed loop.

For growth hackers looking to get the most out of a zero-dollar (or near zero dollar) marketing stack, there are a bunch of tools you can use for free, integrate them and create dashboards. The challenge arises when growth in leads/subscribers causes the system to quickly become unwieldy, resulting in teams spending more time managing this stack than generating and following up on leads.
At the other end of the spectrum, established businesses and marketing teams are looking at more agile ways of delivering campaigns and closed loop analytics to prove the return on their marketing efforts. And legacy marketing systems and CRMs are very quickly being outpaced by new cloud-based apps, both in terms of capability and cost.
Working for tech businesses with a variety of lead gen challenges and marketing budgets, we've used a bunch of different tools to accomplish campaign goals. We've also written previously about what marketing tech we found works for large enterprises and which is better for SMEs, and the analysis, largely, still stands.
However, the bottom-line for Kiwi tech businesses looking to scale up their lead generation is that there is no one solution that can do it all. But you can have a single marketing automation platform that does MOST of your tasks associated with lead generation and digital marketing and integrates with a variety of other best of breed apps.
As a business we've chosen HubSpot as Concentrate's chosen martech platform, as after much trial and error found it the best-fit for most Kiwi tech businesses. This decision is supported by data from the 2018 Market Measures study, which shows HubSpot is now the most common marketing automation platform, as well as choice of CRM.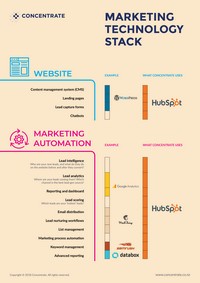 53% of companies in the 2018 survey were using marketing automation, and HubSpot was the choice of platform by over 30% of those companies. For the 84% of firms using a CRM, over a quarter used HubSpot, with Salesforce and Microsoft CRM being the two most common choices.
We've sifted through this vast landscape of martech and arrived at two marketing stacks that works for the Kiwi tech companies, depending on their maturity and ability to invest. You can download it here. What you will see is a stack that works today, but we will look to keep it updated it as we find apps that might work better or present more value than the ones listed in the stack.
Concentrate can also audit your current martech approach to ensure you are maximising the lead gen value of your investment. Talk to us to arrange.