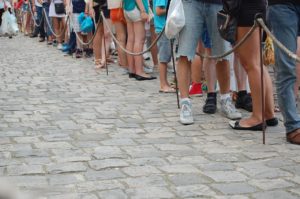 Content is king. You hear this from marketers a lot these days but when it comes to attracting new people to your website and business, I couldn't agree with it more. It's something a great Kiwi tech company called Qual IT is proving every day.
Content marketing isn't a new concept, Edmonds have been doing it for years; helping people learn to cook with their recipe books, while selling some baking powder along the way. It started to become more widely adopted in the early 2000s as a way of powering online marketing, and is now a leading marketing strategy worldwide.
For technology companies selling business to business (B2B), providing useful, engaging content to potential customers is proven to drives quality sales leads. To find out more about content marketing and how it can benefit exporters, read our blog "Content king for export marketers."
Our client Qual IT is a great example of a smart company using great content to attract more visitors and leads. We have been working with them since 2011 to help provide focus in their markets and develop a lead generation program.
Qual IT provide IT Quality Assurance to some of New Zealand's largest organisations, including Transpower, the New Zealand Police, NZ Post and Air New Zealand. With a range of testing and business analysis resources at the ready, they help these organisations deliver quality products and solutions to market.
Their traditional sales process involved predominately offline activities such as tradeshows and cold calling, and most sales were made through word-of-mouth or personal connections of the founders. While these are important and successful techniques, it could only take them so far. Since engaging with Qual IT, we have developed an ongoing lead generation program using content marketing to complement their traditional activities.
Qual IT have a highly skilled and knowledgeable team with countless years of experience in their given fields. This provides them with an opportunity to use that expert knowledge to develop really useful and engaging content like white papers, checklists and blogs.
As well as having a highly skilled team to help produce thought leadership in their area of specialty, they also have access to some of the top IT leaders in the country who they can call on to provide opinions on topical matters. An example of this is the development of their research report, "Digital Readiness Report: Buzzword or benefit?"
Starting with a survey of some of their large organisation clients, Qual IT delved into what the concept of digital means to them and how disruptive it is to their organisation. This information served as the basis for a research report on the state of digital in New Zealand while providing some key recommendations for large New Zealand organisations to ensure quality delivery when tackling and implementing key digital developments.
They promoted the report through their email databases, social media accounts, online advertising and supporting partners to IT leaders of large New Zealand organisations, generating 120 leads at a 21.31% conversion rate (of visits to leads) over two months. The fact that this is a highly relevant and informative piece of content has helped them engage with their audience and reach a whole pool of new target contacts (half of their downloaders were new contacts).
This has been a great example of how a really good piece of content can help deliver new visitors and leads to technology companies.
Click here to download the Qual IT report "Buzzword or Benefit?" and see how they have created a great piece of content.

To learn more about our lead generation services, click here.