A better way for marketers to develop and maintain lead generation focused B2B websites
For any tech company, their business website is one of the central cogs in the lead generation machine. Concentrate's Market Measures study found that for most Kiwi tech businesses, their digital channel should be delivering a good number of regular leads, but that wasn't what the survey uncovered. A troubling 43% of those surveyed don't even monitor what their website is doing, let alone undertake any analysis to determine if it's effective or not. Considering that a business website is the hub of lead generation activity, this is an area that a significant number of Kiwi tech companies need to pay attention to. Consider this: the survey also found that 26% of Kiwi companies are focussed on growing website traffic as one of their two main marketing priorities, compared to 54% of US companies.
The problem with the traditional approach
One of the reasons that tech websites aren't paid the kind of attention they need is because they can be tricky to operate and maintain. With a traditional CMS, you're constantly worried about the security and performance of your website. Not only that, but it can also be difficult to scale as your business grows, especially since even making simple updates to the website means you need the site's developer to step in.
So what's the solution? The answer: a user-friendly content management system (CMS) that your marketing team can drive.
Recognising the difficulties business websites face with a traditional CMS, HubSpot recently launched their own, designed to target these pain points and help marketers take control of the business's website, with a focus on lead generation. The CMS Hub offers speed, security, and scalability to rapidly growing businesses. Unlike traditional CMSs that become more difficult to use over time, CMS Hub scales in line with business growth and takes the pain out of managing software, enabling users to focus on creating a remarkable website experience for their customers.
Personalise your customer journey
One of the key benefits of CMS Hub is how it integrates with HubSpot's customer relationship management (CRM) solution. The combination enables you to personalise your entire customer journey, from their first visit to the website to every other interaction afterwards. And it means that as your relationship with that customer grows, the website evolves, e.g. you can show personalised website content to contacts in your CRM database.
Personalisation is key when it comes to customer engagement, because it strengthens your relationship with individual customers. There are several ways to personalise a website, including:
The homepage could display targeted messaging based on the visitor's lifecycle stage, and use smart CTAs to show customers a different action than new leads



Product pages could display helpful information or use-cases they had not considered



The pricing page could be segmented based on customer, so that they see information that's relevant to whatever version of the product they have
The more you personalise, the greater your customer engagement and the more leads you will generate. This is what combining HubSpot's CMS Hub and CRM enables you to do.
Better content management and SEO
While most CMSs are designed to help create and publish content, their SEO leaves something to be desired. Traditional CMS platforms lack built-in functionality for SEO best practice and while they might offer plugins, these can overload and slow down your site, negatively impacting your search engine ranking as a result.
The CMS Hub includes the following built-in must-have features for SEO best practice:
Customisable page elements

URL settings

Blogging tools

Internal linking

301 Redirects

SSL Certification

XML Sitemaps

Analytics Tools

Responsive Themes

SEO tools for managing and linking pillar pages and content
Whether you are creating a page for the first time or updating content on the fly, you can optimise content for search from the start and get your brand displayed prominently in search results.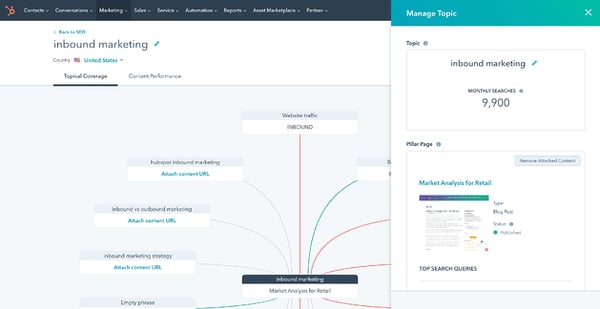 So far, CMS Hub has been well received in the marketplace; software review website G2 Crowd named it the best Web Content Management Software for the third quarter in a row.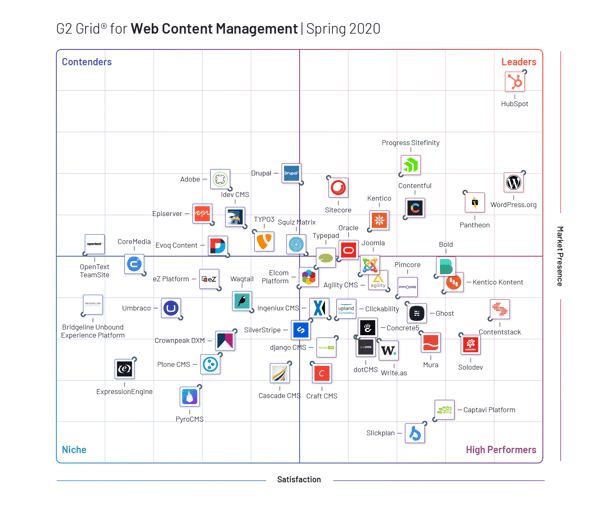 Getting started
If CMS Hub sounds like the kind of solution your business needs to optimise its website, there's a key decision you need to make upfront:
Migration - HubSpot will help you migrate your website to their platform. It's a great way to rapidly shift so you can start using the power of the HubSpot CMS to evolve your site. As an example, the Concentrate website was originally developed using WordPress and then moved to HubSpot using this service.
New website build - you might decide it's better to start again with a fresh website. HubSpot has a large library of well designed, easy-to-use templates to choose from.
If you're one of the 43% of Kiwi tech companies who aren't exploiting your website's potential as a lead generation machine to the fullest, or you're simply concerned that the site is stagnating due to complexities of use, then CMS Hub is an alternative that's well worth looking into. Not only will your marketing team find it easy to drive, but you'll harness the power of personalisation and built-in SEO tools, which will provide a significant boost for your lead generation.