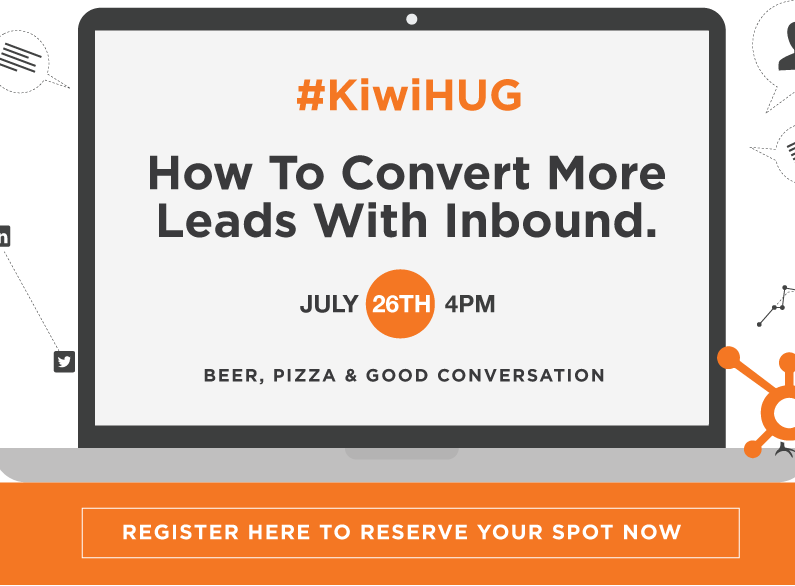 Want to know how to convert more leads with Inbound marketing? Come to KiwiHUG's event on Tuesday the 26th of July.
Over 65% of all respondents from the 2015 'State of Digital Marketing in Australia and New Zealand' reportedly increased their digital and Inbound marketing budget… why? Because it's working. But using Inbound marketing to increase lead conversion takes a lot more than extra money in the bank (although it most certainly helps). The KiwiHUG event will help you get working on Inbound tactics, tools and strategies so you can successfully optimise your increased spending to convert more of your leads into loyal customers.
Three speakers will cover a range of topics about Inbound marketing:
Presentation #1
Owen Scott, Managing Director of tech-savvy marketing agency Concentrate will be presenting:
5 Key factors you need to consider when using Inbound marketing methods to convert leads into customers
A few examples of a successful nurture strategy
Presentation #2
Alan Sharpe, Senior Manager of Customer Engagement and Communications at Gareth Morgan Investments will be presenting:
5 key insights from his experience with HubSpot and content marketing
Some of the challenges his team's faced with adopting Inbound practices
What you do when you generate too many leads through Inbound
Presentation #3
Boyd Wason, Managing Director of Done by Friday will be presenting:
A range of key ideas and tactics to nurture your leads from awareness through to decision
The tools and techniques you need to convert leads into MQLs (marketing qualified leads)
What is KiwiHUG?
KiwiHUG is the New Zealand HubSpot User Group (HUG). HubSpot is an inbound marketing software platform that helps companies attract visitors, convert leads, and close customers.
HUGs meet at least quarterly at local venues to discuss HubSpot and learn together.
Why should you attend this event?
It is a great chance to meet Inbound industry leaders, to collaborate with and learn from like-minded Kiwi marketers. Also to discover essential tips and tricks about the Inbound world to help you improve and expand upon your current Inbound marketing efforts.
When: Tuesday, 26 July 2016 from 4.00 PM to 7.30 PM (NZST)
Where: The Grid 101 Pakenham St W – 101 Pakenham Street West, Auckland, Auckland 1010
Cost: Free
Register: Click here