New Zealanders. We're a humble lot. Even the narcissism of the selfie generation hasn't ruffled our 'yeah, nah', 'she'll be right' philosophy. But is this mentality hurting our ability to compete in the offshore tech business world?
I was reminded of this when I recently visited Willowbank, a popular animal park in Christchurch. Watching animals (and humans' reactions to them) is fascinating. If you look closely enough, you may even learn a lesson or two about how to sell technology products better...
In the kiwi enclosure, you're told to be very quiet, wait for your eyes to adjust to the darkness and maybe if you're lucky, you'll spot a kiwi bird or two. Many visitors squint into the native bush enclosure, quickly grow bored and go find a lamb to feed instead.
In the farm yard area it is much more chaotic. Goats knock their horns against the fence; kune kune pigs snuffle and gape their mouths at tourists with animal pellets; and children shriek as the 'pretty ponies' try to eat their hair.
The star of the show is the peacock. He struts through the farm yard, feathers proudly displayed for all to gaze upon his beauty. He is loud. He is sexy, and he knows it. He ensures no one misses out on the hypnotising display of vivid blue and green hues.
So what can New Zealand tech marketing and salespeople learn from my bird observations?
In my experience of helping Kiwi tech companies generate leads sell their innovations to the world, I have realised they're often reluctant to 'flaunt' their value. They are true to the bird they're named after – shy kiwis, happy to fly under-the-radar and let people come and find them (but only if they want to), rather than announce their presence to the masses.
Although I condemn the 'Me! Me! Me!' and 'Buy this! Buy this! Buy this!' social media posts, there is no reason to be shy about promoting your genuinely helpful thought leadership content. White papers, blog posts, infographics, videos etc that help people with decision making need to be shared with the world, not idly sitting on your website waiting for someone to stumble upon it.
It's a common concern: Am I over-communicating? Are people sick of seeing my updates? Am I going to ruffle some feathers by posting too much? Getting social media posting frequency right is an important achievement for any business.
This timidity towards relentless social media content promotion wouldn't be so bad if we were only competing against other Kiwis… but the majority of Kiwi tech companies are contending against the flashy peacocks of the world – Americans.
In the 2015 Market Measures study of New Zealand tech companies' sales and marketing activity, Kiwis paled in comparison with their content promotion strategies.
The Market Measures report observed that "we are vague in the way we drive potential leads to that useful information. We tend to focus on using albeit good channels like Twitter and LinkedIn, as opposed to the typical American firm which is using a much broader mix of communication weapons."
Use of social media platforms to distribute content (% of companies in NZ vs USA)
Source: Market Measures report 2015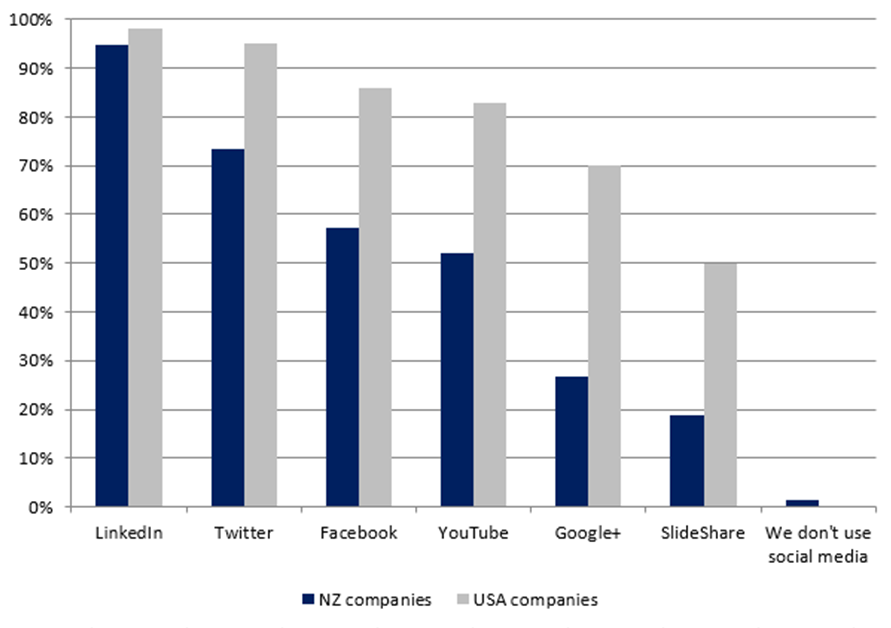 Are you a kiwi amongst a barrage of peacocks? Time to get your head out of the sand (I'm confusing my bird analogies here…), and get your content beneath your prospects' noses.
Content marketing tactics used (% of companies in NZ vs USA)
Source: Market Measures report 2015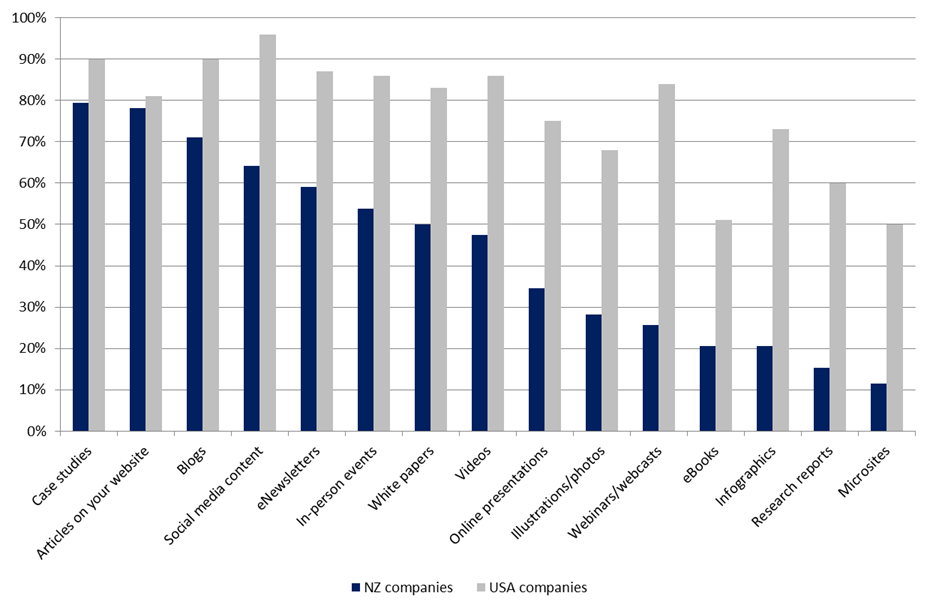 Recommendations for getting the right content to the right people
Here are some practical steps from the Market Measures study that you implement to use content marketing:
Understand the personas (key audience types) you are targeting and their decision-making drivers (emotional, financial and functional).
Map the decision-making process for each of these personas (from awareness to acquisition).
Develop content to support potential customers through their buying process.
Start trialling a wider array of social media channels in promoting your content, and measure the effect of each.
You don't have to forfeit your Kiwi identity to compete with the peacocks of the tech business world. Rather use your unique, genuine nature to your advantage and utilise social media to alert prospects of your helpful content.
Access our primer on technology marketing strategy "7 attributes of tech marketing success."