8 min read
August 25, 2020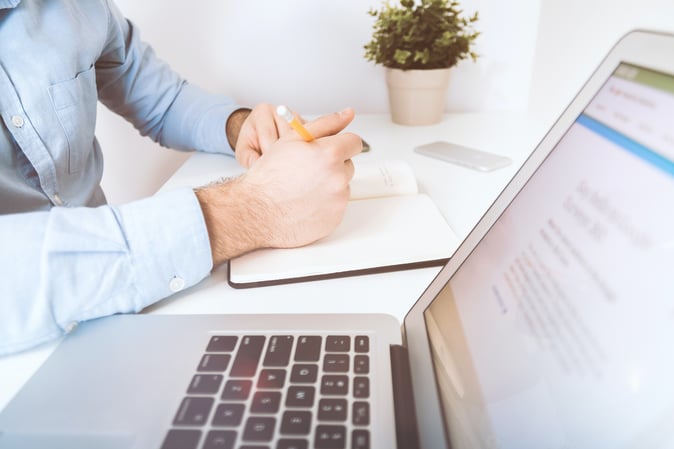 If marketing is a Subway sandwich, then content is that delicious filling that compels you to sink your teeth in. So when it comes to getting potential customers to your website and supporting them through their buying journey, juicy content is what whets your target audience's appetite.
How does content marketing support lead generation? By providing your audience with the information they need to help them explore and clarify their business problems, showing them how to effectively solve their pain points and challenges, and then get them interested in what you're selling. For tech companies especially, content marketing provides the opportunity to explain often complex solutions, and their benefits, to an audience in multiple ways.
For tech companies, the burden of producing this content can seem daunting. But with content marketing it is absolutely the case that 'less is more'. Your approach needs to focus on smaller amounts of good quality content, rather than just large volumes of it. That's what will help you to increase conversions, improve brand awareness, boost revenue, and more.
So how do you start on your journey to quality content that supports lead generation implementation? A great place to start is content marketing expert Marcus Sheridan's "They ask, you answer" philosophy, developed when he realised that to save his struggling business he needed to stop chasing customers and start attracting them instead. To quote the man himself:
"Marcus, forget all of these fancy words and marketing terms. Just answer people's questions."
Standing out from the crowd
Because content is such a successful method of attracting potential customers, most B2B tech companies employ it. That means there's a lot of it out there, and to make yours heard above the noise all the other content is making, it needs to stand out. How does it do that?
Everything you create needs to be tailored and targeted to the audience you're trying to reach. You're providing something of tangible value, which helps to position your business as an expert and leader in the tech industry. It's what helps potential customers engage with you. In order to build trust and loyalty, keep the following in mind when developing content:
Put faces to names - showcase the business and technical experts behind your tech company brand. It helps customers to connect with you personally, and audiences love seeing behind-the-scenes. Put a human face on your content, because the more relatable and trustworthy you are, the more likely other businesses are to engage and work with you.


Solve the problem - identify pain points and questions, then answer them. Your content needs to be educational and informative.


The power of the visual - don't be afraid to get in front of a camera. Video content is very popular, because it injects content with your personality and makes it more engaging. Video is easier and more fun to consume, so make use of it.


Stay on top of what's happening - keep tabs on industry trends. Your content needs to be timely and relevant, because it demonstrates to your audience that you're ahead of the curve and a leader in your industry.
Keep thinking of new ways to engage your audience and be creative - it's what will make you stand out from the crowd.
'Sweat' the great stuff to the max
Even though you'll always be focusing on creating content that's as high quality as possible, inevitably you'll produce something that's performs exceptionally well. These pieces of content need to be made to work as hard as possible. Often, these are highly educational eBooks or white papers, or a fantastic case study that you can leverage to keep on producing website traffic and convert leads. When you create a piece of content like this, there are a number of smaller pieces that can accompany it. For instance:
Two or three blogs that can be published over a monthly period, each one expanding on a particular message in the core content, and always linking back to it. And then ongoing blogs over time that 're-sell' the content.


Videos - if you've captured a great case study on camera, use snippets of on social media over a certain time period to entice your audience to watch the whole thing. Or use a video summary of a piece of anchor content.


Social media - a fundamental part of any marketing mix. Use it to drive traffic to the core piece of content on your website. Create a range of different messages depending on what platforms you use, and stagger their publication over a month or so. Establish a three month schedule of social messages that promotes well performing anchor content – 'evergreen' pieces like eBooks can remain relevant for several years.


Email marketing - it might seem a bit old-fashioned, but the reason it's still around is because it works. Use email to identify a particular pain point, then provide some teasers from your core content as to how it addresses these problems, and send this out to your customer database. Include a call to action to the content in your regular email newsletter.


Landing pages - these are placed on your website to encourage your audience to download the core content. In exchange for getting something educational and informative for free, customers have to provide their contact details so you can then follow up with them. Landing pages typically include a 'peek inside' the content - enough to make them want to download it, but not giving everything away.
You could also summarise the content as a podcast, use it as the focus of a direct (snail) mail campaign, do a press release and so and so forth. These are just some examples, but you get the idea - don't let great content go to waste. There's so much more you can do with a great eBook or case study than just publishing it on your website and telling people about it. You've got to make it sweat!
Sometimes, it IS about the quantity
No, we're not talking about the number of pieces of content you produce; we're referring to the content itself. Don't be afraid to pen lengthy pieces, even blogs. While it's always good to include relevant graphics in long thought leadership pieces, studies have shown that the greater the word count, the better the content will perform:
In the marketing industry, the top-performing articles are over 5,700 words in length


Articles that are more than 3,000 words get three times more traffic, four times more shares, and over three times more backlinks than shorter articles. For example, this online guide to lead generation of ours is well over 4,000 words.
What it comes down to is that for the content itself, quantity of words often means quality.
What goes into creating quality content?
The first thing that needs to happen is understanding your audience. That means creating a buyer persona, so you have a clear idea of who you're talking to. A buyer persona should be based on data and research, so that you can align the creation of your content with the needs of your target audience. HubSpot have a great guide and template for identifying and creating buyer personas.
The research you conduct to create a buyer persona will also give you an understanding of the questions they'll have along the buying process. This will help you to identify relevant keywords to assist with SEO. When you're creating the content, it's essential to keep these front-of-mind so that your target audience will find you using Google.
The next step is to work out where in the buying journey the content should sit. We covered each stage of the buyer's journey in a previous article - Awareness, Consideration and Decision - and it's important to decide which stage to focus each piece of content on. Seriously consider the purpose of the content, and use your knowledge of the buyer persona to create relevant and engaging content at each stage of their journey to inspire them to take further action.
Then it's time to do your due diligence - you need to knuckle down and gather input for the content. There are a number of ways you can do this:
Desktop research - Google is your friend. Using your own knowledge of SEO, search for the main points you want to cover in your content. Try to find industry stats and studies you can link to, and make use of quotes from experts in the sector. Keep track of everything you plan to use, because you will need to reference or footnote it in the content


Interviews - essential if you're creating a case study, or if you need the input of thought leader in your business to shape a content piece. If one of your clients has agreed to participate in a case study, interview them and make sure it's recorded. Video case studies are always really popular, and they're an excellent source of quotes and customer testimonials. Or you may be interviewing an expert on a particular subject and you'll use their input as a major part of the content. Again, make sure you record the interview so you can continually refer to it. Just taking notes on a piece of paper won't cut it


Industry studies - seek out timely and relevant research to support whatever you're addressing in your content. Often this means you'll have to provide your contact details to access gated content like major survey reports, but it's worth it for the statistics you can use.
Often, doing your homework on a topic is the most time-consuming part of the project, but it's worth investing that time to provide yourself with high-quality input you'll use to craft the content.
Finally, it's time to get down to the nitty-gritty - actually producing awesome content. Remember your audience when you're writing - the 'tone' of your piece is critical to getting your audience to engage. For instance, you wouldn't use a formal, business-like tone if your content is about solutions for tradies - they'll get bored and switch off. Likewise, an informal and chatty approach isn't likely to appeal to those who deliver complex digital software applications for investment fund managers.
Make sure you cover all the main points in your brief, and as much as possible keep the piece on a knowledgeable and educational level. You've identified specific issues and pain points, now you're addressing them. Remember - you're answering questions. You're not selling anything.
At the end of the piece, you might introduce your solution with a couple of brief sentences on how it solves the problems you've covered, but the call-to-action (CTA) should be on how to contact you so you can start a discussion about their requirements. Whatever you're selling should be comprehensively covered on your business website - the content you're creating is not a duplicate of that information.
The importance of peer review
No matter how pleased you are with what you've done, no matter how well you know the subject matter or how much time you've invested in research, all content needs to have another set of eyes cast over it. This is known as Quality Assurance, and it should be performed by someone else in your business with the same knowledge that you possess. The point is that not only will they proof-read and identify any errors, but they haven't spent hours with the source material and have gone stale on it. They'll offer a fresh viewpoint and suggest changes you might not have thought of.
When you take the time to create high-quality content that's aimed at the right buyer persona and their stage of the buying journey, you'll have something that's 'evergreen' - in other words, it will keep delivering leads over time. Because great content takes time, you'll produce less of it than numerous pieces of low value, but that's why, when it comes to generating B2B leads over a longer time frame, less really is more.
Keen to find out more about content for B2B lead generation? Get in touch with us now to discuss your content.