6 min read
November 19, 2020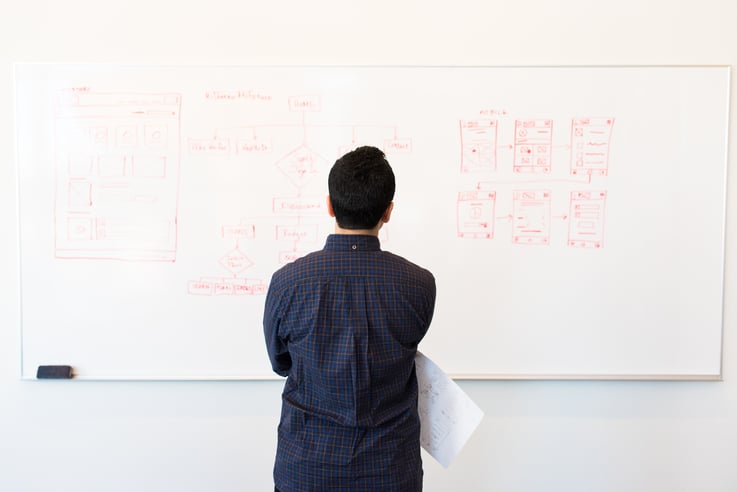 Covid19 has forced tech companies to redouble their focus on digital marketing, and that in turn means they need to double-down on content marketing. It is publishing quality content that above all generates the kind of organic traffic that turns into quality leads.
Engaging your audience and staying ahead of the competition is down to having a solid, smart content strategy in place. According to HubSpot's Not Another State of Marketing Report, almost 70% of businesses are actively investing in content marketing in 2020. Why? Because when it comes to competition, content is king. ­For your tech business to keep with – and ideally, stay ahead of – the competition, your content needs to offer your target audience something your competitors don't.
An effective B2B content marketing strategy is like anything else in the tech sector - it needs to be up-to-date, innovative, and engaging. It's not something that can be developed and then rest on its laurels gathering dust; it needs to be dynamic and constantly referred to if it's going to keep your customers and prospects engaged and your business competitive.
What are the key challenges in B2B content marketing?
B2B content marketing, especially in the tech industry, is not without its challenges. It's important to keep them in mind when developing a content strategy - especially now, as we navigate the Covid-19 era.
Finite's B2B Content Marketing Report surveyed B2B marketers, and the areas that proved most challenging for them included:
Measuring ROI - 16%


Reaching the right audience - 26%


Producing enough content - 35%
With that in mind, 68% of those surveyed felt confident with their content marketing strategy, but determining just how to go about producing high quality content is still one of the key challenges they face. It's not enough to create generic 'one-size-fits-all' content in the tech sector; you need to develop high-achieving content (in terms of traffic generated and leads converted) for your audience with a unique angle. Your strategy needs to focus on creating content that's bold and original; without a strong opinion or point of difference you're unlikely to interest your target audience. Fundamentally it is about content that seeks to genuinely help the reader.

Why tech companies should focus on 'give first' content
What you're looking to do here is solve customer problems, don't get fixated on optimising for the topics your SEO research suggests. Think about the pain points that your audience is facing and develop content around targeting them. This includes:
Describing the problems or challenges your audience might be facing


Demonstrating your deep understanding of the topic; positioning yourself as an expert will boost your authority and credibility


Explaining how to use the solutions you offer
What you're doing here is 'giving' your audience the benefit of your expertise, sharing your insights, and keeping your name front-of-mind. You're not selling anything; that comes later. You're offering something for free, and by doing so you're generating awareness and developing a reputation as a thought leader in your area. There's a great article about 'give first' content by a tech company actively using it – worth checking out.
For example, a client we met with recently talked about a regular paid webinar he offers focussed on his area of technical expertise. Companies attend and pay a significant sum to learn how he does his work – but most still end up contracting his company to help as they are seen as the experts.
That's why it's important to talk to your audience - social media is a wonderful way to engage them in conversation - so that you can find out what kind of problems they're facing, what solutions they wish were available, and understand what their main challenges are. It's vital information that forms a crucial part of your overall content strategy.
Content comes in many forms
Great content doesn't consist of just the written variety. Of course, blogs, eBooks and white papers should still form part of your marketing mix, but there are lots of other options for generating and presenting content. Video is highly popular; according to a HubSpot consumer trends survey, video came across consistently as the most preferred form of content for people to digest.
Prospects are much more likely to watch a video about your new product or service than they are to read about it. And if you're developing a case study around a particular customer success story, consider filming it instead of only writing about it; if you can get your customer to appear on camera to talk about what a great job you've done or how fabulous your product is working out for them, it has much more impact than simply quoting them in an article.
Besides video, you can also make use of:
Email Newsletters
Blogs
Social Media Content
In-Person Events
eBooks/White Papers
Webinars/Webcasts
Illustrations/Photos
Infographics
Online Presentations
Print Magazines
Research Reports
Interactive Tool
Mobile Apps
Video (live-streaming media)
Digital Magazines
Print Newsletters
Virtual Conferences
Books
Podcasts
Separate Content Hubs
If you can offer content that will make life easier for your prospects, the more likely they are to convert into a lead and generate sales.
Make sure your content gets 'out there'
Producing content is one thing. Distributing it is another. It's not enough to simply publish it on your website and rely on your target audience to find it (nobody's SEO is that good!); you need to distribute the content across different channels to ensure as much exposure as possible. To that end, you should:
Link to it across your social media channels. The link needs to be accompanied by a short blurb that teases what the content is. Developing social media messaging is a skill in itself; HubSpot outline what goes into successful social media writing


Publish videos on YouTube as well as on Facebook or Instagram


Email your contacts with a brief outline of the content and a link to download it


Include it as a CTA (call-to-action) in other pieces of related content
For some markets, even the good old snail mail combined with telemarketing approach works
Building a distribution plan into your content strategy is just as important as your plan for producing content.
Driving momentum with your content, the concentrate approach
What we've learned is that the best content centres around buyer personas, attracting them instead of interrupting them. In a nutshell: content is more about your target buyer personas and what problems they are looking to solve than it is about your product or company. Genuinely useful content is at the heart of any marketing program we run for clients at Concentrate. We work with our clients by taking their insights and turning them into lead generating content - and we plan this process carefully.
Our content plan is based on a deep understanding of what the target buyer personas are and providing information that answers their questions. Our content plans start with a researched process of identifying what these questions are. We use a 90-day plan, structured within a spreadsheet that includes the buyer's journey, topics, content types and social media messaging. The content is relevant, high quality and scheduled to be delivered over a 90-day period. It's a proven method for content delivery, ensuring our clients' websites are optimised for SEO and their buyer personas are being targeted at every stage of the buyers' journey.
Developing and executing a successful content strategy takes effort, but it's well worth it in terms of B2B lead generation and conversions. It's essential for any tech business wanting to position itself as a thought leader and industry expert; your prospects are always in need of insight.
We've spent 10+ years developing content for hundreds of tech business clients, and in the process developed a 90-day content planning template that we use every day. Download our 90-day content planning template and guide now.