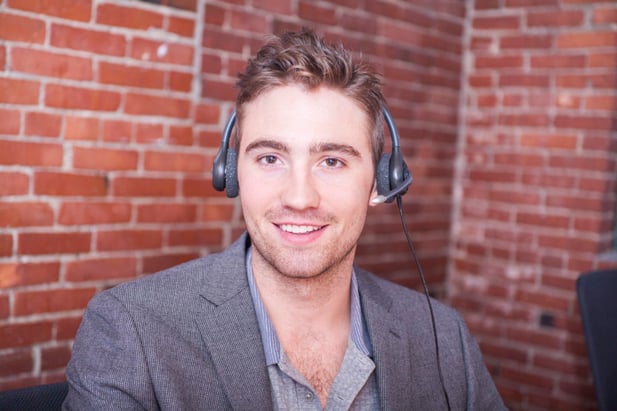 I've seen and driven the success of 'virtual events', as they were called more than a decade ago, first hand.
Working at technology behemoth IBM, webinars or webcasts were by far, the most effective tool in generating demand and new leads. Open deals progressed faster through the pipeline and the sales team had a much more qualified list of prospects to speak with.
While it works for IBM and the like, it can also work for more modest technology companies.
Webinars are a successful tool as a middle of the funnel and end of the funnel tactic in a robust content marketing plan. Sales and marketing teams rate webinars as having one of the highest success rates of lead to opportunity conversions. And I don't have to look far for proof.
For nearly every client we've implemented a webinar plan, increased lead to opportunity and opportunity to conversion ratios are observed.
Think about this for a moment: if a prospect sits through a 30 minute webinar, they are a good qualified lead in anybody's book.
Here's how to get qualified leads coming in with webinars.
Good content
Choose your topic, use the genuinely useful content from your most downloaded white paper, not self-promoting product literature. Give them information and tips that will help them understand and define their business problems (and casually mention how your product or service meets that need)
Drive registrations
Host the webinar at a time when the prospect is not short on time and attention. That means not at 9am on Monday. BrightTALK's 2015 Webinar Benchmark report says that 84% registrations happen from Monday to Thursday and 14% sign up on the day of the webinar. Promote the webinar through your usual promotion channels such as social media, blog posts, paid ads and email newsletters or specific email campaigns driving registrations for the webinar. (if you don't have these 'usual' channels set up already, we need to talk).
Deliver
Create an engaging presentation and use images and graphs you can speak to. Do not make the fatal mistake of text heavy slides – you want the audience listening to you, not trying to read text in a tiny font.
Practice speaking with the slides and time yourself. The best webinars are approximately 30 minutes long, including 5-10 minutes at the end for answering the audience's questions.
Q&A is important not only because the attendees (read: qualified leads) get answers to their burning questions, but you too get a sense of their engagement in the topic and helps initiate a conversation that you can follow up on after the webinar.
Cue – next step.
Follow up
Analyse mistakes and record successes.
Most webinar tools will give you all the important information: Who signed up, how many attended and the no shows. Integrate this with a marketing automation tool to send automated 'sorry we missed you' note to those who didn't turn up and include a recording of the webinar and a 'thank you' note to those who attended.
Then there will be those who loved the content so much that they would want to speak with you one-on-one over the phone or remember the proposal you'd sent through a few weeks ago and want to proceed with it with a renewed sense of urgency (speaking from experience from the last two webinars conducted for different clients).
There will also invariably be some mistakes you'd want to correct in the next webinar you run – long pauses while speaking, a monotonous pitch, audio / internet drop off or an audience question that went unanswered completely.
Record and publish
The icing on the webinar cake is the ability to record it and publish the recorded version on your website alongside other lead generating content such as white papers and eBooks.
Repeat
Webinars give you the opportunity to open a dialogue with your prospects. The 'tyre kicker' leads won't bother spending 30 minutes, but those that are genuinely interested in your product but are not sure if they are ready to buy, will sign up for a webinar.
It's the next best thing to meeting in person. The interaction may be virtual, but the leads (and the revenue) are real.
Talk to us about planning a webinar for your tech company.