4 min read
September 18, 2018
The rise of technology in marketing and sales means we have to put greater emphasis on ensuring our customers are successful.
I joined the throngs (24,000 of them) last week at HubSpot's INBOUND Convention in Boston, for what I thought was a marketing event. My first impression was I had got my instructions disastrously mixed up and was in fact at a hi-tech conference, given all the talk of data, integration, apps, user experience design, automation etc.
Fronting up early on to a very interesting presentation by Ed Fry from Hull.io, felt like being back working at Jade Software, where my Political Science degree and inattention to maths at school didn't always serve me well in comprehending technical talk. What I did understand was the amazing productivity gains companies like Hull are achieving by applying smart tech to the process of growing their clients.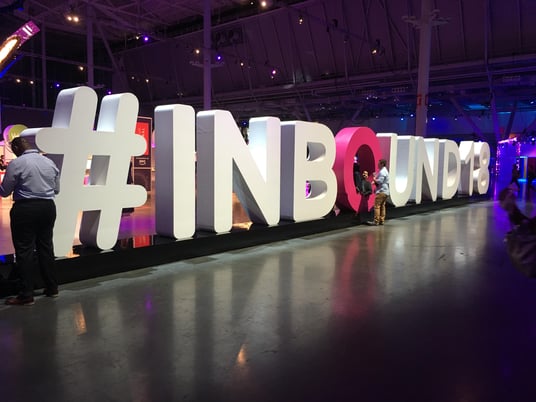 The nature of modern marketing, and particularly for hi-tech firms, is that it's all about technology. Like the application of innovation in many others spheres of business, technology is helping marketers become more efficient and effective at what they do. Digital approaches help automate activity, personalise the way we deal with prospects and customers, and better measure what's going on.
Just when I was threatened with being lost in a swamp of algorithmic complexity, HubSpot co-founder Brian Halligan gave a keynote which cut through the morass. He talked about how as marketers and sellers we have tended to focus on generating and closing leads, almost forgetting about the importance of the end result – ensuring customers are successful with our product or service.
And while always a foundation of business success, customers were taking on greater importance for marketers in this digital age. In tracking where HubSpot got its new business, Halligan noticed a rising trend of 'word of mouth', with up to 30% of the new HubSpot customers learning about the product from existing users.
The theory being that buyers have access to so much information about products and companies they can educate themselves completely online, they are less likely to be persuaded by solely our marketing. Increasingly what they need amongst all this noise is a trusted endorsement or referral from an existing user – whether that's from online reviews or direct conversations. These are becoming more and more important.
Which means as marketers and sellers we need to make sure we pay attention to the experience of our customer. Halligan proclaimed this as the death of the marketing and sales 'funnel' i.e. that model of a linear flow of buyers from becoming aware of your brand through to purchasing, and the birth of what he terms the 'flywheel', a cycle of activity where people are attracted, convert and then become loyal customers that influence new buyers to purchase.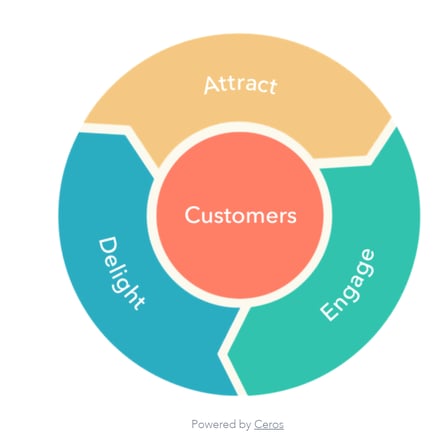 ---
---
HubSpot's explanation of this flywheel cycle:
Attract: This is where prospects enter your flywheel and interact with your company for the first time. Our commitment is to provide value before we extract value from those prospects.
Engage: At this stage, engage prospects that are interested in becoming customers. Our commitment is to make that decision making and purchasing process as easy as possible.
Delight: Finally, new customers have the potential to become promoters of your company. Remember that customer success is your success. Our commitment is to ensure our customers see success with HubSpot.
Focussing on your customers is hardly an earth-shattering insight! But the need for marketers and sellers to put more attention on customer satisfaction as a way to grow a company is more interesting. The 'sell' for HubSpot is that they offer a customer database (CRM), complemented by tools to market and sell to buyers, and then service them. Being able to manage and view all that from one piece of software is something powerful for the average company.
What else was notable at this gathering of sales and marketing experts? A couple of tactical aspects come through clearly.
First, the headlong rush to video. B2B buyers of technology products are increasingly using large amount of video in their buying process, from viewing explainers of products through to consuming video testimonials. Video, especially using animation, is ideal for complex technology products because you can get a lot across in a relatively short amount of time. Social media posts with video get more engagement, landing pages with video convert better, websites with good video content grow traffic, and so on.
My impression from the Inbound conference is that while US technology companies might be ahead of us in using video, Kiwi tech isn't that far behind. Everyone is still grappling with the most cost-effective ways to produce video as part of their marketing process. The only certainty is that we have to keep working at this.
What was particularly interesting was the fact video is not just a marketing tool. Increasingly it is being used in one-to-one sales engagements, and for supporting customers by service teams. That's where some quick gains can be made.
Second, is the growth of 'conversational marketing'. This is tools like Live Chat and Messenging 'bots' which allow you to have more of a one-to-one conversation with a buyer or customer. While the hype around these sorts of technologies has exceeded the benefits thus far, there are some quite practical ways emerging of how to use them to better support people looking to buy your product.
HubSpot of course introduced a bunch of new features across its platform, which are nicely summarised here.
There were many other ideas, innovations and tactics talked about at Inbound, none of which will revolutionise the typical Kiwi tech company's approach to sales and marketing, but some of which could make life easier and reduce your cost of sales.
Concentrate runs a regular series of events about digital marketing for technology companies, as well as operating a HubSpot User Group for tech firms using the product. Check out what events are coming up in your area.